Wilson College Online Launched
We are proud and excited to launch Wilson College Online. This new, digital pathway to a Wilson degree is built upon the success of the online degrees and certifications the College has offered for many years and on its reputation for innovation and accessibility.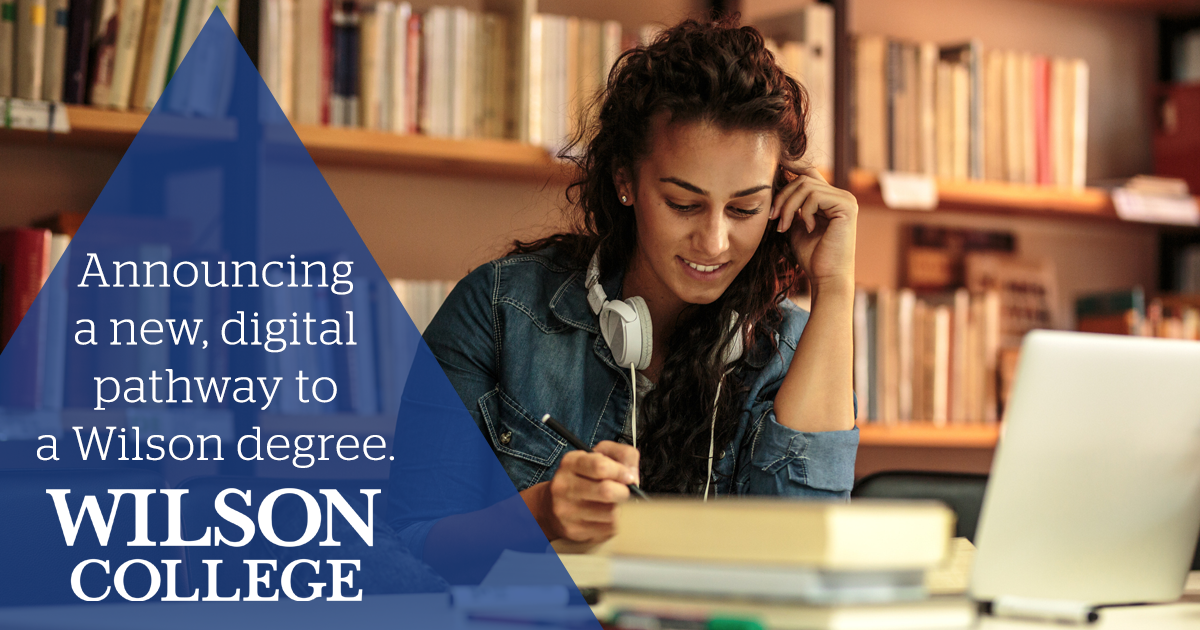 For over 150 years, we have been a leader in expanding educational opportunities, and this online expansion is a continuation of that vital mission. The College was founded to provide high-quality education to women at a time when women were excluded from most higher-education institutions. Wilson Online continues this tradition of access to education by making our undergraduate and graduate degrees available to students regardless of where they live in this country.
"Launching Wilson College Online is a momentous occasion in the 153-year history of the college," said Wesley R. Fugate, the College's president. "Wilson has always been proud to provide access to post-secondary education, and these new online offerings will help ensure that an affordable, transformative education is available to those, such as adult learners, who need the convenience of learning online." Wilson Online will be a life and career changer for students whose busy work and family schedules make attending a traditional in-person college difficult. The online classes are designed to be taken asynchronously, meaning students can take their classes at the times that work for them. The path to a degree is structured to be as flexible as the students are unique, and they can customize the number of courses they take at any one time to fit their individual needs.
Providing individualized and very personal education has set Wilson apart since its inception. Today, where large class sizes and low faculty involvement typify many larger institutions, we maintain small class sizes, high levels of contact between faculty and students, and a faculty-to-student ratio of 1:13. Wilson Online will mirror this level of individualized instruction and close contact between faculty and students in the digital domain. "Our faculty have always prized the close ties they have with our students as they navigate their education," said Elissa Heil, Vice President for Academic Affairs and Dean of Students. "Our Wilson Online programs are laser-focused on student success, staying true to our mission of empowering students to excel to their potential."
"As the needs of students have evolved, so has Wilson," Fugate said. "We launched Wilson Online to ensure that more students than ever before will be able to enjoy the benefits of the personalized, high-touch educational experience for which the college is so well-regarded." With numerous undergraduate degrees, including accounting, criminal justice, business management, healthcare, and psychology, to name but a few, and master's degrees in nursing, education, applied leadership, and more, Wilson Online will provide students with the tools and qualifications to earn more in their current positions, gain promotions, or change careers while working or raising a family.
Not only will students benefit from an education where they are treated as individuals and known by their names instead of as numbers, but Wilson Online is also committed to delivering this education at costs per credit that are affordable and manageable for most students. Wilson Online will help students understand the costs of their education and find the best financial package for their situations. "With our expansion into the online world, Wilson can reach more students and deliver a private education experience at public school price points," Heil said. "We are eager for prospective students to look at what Wilson Online has to offer."
Wilson Online is now accepting students for classes beginning in January 2023. Go to online.wilson.edu to learn more about Wilson Online and discover the range of degrees and support it offers students. Having a degree from an accredited institution has never been more critical in terms of a lifelong career, and it more than pays for itself over time. According to a report from the Georgetown University Center on Education and the Workforce, "Adults with a bachelor's degree earn an average of $2.8 million during their careers, $1.2 million more than the median for workers with a high school diploma." Wilson is proud to play its part in preparing students from all backgrounds for the high-paying careers of the future and to be honorable leaders, creative visionaries, effective communicators, and agents of justice in their communities and the world.
---
Wilson Partners with Ross University School of Veterinary Medicine
Wilson announced it has entered into an articulation agreement with Ross University School of Veterinary Medicine (RUSVM). This agreement will allow up to nine qualified Wilson graduates per year to transfer seamlessly into a Doctor of Veterinary Medicine program at RUSVM.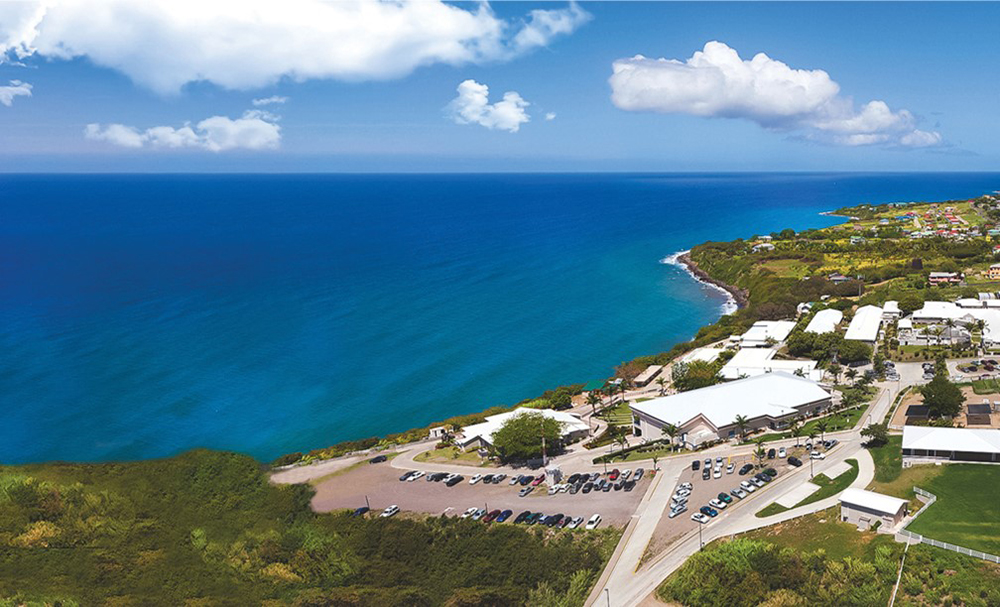 "I am very excited about the articulation agreement because it gives our students a pathway to becoming veterinary doctors," said Tammy Ege, Wilson's associate professor of veterinary nursing. She points out that the number of seats in veterinarian schools is limited, and the demand far exceeds the capacity. In practical terms, for many students getting into veterinary school has become very competitive. "With this articulation agreement, RUSVM designates three seats for our eligible students in January, May, and September. That's nine of our students that every year will have the opportunity to become veterinarians."
"Ross Vet is excited to partner with Wilson College," said Richard A. Hague, RUSVM's associate director for student and university partnerships. The agreement benefits RUSVM because it creates a funnel of well-prepared and qualified students into their veterinary programs. "Wilson College's reputation for having strong veterinary and science programs at the undergraduate level laid the foundation for the articulation agreement," he said. "This partnership marries the incredible experience Wilson students receive with a relevant and stimulating learning environment designed to equip veterinary students to become practice- and career-ready graduates."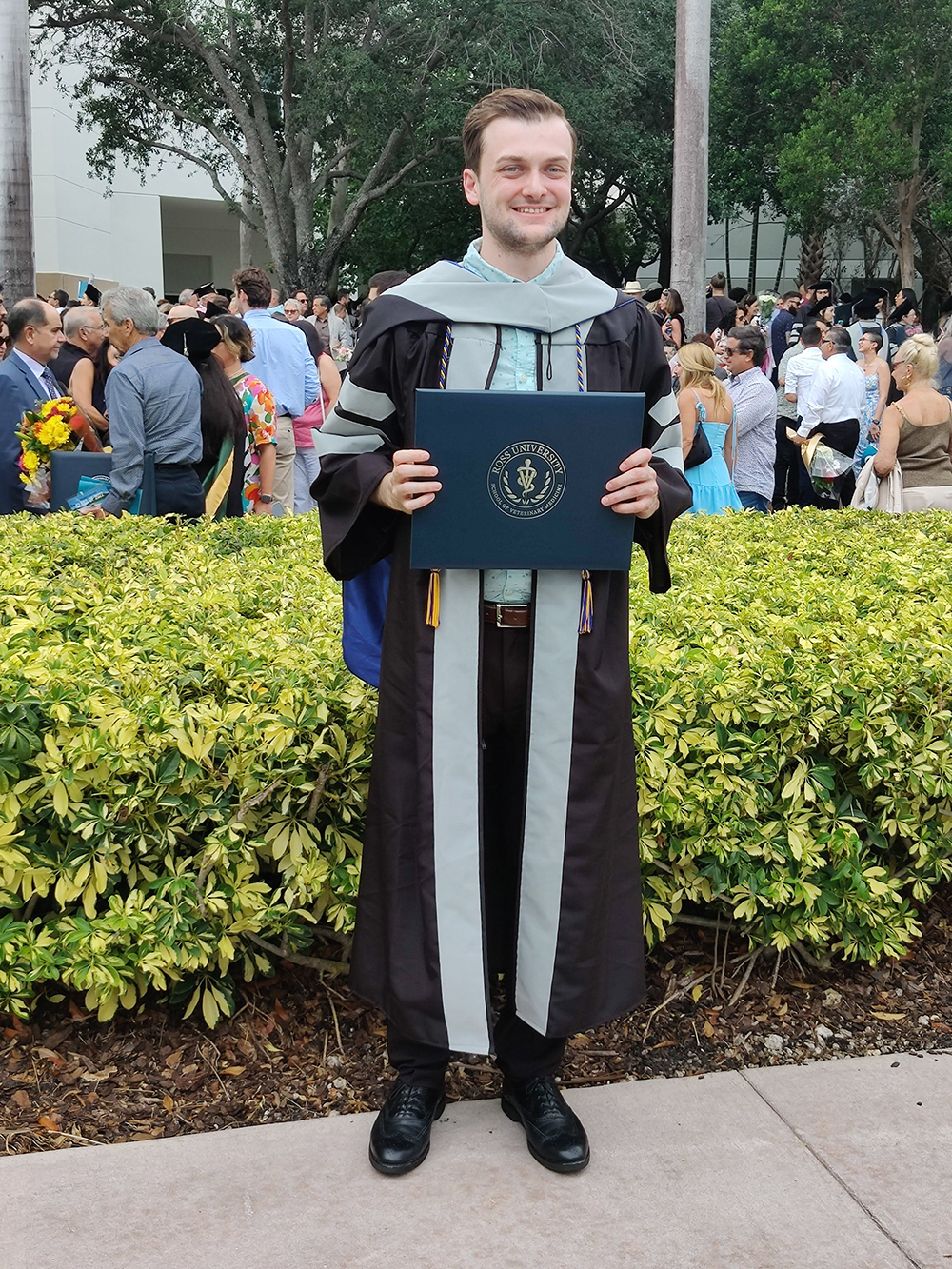 Colyn K. Heim, DVM, is an alum of both institutions. He graduated from Wilson in 2017 and from RUSVM with a doctor of veterinary medicine degree in 2022. He now practices veterinary medicine in Cortland, N.Y. "I would recommend Ross because, as odd as it might sound, it'll force you to re-evaluate your worldview," he said. "One of the greatest parts of Ross is the diversity of the faculty. You'll have professors from all over the world—from Oceania to Europe to South America and everywhere in between. This is a benefit because, take my word for it, there is no one right "gold standard" way to learn medicine; everyone has an opinion, and you should try to listen to as many opinions as possible."
RUSVM is located on the picturesque Caribbean island of St. Kitts and confers a doctor of veterinary medicine degree, which is accredited by the American Veterinary Medical Association Council on Education. "No matter where you live on the island, your view there will be something off a postcard," Heim said. "It is a beautiful place with a rich culture. My only regret is that COVID robbed me of the opportunity to take part in Carnival (look it up on Google)!"
---
Student Receives $5,000 Scholarship
The Thoroughbred Education and Research Foundation (TERF) awarded Adrianna "Andie" Swanson '23 $5,000 in scholarship support. Swanson, an equine studies major, is one of the three Swanson triplets who attend the College. All three ride and participate in equestrian events.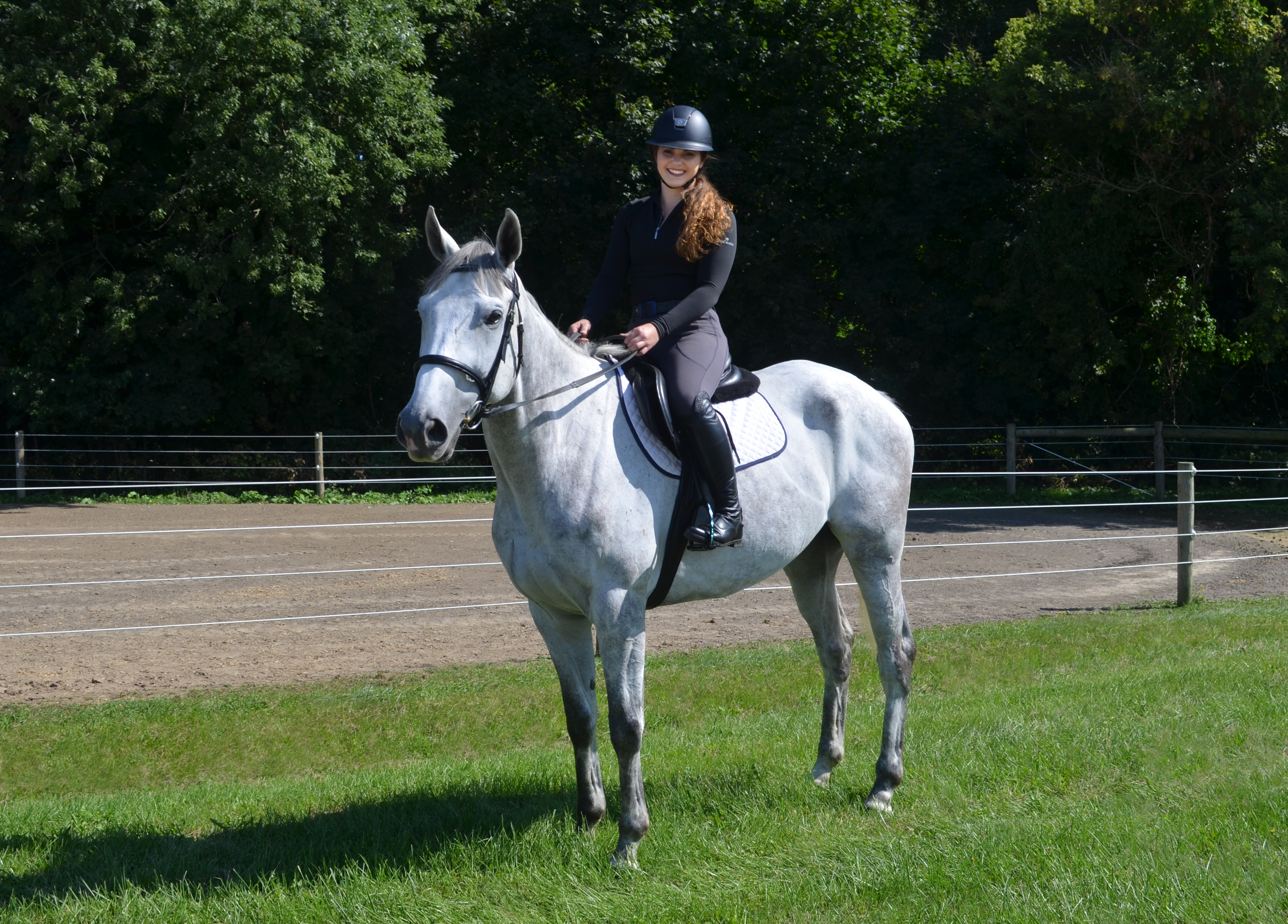 She has loved horses her whole life and rode on trails and around her family's farm until she discovered and taught herself "showing" at an early age. "I have two Thoroughbreds named Eros and Bear," she said. "Eros is a 6-year-old, grey off-the-track Thoroughbred from a Pennsylvania racetrack. I have had him with me all through college and have ridden him in all my equitation classes at Wilson. Bear is an 8-year-old, dark bay, almost black off-the-track Thoroughbred that I just got this summer from a racetrack in California."
Swanson used Bear in her training class this past semester. The class helps "restart" young horses so they can go "from not being touched or ridden to being well mannered under saddle." Although Bear had been ridden before, she needed holes in her training and behavior filled in. "Bear started this class being a horse that would push you around and just get really anxious. Towards the end of the semester, she didn't push me around and was really relaxed under saddle. This is why I love this class so much; even though my horse was already able to be ridden, I was able to see some of the training she was lacking and was able to go back to the basics and fix them."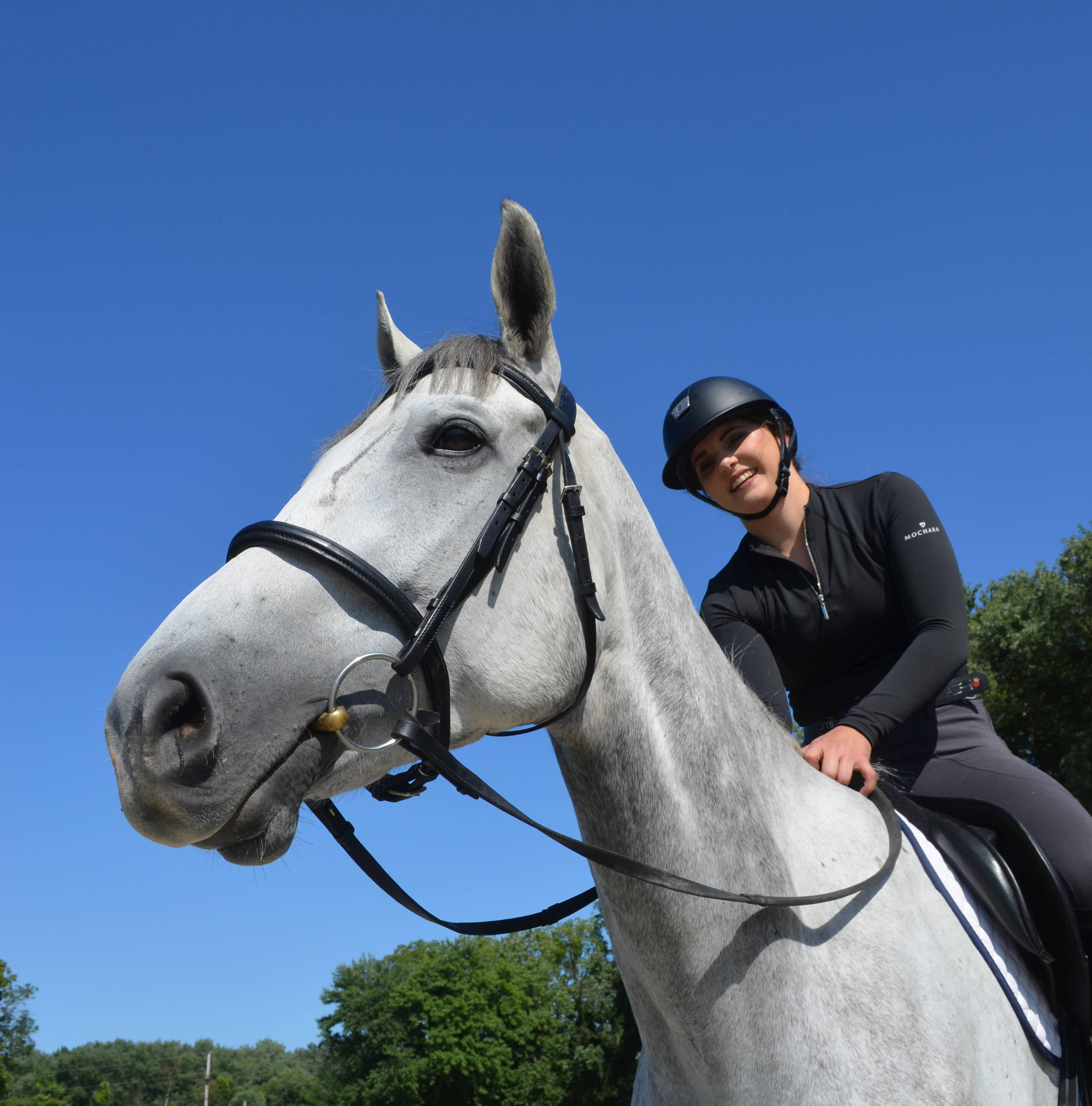 She hopes for a career working with horses. The training class "really helped to prepare me for what to expect when I start training off-the-track Thoroughbreds after graduation." She will use the TERF scholarship to help pay for her Wilson education.
TERF awards scholarships consistent with its mission of promoting equine education and research by sponsoring scholarships in veterinary medicine and supporting organizations that are educating the public in the proper care of horses. Since 2015, 23 students at Wilson College have been awarded TERF scholarships to continue their education, totaling $82,000 in awards.