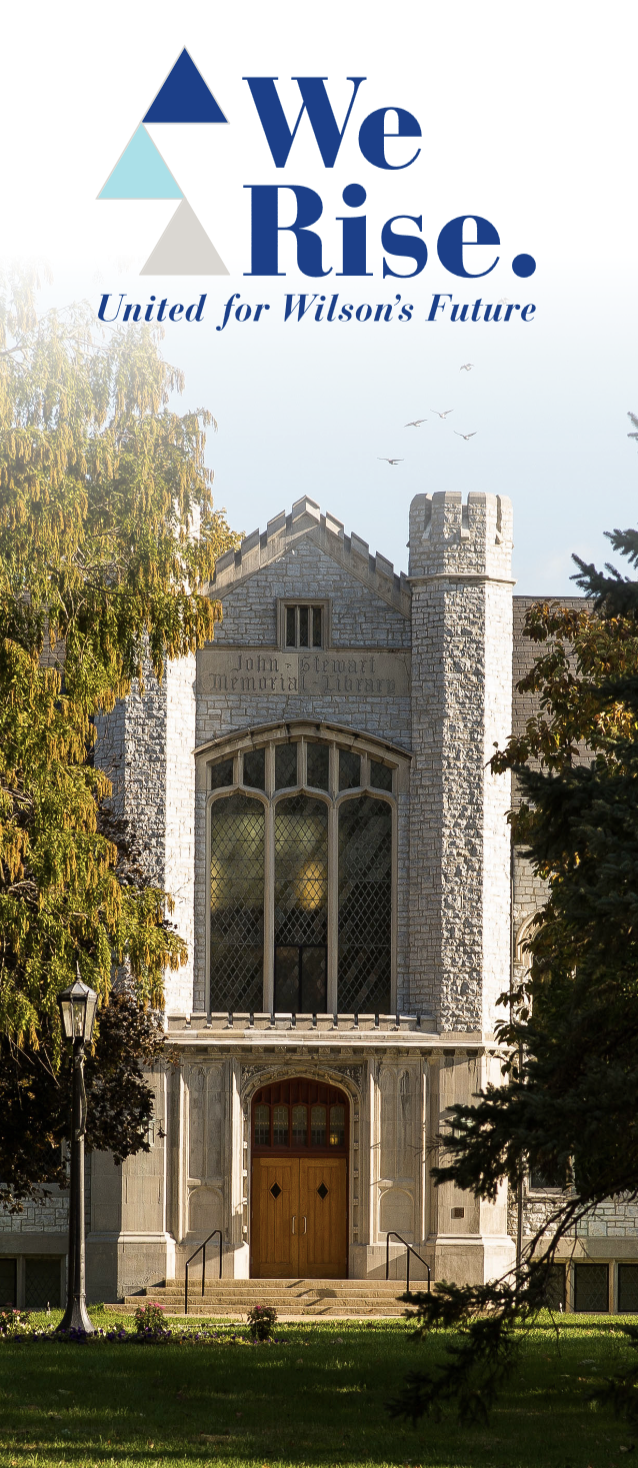 We kick off a funding campaign to secure the College's future and fulfill her mission to provide a first-class education to generations in perpetuity.
In 1869, Wilson College rose as a beacon of quality education and hope from the literal ashes of the Rosedale Seminary and Col. A.K. McClure's Norland estate, both burned to the ground during the Civil War. The College came into being thanks to a donation from an enigmatic, deeply religious, and formally uneducated woman, Sarah Wilson. Her donation of $30,000 (approximately $500,000 today) secured the McClure property and encouraged others to invest in the ambitious project to educate future generations. Her simple act of generosity and foresight has changed the lives of students and their families for over a century and a half.
In this special issue of Wilson Magazine, we celebrate and pay tribute to the many current donors, the modern-day Sarah Wilsons, who make the College a vibrant and relevant institution in the lives of thousands today. You will also meet some of the students who have benefitted directly from our alumnae, alumni, and friends' philanthropy. And, we invite you to participate in the We Rise: United for Wilson's Future campaign and help make a Wilson education accessible to generations of students to come.
Wilson's history, from her inception, has always been one of innovation and adaptability. The Rev. Dr. Tyron Edwards, one of the two Presbyterian ministers who founded the College, originally intended to simply replace the burned-down Rosedale Seminary (an institution that prepared young women to teach). However, when Edwards approached the Rev. James Wightman, the second of the College's founders, the latter insisted on creating "a first-class college, affording to young women facilities for a first-class education such as now afforded by first-class colleges to men." Thus, the College's mission to look to the future to best serve her students and provide them with a first-class education was woven into her fabric from the beginning.
Wilson is proud of her history and how her past informs her present, and her present builds her future. The College continues to burn with a bold passion for providing a first-class education and fostering a community of learners who will go on to be first-class leaders, innovators, creators, and citizens. Throughout her history, this small but mighty college has faced internal and external challenges and, on every occasion, has evolved to meet the students' needs without ever losing sight of her mission to educate and empower.
Today, as we emerge from a global pandemic, the College, with your help, will rise once more and educate generations to come the Wilson way. The pandemic has changed the world. Work practices and education modalities have had to adapt to a new reality. "Zoom" has become a household word, and entire industries have been upended while others have soared. For institutions of higher education, the last few years have presented particular difficulties. Many have suffered enrollment setbacks with ensuing financial losses, and in a tight employment market, many potential students have even questioned the value of a degree. These, combined with a demographic "cliff face," where the number of college-age young people will decrease dramatically over the next few years, means colleges and universities will have to overcome multiple and disparate challenges at once.
Luckily, Wilson acted early and decisively to analyze and address these issues and find solutions. Our five-year strategic plan, Future Wilson: The Phoenix Rises: 2021 to 2025, maps the road to a stable and secure future for the College. It identifies remedies for challenges, such as a significant debt load, an endowment limited in growth due to high spending, the deferred maintenance of buildings and grounds, and the compensation of faculty and staff. The plan was developed under the leadership of Wesley R. Fugate, Ph.D., the College's 20th president, and you can download it on the president's page at wilson.edu/president.
Just as the two founding ministers needed donors to make their dream of a first-class college come to fruition, we need your help to make the strategic plan fulfill its potential. You, too, can take a leaf from Sarah Wilson's book and help perpetuate the original vision for a first-class college that empowers students for generations to come.
The We Rise: United for Wilson's Future campaign is the vehicle for funding the strategic plan and securing the College's future. It breaks the funding into five crucial pillars (listed on the following pages), each one vital to the overall success of the plan. And we've gotten off to the best possible start with an anonymous donor funding the Debt Reduction Fund's goal of $2 million, in its entirety.
---
TOTAL WE RISE CAMPAIGN GOAL $16 million
---
CAMPAIGN PRIORITIES
Scholarships GOAL: $4.5 MILLION
The focus on scholarships embodies Wilson's commitment to providing access to an affordable, quality education to all students. While Wilson has taken strategic steps to maintain a competitive tuition rate, the availability of state and federal financial aid has not kept pace with the cost of attaining a higher education degree. To that end, the We Rise campaign seeks $4.5 million in scholarships for student support.
Growth Initiatives GOAL $2 MILLION
The We Rise campaign seeks $2 million to support future academic and co-curricular programming aimed at expanding Wilson College's offer- ings to ensure we meet the academic requirements and personal needs of current and future generations of students. To sustain its mission, the College must strengthen and expand its footprint in the online higher education space, explore new degree offerings to meet the needs of the future workforce, provide engaging co-curricular and extra-curricular opportunities, and increase student retention.
Faculty & Staff Support GOAL: $1.5 MILLION
Recruiting and retaining outstanding faculty and staff and then ensuring that they have access to the technology, resources, and facilities required to deliver a quality Wilson education to today's students and future Phoenix is the focus of this funding area. Whether it is updating technology in classrooms, caring for our buildings and grounds, or simply helping to offset the significant cost of benefits for our employees, faculty and staff support is an important part of the We Rise campaign. To that end, the Campaign seeks $1.5 million in support of faculty and staff initiatives.
Debt Reduction Fund GOAL: $2 MILLION
Over time, Wilson College has amassed a significant debt load due to various capital projects. Institutional debt totaling almost $35 million is much too high for a college of our size to carry successfully. Additionally, the debt requires meeting challenging covenants, further limiting the institution. Thus, the We Rise campaign seeks $2 million towards the retirement ACHIEVED of institutional debt.
Wilson Fund & Unrestricted Giving GOAL: $6 MILLION
The Wilson Fund, the College's annual fund, has long been the place where alumnae, alumni, parents, friends, and students demonstrate their commitment and support of the institution through their yearly gifts. The We Rise campaign includes a $3 million goal for the Wilson Fund as well as a $3 million goal for other unrestricted giving.
---
We Rise Campaign Leadership
Honorary Co-Chairs
Marguerite Brooks Lenfest '55
Susan Breakefield Fulton '61
Co-Chairs
Margaret Hamilton Duprey
Lisbeth S. Luka '69, M.Ed.
Vice-Chair
Robin J. Bernstein, Esq.
Campaign Committee
Jennifer Nickle Banzhof '94
Cynthia Dimmick Grove '63
Jane Everhart Murray '67
James A. Orsini, D.V.M.
Julia Solleveld Osborne '64
Gail E. Saxton '81
Barbara L. Tenney '67, M.D.
Betty Lou Leedom Thompson '60
Janelle S. Wills '14, V.M.D.
Presidents Emeriti Honorary Members
Mary-Linda Sorber Merriam Armacost, Ph.D.
Lorna Duphiney Edmundson, Ed.D.
Gwendolyn Evans Jensen, Ph.D.
Barbara K. Mistick, D.M
---