Congratulations to the Phoenix softball team on winning the 2019 Colonial States Athletic Conference (CSAC) championship!
The Wilson spring sports season closed out with a number of accomplishments: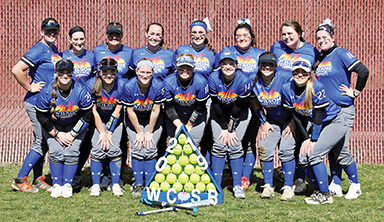 The SOFTBALL team made history by going undefeated in the CSAC with a 14-0 record, earning the right to host the CSAC Championships. The Phoenix swept the championships to earn the CSAC crown and the victory secured the team a bid to the NCAA Regional Tournament—a first for any Wilson team. At the NCAA tournament in Kentucky, Taylor Durant '22 made the All-Region Team after the Phoenix were eliminated in the second round. Eight members of the team earned All- CSAC honors: Megan Potter '20 and Gabrielle Newman '22 earned First-Team honors; Jen Cail '20, Alison Shockey '20 and Jessica Kosheba '22 earned Second-Team honors; and Katey Roth '21, Daphne Buzard '21 and Amber Rexrode '21 received Honorable Mention. Head Coach Brett Cline was named the CSAC Coach of the Year, while Potter was named CSAC Pitcher of the Year.
The BASEBALL team concluded its inaugural season with 21 wins and competed in both the CSAC championships and the Eastern College Athletic Conference tournament. Five Phoenix earned All-CSAC accolades: Hunter Cheek '22 earned First-Team honors; Kevin Ehrman '22 and Nick Quinn '22 were named to the Second Team; and Juan Rosario '22 and Zach Sutherland '22 received Honorable Mention. Ehrman was also named CSAC Rookie of the Year.
MEN'S BASKETBALL finished the 2018-19 season with a 14-12 record and the team made its second post-season appearance in a row. The team hosted Rosemont in the CSAC tournament, but fell to the Ravens at a packed Gannett Memorial Field House. For the first time since the 2000-01 season, the WOMEN'S
BASKETBALL team posted a winning record of 16-12 and competed in the CSAC playoffs. The team opened the playoffs with a 47-37 victory over Notre Dame of Maryland University and advanced to the conference semifinals. In addition to the CSAC tournament, the Phoenix were selected to participate in the ECAC basketball championships, where the team lost to Widener University in the opening round.
MEN'S VOLLEYBALL senior Aaron Hoke '19 became just the third men's volleyball player to earn all-conference accolades. Hoke was named to the North Eastern Athletic Conference Second Team. The team closed out the season with five wins. MEN'S GOLF won the Wilson College Swing Into Spring Invitational by shooting a program low score of 380. Oliver Perry '21 led the Phoenix after carding an 85 in the match.