Have you ever seen a rainbow appear after a summer storm and marveled at how such an awesome sight came out of the dark and dreary? That almost magical transformation is my heartfelt hope for Wilson's post-pandemic future. So many of you got to enjoy Wilson prior to those dark years. I, unfortunately, got to experience only 77 days of Wilson before that significant trajectory-altering event. The days were long. The challenges were great. It was indeed dark and dreary.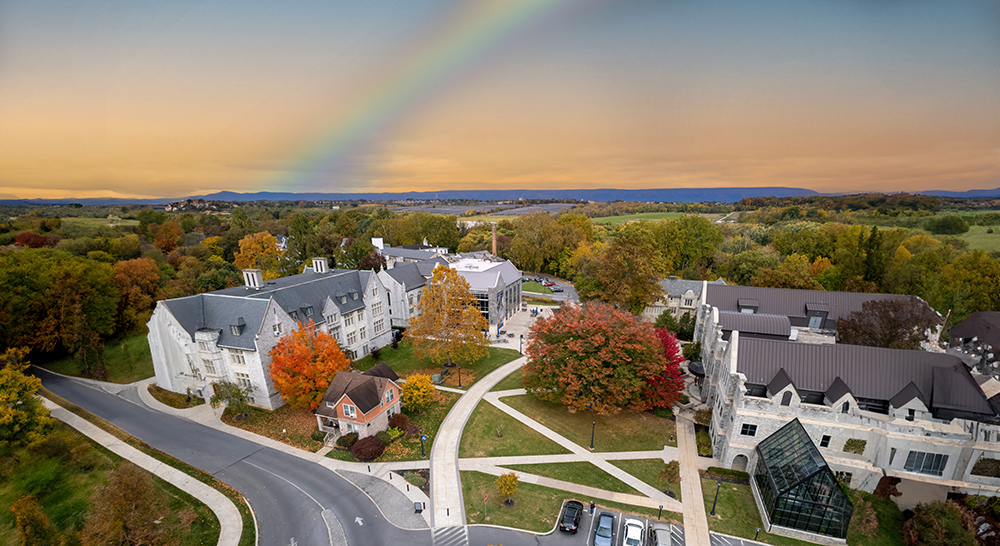 And yet, "small, but mighty," Wilson persevered. We developed a comprehensive strategic plan to guide us towards a Wilson that meets the modern needs of students and thrives into the future despite the anticipated rapid decline in the number of students seeking higher education. As we have implemented our plan, I am delighted to see a rainbow appear in the distance. Since our strategic planning process began, we have focused on growth, adding eight new majors and one new graduate program. We have improved retention through targeted initiatives, including re-envisioning how we advise students. We have enhanced co-curricular experiences by moving our hunt seat equestrian team to varsity status, adding a varsity western team, beginning
competitive eSports, and, this fall, we will introduce a show choir. In January of this year, our first students enrolled in the newly launched Wilson College Online programs aimed at providing an accessible Wilson education to primarily adult students. As a result of these initiatives, enrollment appears to have stabilized and is heading back up.
And we are not done yet; our next major step is to launch hybrid, accelerated programs in allied, graduate healthcare. We have begun the necessary accreditation processes for doctorates of occupational therapy and physical therapy and a master's of speech language pathology.
January of 2028, we hope to have added these new in-demand programs to our degree offerings. Additionally, our strategic plan emphasizes keeping a Wilson education affordable. Thanks to the generosity of alumnae, alumni, and friends of the College and the scholarships and assistance they have funded, the average cost for a student to attend Wilson after all financial aid is the same as a student attending a nearby public university. In other words, at Wilson, you get the benefits of a private education at a public price. Our plan also seeks to better support the women and men who serve the College by giving them the tools and resources necessary to provide the transformative education for which Wilson is known.
And yet, we need your help to make our strategic plan successful. At Reunion, I formally announced the We Rise: United for Wilson's Future campaign. With an overall goal of raising $16 million by June 30, 2025, this campaign seeks to provide the funding to enact our strategic priorities while combatting the challenges facing all of higher education. I am pleased to say, to date, we have already raised $12.1 million. This edition of the magazine illuminates the campaign's priorities and details why we need you to support us. The pandemic has robbed us of so much, but we must not let it rob Wilson of her success and future. This may very well be the most difficult decade in the history of higher education, and Wilson is not immune to these challenges, but we have an aggressive plan to emerge on the other side as an even stronger institution.
I am asking you to consider making the most transformative gift you will ever make to Wilson College during the next two years. I would not ask you to do something I am not willing to do myself. Cody and I helped kick off the campaign with the largest philanthropic commitment we have ever made to any organization. We believe that much in Wilson. Will you unite with me as we seek to ensure that Wilson rises to the challenges before us? With your support, the turbulent storm of the past few years will fade into memory as the rainbow brightens Wilson's horizons.
Wesley R. Fugate, Ph.D.