By Ann O'Shallie, M.Ed., Professor of Equine and Animal Studies
In the summer of 1996, my life was upended. My landlord had passed suddenly, and his wife was selling the farm I leased from them. Which meant the riding school, horse boarding, and therapeutic riding program my kids and I had built over the previous ten years had to close. I had a few months to wrap the business up, find homes for my horses, find new employment, and possibly sell my house and move my family. As a single parent with three kids, I knew I could not start another equine program from scratch. But what else could I do that would combine my education with my passion for horses?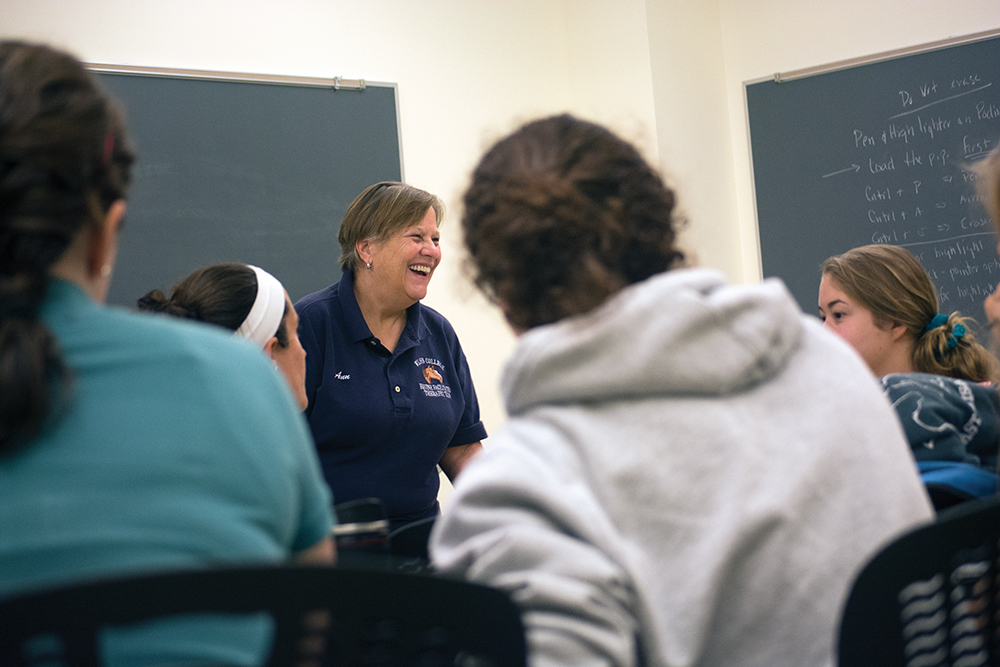 I had heard that St. Andrews College (now University) was looking to add a concentration in therapeutic horsemanship. I flew down on a Monday and was offered the position on Wednesday. On Thursday, I visited a friend in Wilson's adult degree program. We were talking about the program at St. Andrews in the hallway of the old science building when a gentleman walked up, apologized for eavesdropping, and said, "I want [therapeutic horsemanship] here – now!" This was my first encounter with Colonel Alfred "Bud" Kitts (who would always be Colonel to me and others). Suffice it to say that Colonel and Acting Dean Brad Engle moved some mountains that summer, and I began my career at Wilson on August 1, 1996. A life-changing Goosebump Moment.
However, academic regulations threw a speed bump in my way. By August 31 of my first semester, I had already completed the new therapeutic horsemanship curriculum proposal, only to discover that new faculty members had to wait two years before they could propose a new major. Plus, they weren't expected to work on committees or advise! I had gone from working seven days a week in my own program to having fall and spring breaks, winter break, and three months off during the summer, and much to my consternation, it seemed that my children really didn't need me any longer (at least according to them). Can you feel the tapping of my fingers and feet? Okay, not really a Goosebump Moment.
I wrote curricula for future classes to fill the time until my new program was up and running. But that was not enough for me. I wanted to ensure that the therapeutic horsemanship major, now called Equine Facilitated Therapeutics (EFT), would be a premier program when it did get up and running. For that to happen, I needed to be as qualified and knowledgeable as possible to teach it. I continued to work with my certifying organizations and became a master instructor and evaluator for the Council for Education and Certification in Therapeutic Horsemanship (CECTH, now CECTH), the North American Riding for the Handicapped Association (NARHA, now PATH), and Horses in Education and Therapy International (HETI).
I became the Executive Director for PACTH, then Vice-President of the Board of Trustees for NARHA, and finally Treasurer and then President of HETI. It took me a long time to consider these positions as professional achievements, but I have come to realize their meaning and import. Professional Goosebump Moments.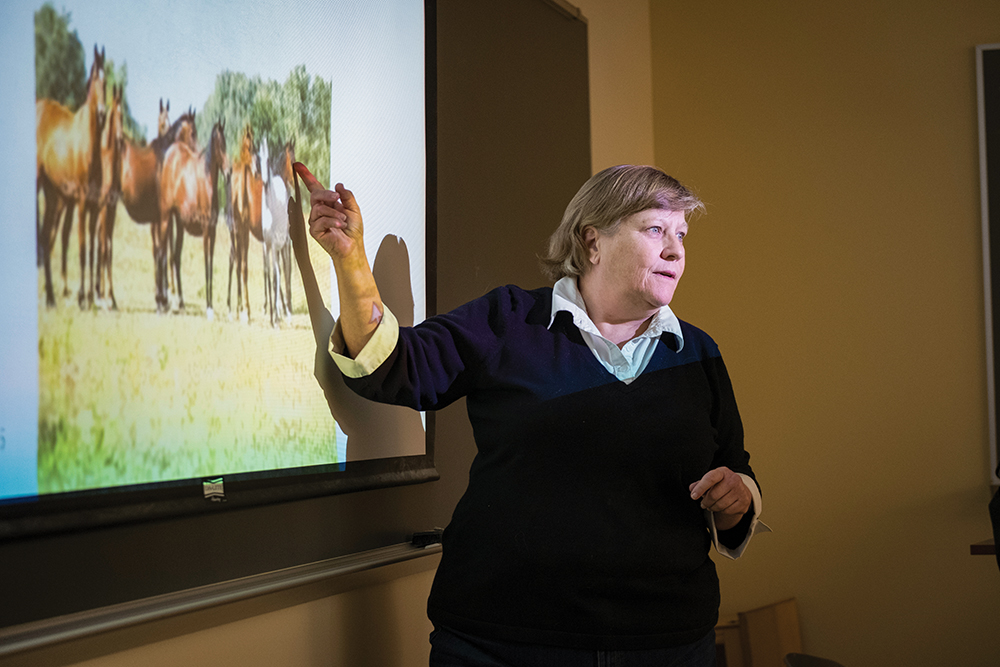 Meanwhile, teaching was going well, and Colonel was encouraging me to do more with the equine classes. Having a background in teaching students with intellectual disabilities, I knew how important planning, writing objectives, and assessing was. Even more importantly, through this experience, I had learned how to connect with students who did not learn by sitting and listening to a lecture. I remember a class in which I was teaching aerobic versus anaerobic muscle use and the energy systems associated with each. I could tell some of the students weren't getting it. Then I showed them a video of an endurance horse and a racing quarter horse, and they could see the different types of muscle and how they were being used. All of a sudden, they got the concept! I realized some of my students needed visual and kinesthetic support as well.
I remember walking down the stairwell and talking with Colonel and my good friend Carl Larson (Professor Emeritus) about how the students had had this "aha" moment in anatomy and physiology. They looked at me with an odd look that said, you're kidding, not in A&P, that doesn't happen. That year I was the recipient of the Donald Bletz Teaching Award. This would be the first of four Bletz Teaching Awards I would be honored with. Very proud Goosebump Moments.
Throughout this time and to this day, I have been active in preserving wild horse herds, studying their behavior, and promoting their conservation. Studying American wild horses has taught us how to care for our domesticated horses, how and why they behave the way they do, and what brings the best out of them in animal-assisted therapies. In spring 2007, Joan Thuebel '52 donated the funds for a faculty member to participate in an Earthwatch expedition. Elephants have hierarchies similar to horses and are facing the same issues that our wild horses are facing – loss of migration trails, encroachment of human communities, and poaching. I wrote a proposal to go to Kenya and study elephants but figured there was no way I would get it. The award would go to a biologist or environmentalist. I was sitting in the dining hall at the academic awards dinner with Professor Dana Harriger – a great friend who started at Wilson the same year I did – when he nudged me and said, "Isn't that your proposal that they are reading?" I was going to Kenya to study elephants! Innumerable life-changing Goosebump Moments.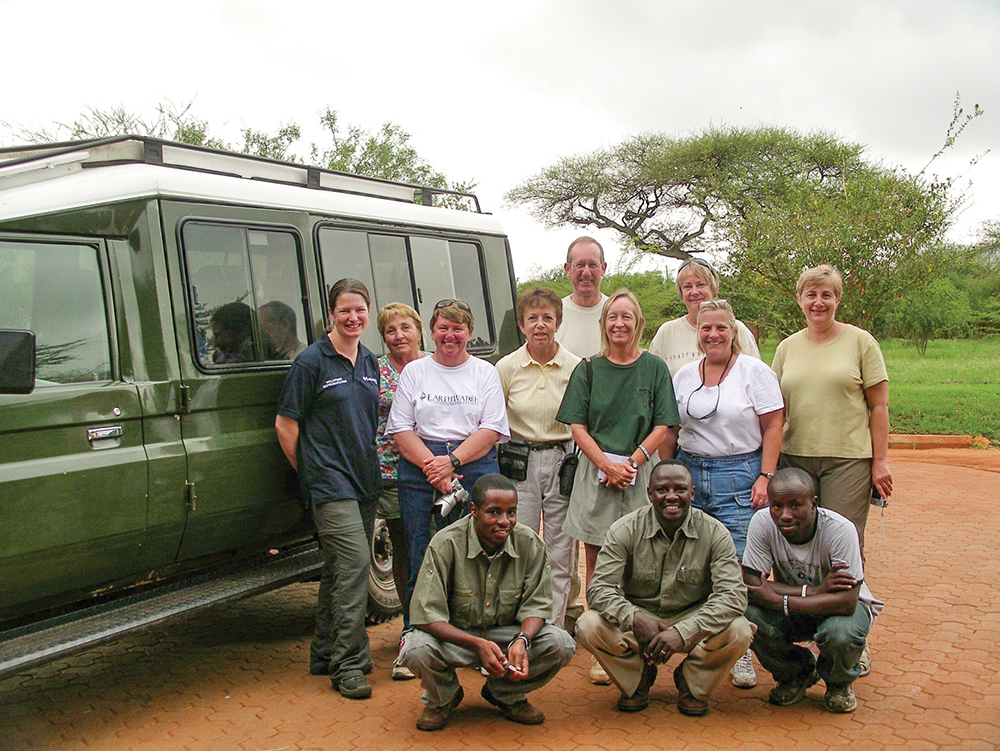 Following the Earthwatch experience, I knew that I needed to see more of the world and bring the world into my classes. As President of HETI, I was able to travel around the world to teach, consult and train others on how to utilize the horse in therapeutic activities. I have been to England, Ireland, Greece (many times), Turkey, Portugal, Taiwan, Spain, Sweden, Germany, Japan, Korea, Indonesia, and all of the Central American countries. Because these trips were all scheduled over breaks, very few people at Wilson knew about them. I have to thank Professor Michael Cornelius for always highlighting my travels. To this day, I tell students how lucky they are to attend a liberal arts college where they can set themselves up to be successful in so many areas of life. Thousands of Goosebump Moments.
In 2013, the Wilson Board of Trustees asked for the submission of ideas for "signature programs." Freya Burnett (Professor Emeritus) and I wrote the proposal for the Animal Studies program. Once again, a lot of work but worth it. The program we had envisioned, with a few tweaks, came into being. I could now focus on learning about the behavior, perception, training, and conservation of equines, felines, canines, farm animals, and wildlife and help students follow their dreams of a career with animals. I am now the Equine and Animal Studies Division Chair. Turning-a-corner Goosebump Moment.
Several years ago, I became the Director of the Equine Studies program. I have learned many things on this journey through the years – both positive and negative. But I can say that the current faculty and staff in the EQS program have allowed us to grow and change the program in positive directions. The Equestrian Center is truly a living laboratory. We have brought western riding to campus and are working toward two competitive teams through IHSA – Hunt Seat AND Western. The number of student boarders has increased dramatically. We now offer summer camps and have renewed the Community Riding Program. And most importantly to me, we now have "barn rats" (an affectionate term for students who want to hang around and learn and help at the barns). We owe it all to the efforts, energy, and excitement of the EQS team. Can you feel the unlimited number of Goosebump Moments?
I felt that my career at Wilson had come full circle when I was invited to speak at the retirement village where Colonel and his amazing wife Gretchen had retired. At the end of the presentation, Colonel stood up and said – "I was so right to hire you all those years ago." Colonel passed away shortly after. Cycle-of-life Goosebump Moment.
Thank you for the walk down memory lane. Now I look forward to where my new Goosebump Moments will appear.