A recent alumna carves out a career at the center of the Thoroughbred world.
By Julia Johnson '23
Lexington, Ky., is one of the horse capitals of the world and the center of Thoroughbred breeding in the United States. After graduating from Wilson College in 2021, Kayla Enck stepped from working at the College's Equestrian Center into this rarified world. After a short internship, she secured a position as an assistant manager at Margaux Farm, a Thoroughbred breeding facility and the birthplace of Classic Causeway, the three-year-old finishing 11th in the 2022 Kentucky Derby.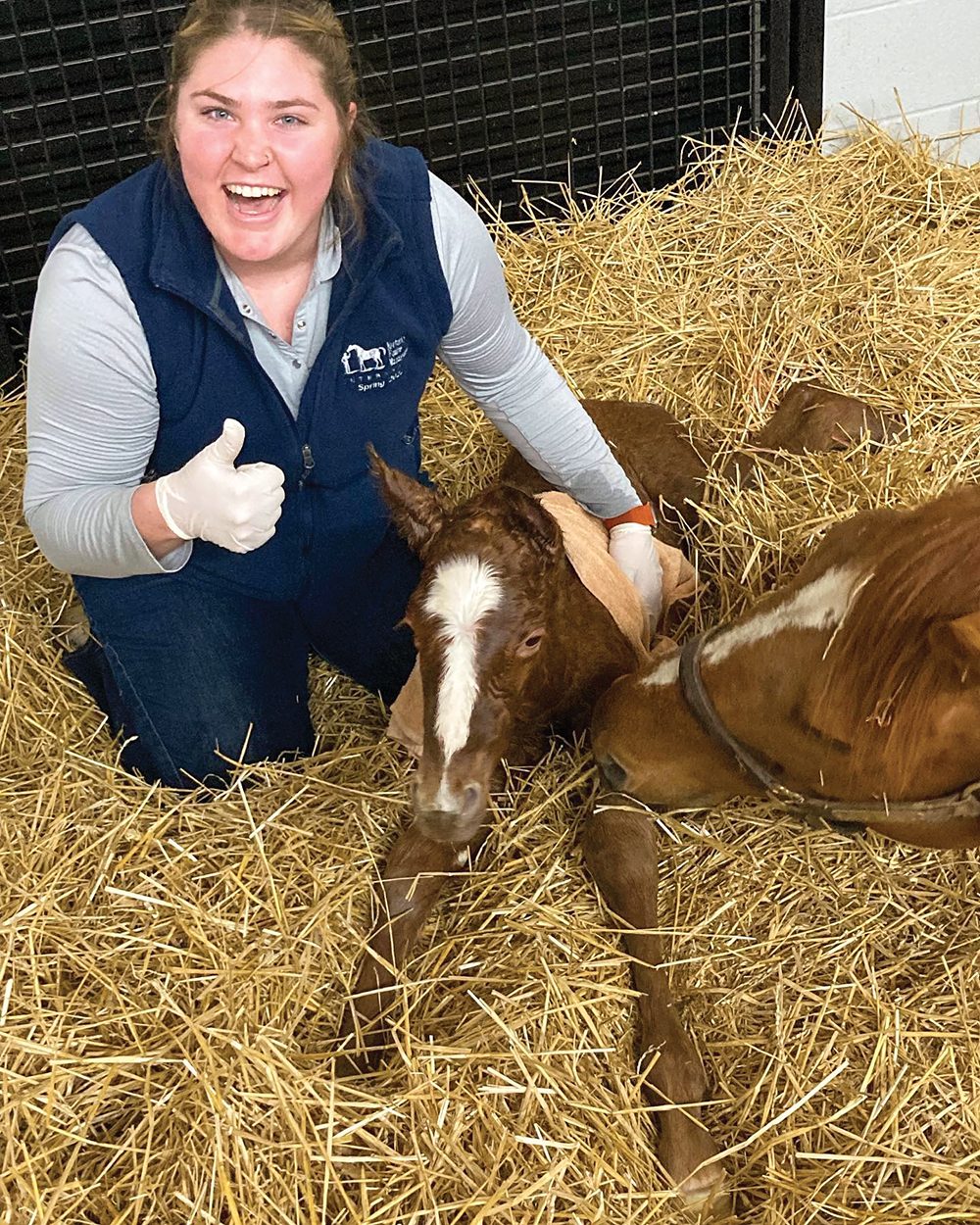 Enck, who grew up in Lancaster County, Pa., fell in love with horses at ten years old when she took her first horse riding lessons at an eventing barn — where they teach riders how to participate in different equestrian competitions. Later she would learn how to ride hunters and jumpers competitively — separate disciplines based on the horse's jumping ability.
She has owned horses from then on. When it came time to go to college, Enck searched for a college offering a four-year degree, something close to home, and a smaller community. She chose Wilson for two specific reasons: the impressive on-campus equestrian facility and the knowledgeable faculty members she met at an open house. And she has never regretted that decision. And once she got here, she purchased her first off-the-track Thoroughbred, Captain, who lived on campus with her.
As a student at Wilson, Enck majored in equine studies and was very involved in all things equine. She was the hunt seat team captain and eventing team co-captain. She was also a part-time student worker at the Equestrian Center before becoming a full-time staff member for six months post-graduation. She credits her current success as a manager's assistant to the opportunities she was provided in college.
"I took advantage of all the things Wilson offered to me — volunteering, the team, being involved in classes, working, and getting as involved as I could at the Equestrian Center. Wilson has a lot of those opportunities, and people don't often take advantage of them. If you don't have an in-depth background in horses, Wilson is the place to learn if you are willing to apply yourself… The staff at the Equestrian Center and within the program gave me a ton of opportunities to learn."
From January to June of 2022, Enck participated in the Kentucky Equine Management Internship (KEMI), a program that provides hands-on experiences to those interested in an equine career. There were 16 interns in total enrolled at KEMI while she was there, and they were placed at different farms. Enck was sent to Margaux Farm, one of 450 equine properties outside the city of Lexington. Margaux is a beautiful facility spanning 640 acres on Moores Mill Road, and bordered by Elkhorn Creek. They offer breeding, training, and rehabilitation services. Margaux hosts KEMI interns during the spring season, where interns attend lectures, volunteer, collaborate with professionals, and learn the importance of networking. There were two tracks that students can pursue, sales and breeding. Enck was immediately drawn to the breeding track.
When her internship ended, she accepted a full-time position at Margaux Farm in June as a manager's assistant. Her day-to-day is all the usual equine care — which means feeding, cleaning stalls, hay, water, turning horses in and out of pastures, and whatever care the horses need. She works specifically in the foaling barn, one of three world-class barns on the property dedicated solely to broodmares of all ages and their foals.
She works in the barns six days a week from 7:00 a.m. to 4:00 p.m., with the occasional evening shift from 4:00 p.m. to 9:00 p.m. Most of the year, there are no foal-watching shifts until the end of the season. Once the mares are near their due dates, they stay inside in their camera-equipped stalls at night and are checked on by staff members every 15 minutes from 9:00 p.m. to 6:00 a.m. Once a mare's water breaks, she is immediately moved into one of two foaling stalls to give birth. This year, the first due date was in February, and the last foal was born in June. Thirty mares had foals on the farm, and they are planning for 50 more this coming breeding season. During these five months, Enck worked her normal six days a week, plus an additional three evening or night-watch shifts.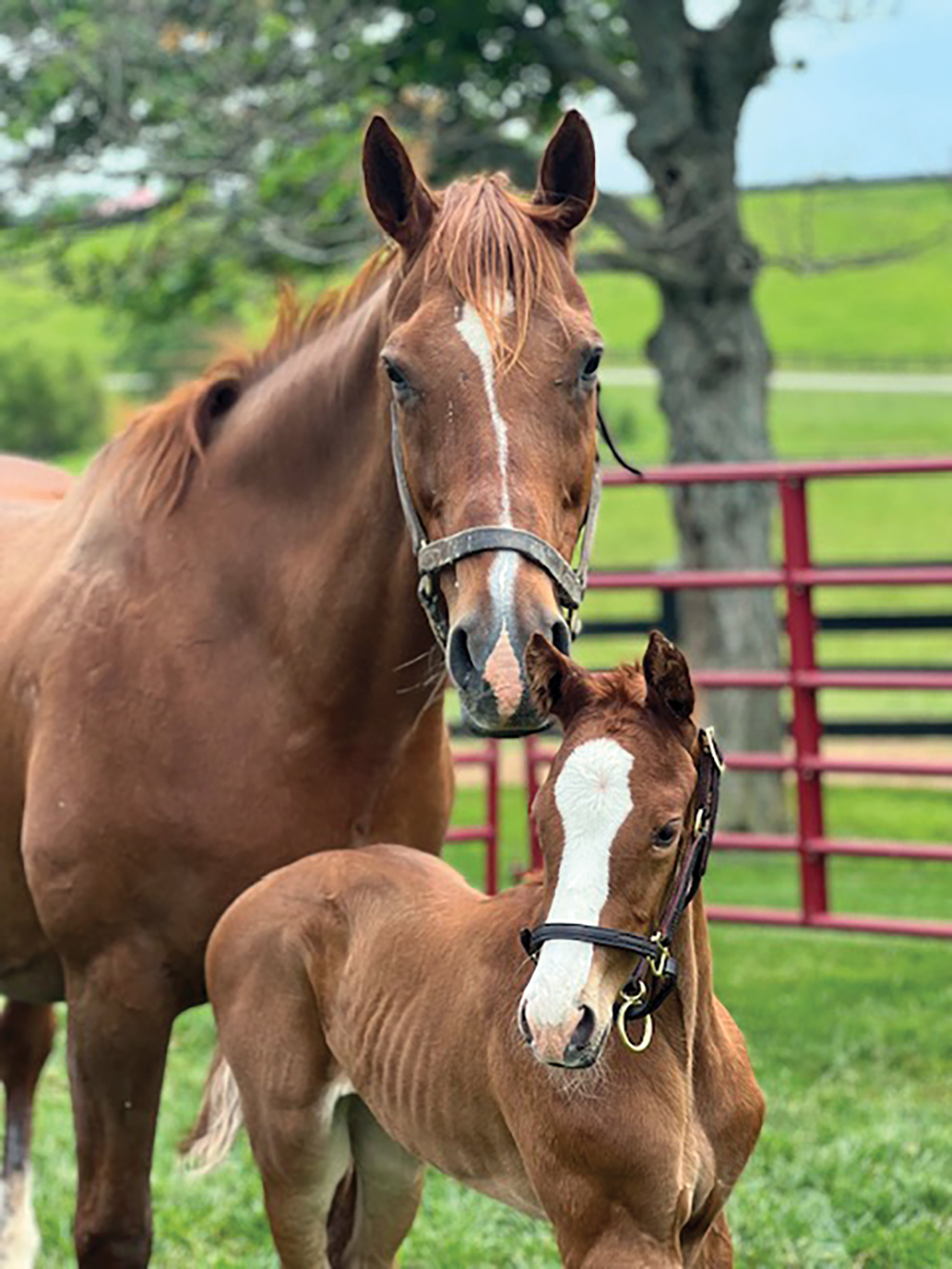 "I had never experienced anything like this before my position at Margaux," Enck said. She has gotten to work with pregnant mares through foaling and foals from their first steps to when they are weaned and has even worked with the yearlings being prepared for sales. "I've gotten to see the whole process. At Wilson, we talk about the stages, but here I actually get to see it firsthand at each stage and what specifically this industry is looking for and for what purpose."
Enck has gotten used to the process of birth and hopes for the least memorable delivery possible. Births that are memorable are usually because of major complications. Enck's first delivery resulted in a very quick but devastating loss — the foal's health declined within minutes of its birth. "The first birth I experienced was with a healthy mare, but the placenta detached early, and it all changed." Unfortunately, the foal was lost.
The second delivery she assisted with was successful and became her ideal for future births. She described the process as an "adrenaline rush" — from quickly moving the mare to the birthing stall, pulling out equipment, monitoring the mare, to watching the birth only took minutes. "The second birth I assisted with was such a cool feeling, watching all of the little things — the mare knowing exactly what to do, the foal coming out, learning to nurse, and standing for the first time within an hour. This birth was very close to my birthday, and the foal came out of Solid Appeal. It was a very simple birth. This mare was a pro, and that is what we always hope for."
The majority of the horses are client horses boarded at the facility to be foaled, raised, and eventually prepped for yearling sales, which take place in the fall. Most of the foals are bred to race and intended to be sold into a racing career at the yearling sales. Ultimately, the goal is that they all end up becoming successful racehorses. Enck hasn't been a part of Margaux Farm long enough to follow a horse from its birth through its sale and finally going on to race on the track. But watching Classic Causeway run in the 2022 Kentucky Derby was a magical moment for her. His owners came to the farm the week leading up to the race and were able to share stories of him from his early days of life at Margaux Farm, as well as reconnect with his mother, Private World, who is still an active broodmare on the property. She has also met other racehorses like Justify, the 2018 Triple Crown winner. Enck will be participating in her first yearling sale this fall and is spending the next few months prepping yearlings for this event.
Enck credits the supportive community and detailed experiences Wilson provided with her current success in the equine world of Kentucky. Despite loving the hands-on work, the manual labor involved in her current position can be tiring, and she's hoping to move over to the industry's business side eventually.
She said that people underestimate how many equine jobs don't require intense physical labor. "Any big farm has office positions that need people who know how to operate databases and are organized. When you first come into this industry, you're only presented with outdoor jobs, but there are many people needed for behind-the-scenes stuff on the business end."
Within the next five years, Enck could see herself moving back east for an equine-related office position or potentially staying at Margaux Farm if she could move up into the offices. No matter what position she holds, she has no intentions of ever leaving the equine world.
Enck's advice to current or incoming students is to get involved and take advantage of the opportunities the Equestrian Center and faculty provide so they can step into their dream careers too. She reiterated that Wilson is where everyone is treated as an individual and where you can thrive and find your passion. She grabbed the chances that came her way with both hands and is on the path to the career of her dreams.
---
Equi-Assist Endowment Helps Fund Student Internships
Two students interned at world-renowned regional equine care hospitals this past summer. The students are enrolled in the Equi-Assist concentration within the veterinary nursing major. Carolyn Randolph '23, a junior from Bremen, Ind., interned at the Marion Dupont Scott Equine Medical Center in Leesburg, Va. Kelly Gibson '22, a senior from Roslyn, Pa., interned at Rood and Riddle Equine Hospital in Lexington, Ky.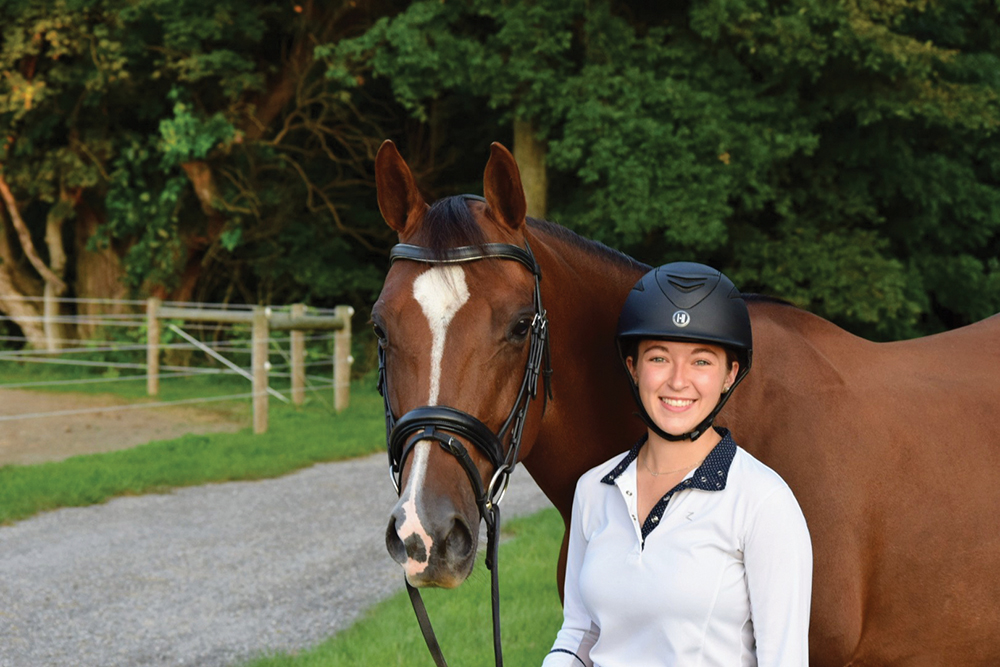 Randolph's internship allowed her to observe many different procedures on various horse breeds. "I was nervous to do my internship at such a large, top-notch facility, but I was more than prepared because of my classes at Wilson," she said. "Working at the EMC was a great taste of what it is like to work in an equine surgical hospital. While I still plan on vet school after Wilson, I will be able to use the skills that I learned from my internship to become a more well-rounded equine veterinarian."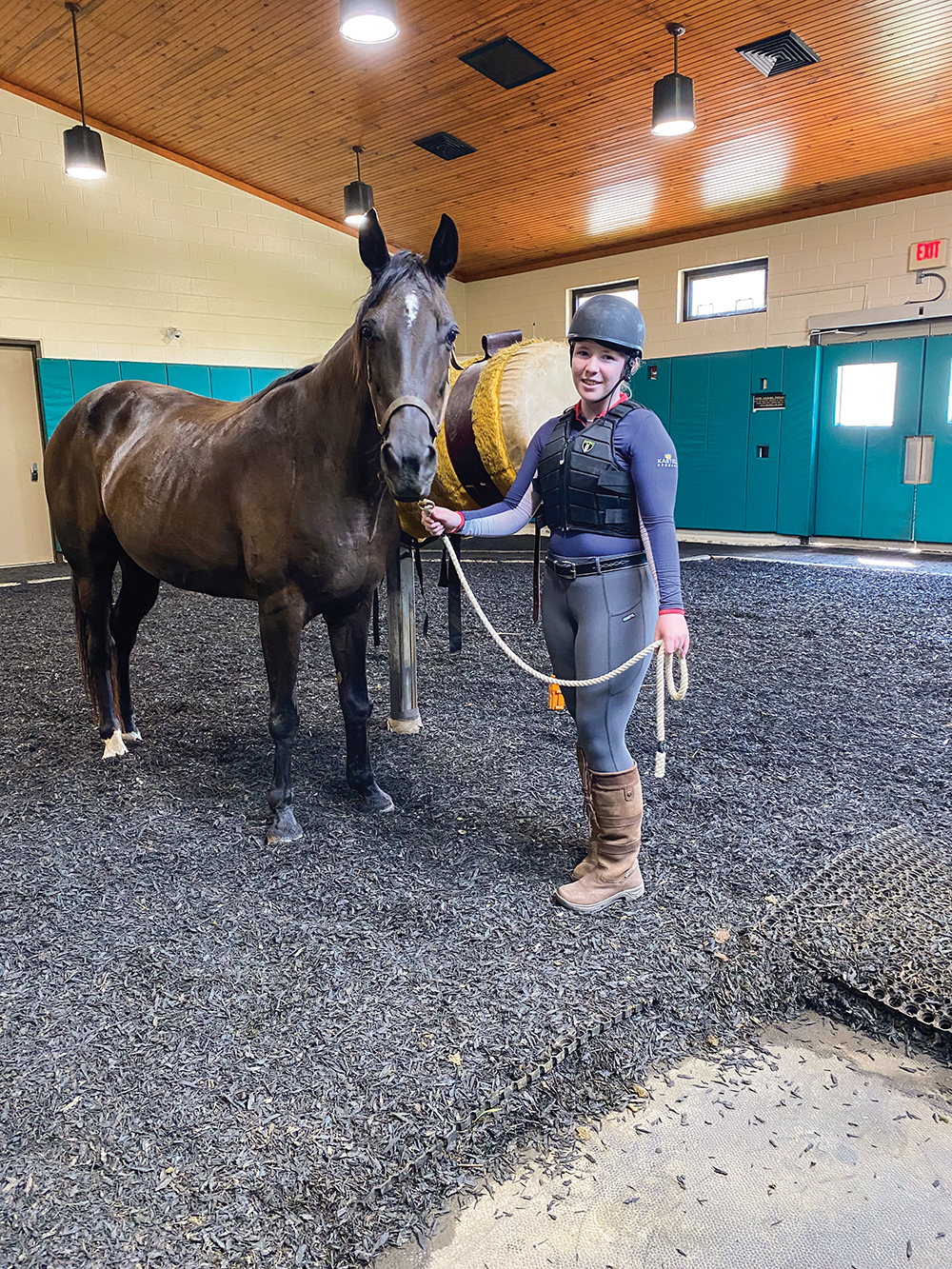 Gibson's experience proved she enjoys emergency hospitals. "There's always interesting cases coming in, and I really enjoyed being able to help both the horses and owners. I also discovered that I enjoyed working with theriogenology," she noted. Theriogenology involves the treatment of reproductive issues in animals. "I found it very interesting and enjoy the science behind the procedures that they are doing. I really enjoyed learning more about anesthesia, and I would consider specializing in that in the future."
Students enrolled in the Equi-Assist concentration learn how to coordinate communication and care between a horse's owner, trainer, veterinarian, and managers. Randolph and Gibson submitted stipend applications and received monies for living and traveling costs affiliated with the required internship. The Equi-Assist concentration endowment, started by Trustee Margaret Hamilton Duprey, owner and president of Cherry Knoll Farm, funds the stipends. In 2019, stipends were awarded to Courtney Martin '19 and Brooke Pottorff Dorn '19, and in 2020, Keeley Whitney '21.