The sun shone on the 148 Wilson students eligible to receive bachelor's or associate degrees and the 97 eligible to receive master's degrees during the College's annual commencement ceremony held Sunday, May 19.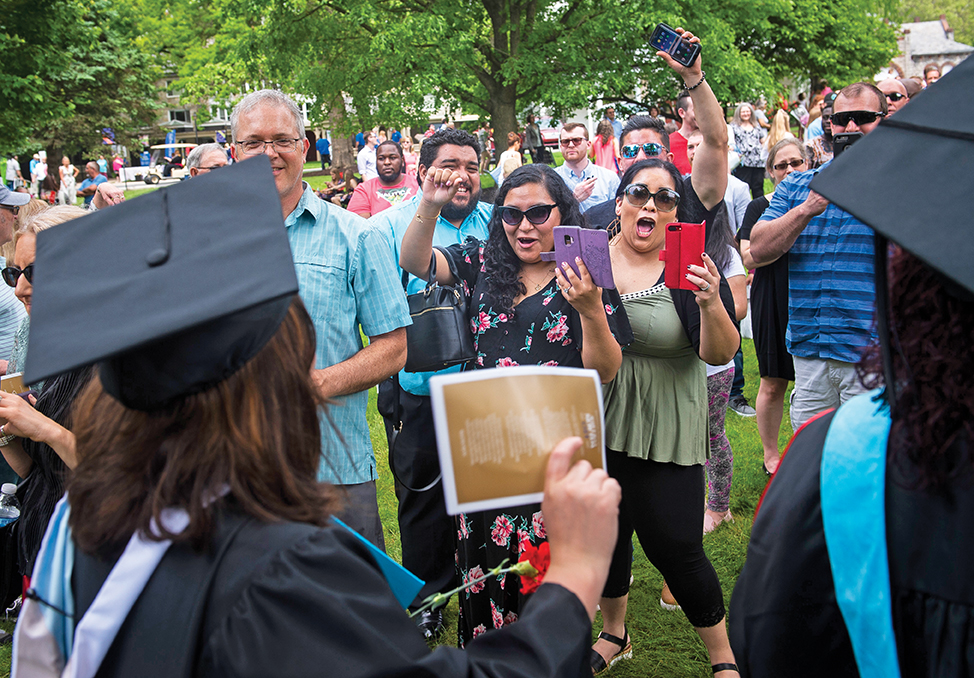 Wilson College President Barbara K. Mistick reminded the large audience assembled on the main campus green that this year's commencement celebration was a particularly special one, coinciding as it did with the 150th anniversary of the College's founding in 1869 and representing a huge milestone in the life of the College.
"We have watched you grow in so many ways during your time here, learning to think and act with bold intention," Mistick told the graduates. "We share your sense of triumph and are all very proud of your many achievements.
I hope you set your sights high, act boldly and challenge yourselves."
Adult Degree Program speaker Natasha Goessel told fellow graduates from the podium, "We did it!" She then told the story of how her Wilson journey began as "a woman, on her own, the sole provider and caretaker of two little kids. A woman who was now determined to change her entire life and then did." She earned her Bachelor of Arts degree with the support of Wilson's ADP program, she said, before exhorting other graduates to "Step boldly into your future, even if you're not sure what that is yet because that's OK. The truth is, it changes every day with the choices you make. Congratulations, Class of 2019!"
Class of 2019 President Marissa Rankin and Vice President Dana Kessler delivered a brief, joint address centered on how the individual differences among classmates helped create one bonded, cohesive group. "Over the past four years, we have made many friendships and many memories, ones that are said to last a lifetime," said Rankin. "While we have made our marks as individuals, we could not have done it without one another."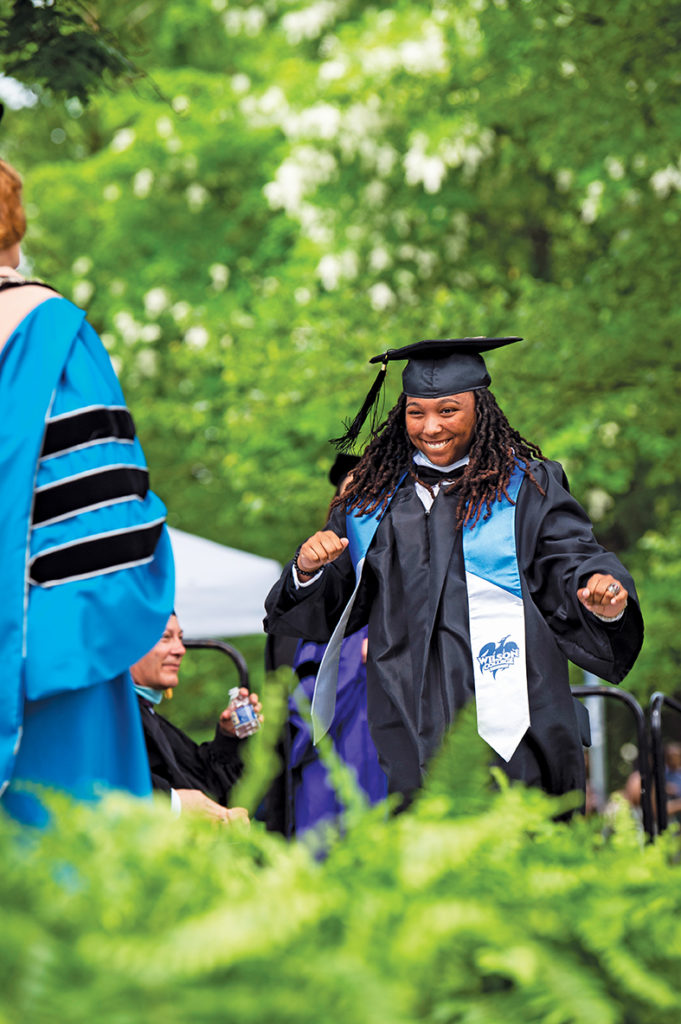 Commencement speaker Laura Stein, executive vice president and general counsel at The Clorox Co., talked about the importance of being both bold and kind and advised members of the graduating class to focus their energy on their passions and big plans instead of wasting time on backup plans or thinking about reasons to play it safe.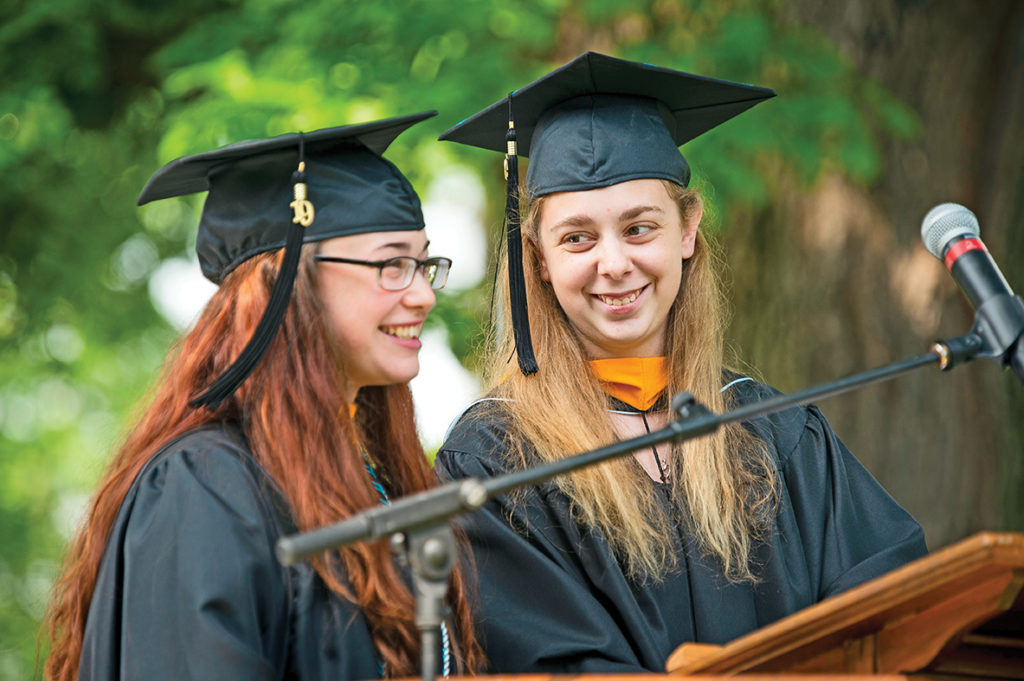 Stein, who received an honorary Doctor of Laws, reminded the class that, while being bold means something different to everyone, people who are bold share common traits: "Namely, a continuous learning mindset, seeing the art of the possible and speaking up. We are living in a time of unprecedented change and yet we will thrive when we boldly continue to learn and be curious each day."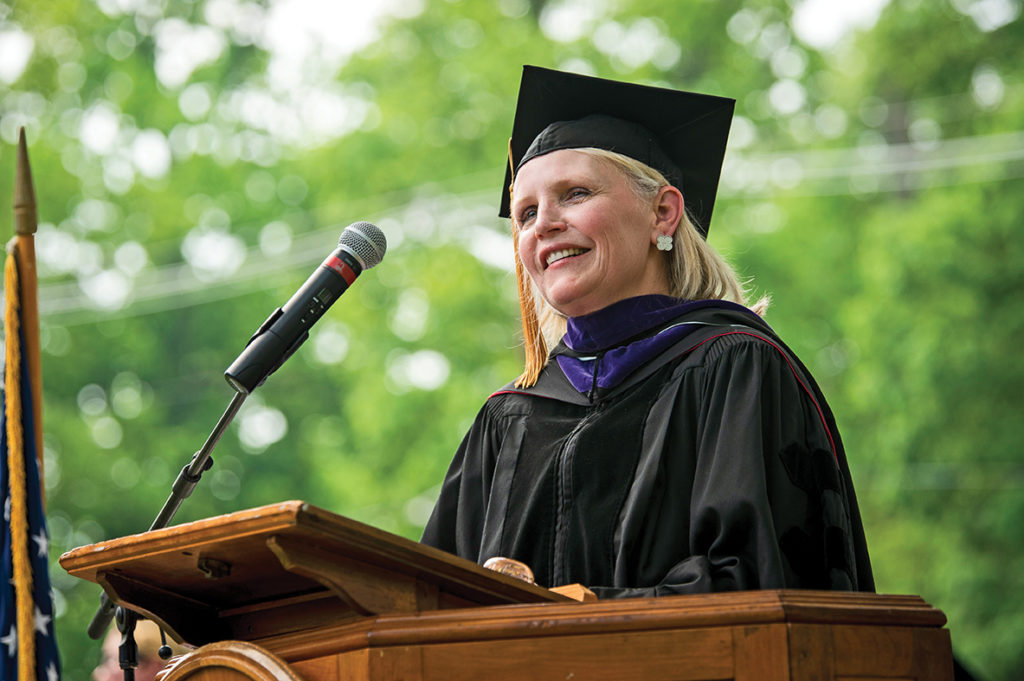 On behalf of the senior class, Kessler and Rankin presented the College with a gift of $4,000 to build a recreational area for students. It will be called the "Odds Quad" and will have a fire pit, horseshoe pit, tables and seating where students can hang out and socialize.