The community attends the inauguration Wilson College's 20th president, Wesley R. Fugate, Ph.D.
The inauguration of Wilson's 20th president almost didn't happen. With the coronavirus raging across the country and restrictions on gatherings making it impossible to hold the ceremony in person, the inauguration scheduled for fall 2020 was canceled.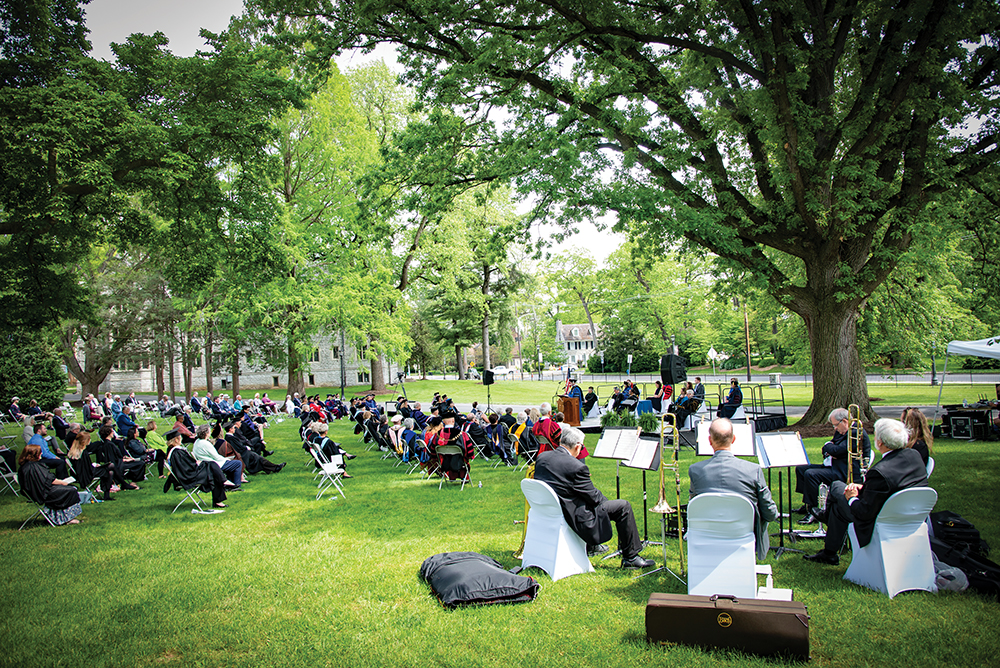 President Wesley R. Fugate, Ph.D., in light of the sacrifices and hardships caused by the pandemic, asked that the College forgo a formal inauguration event. However, the inauguration committee, especially through the persuasive Professor Julie Raulli, Ph.D., argued that the installation of a new president was more than an event honoring that individual. It was an event celebrating the history and persistence of the College and a way for the whole Wilson community to come together. After such a challenging year for everyone, she argued, more than ever we needed something to celebrate.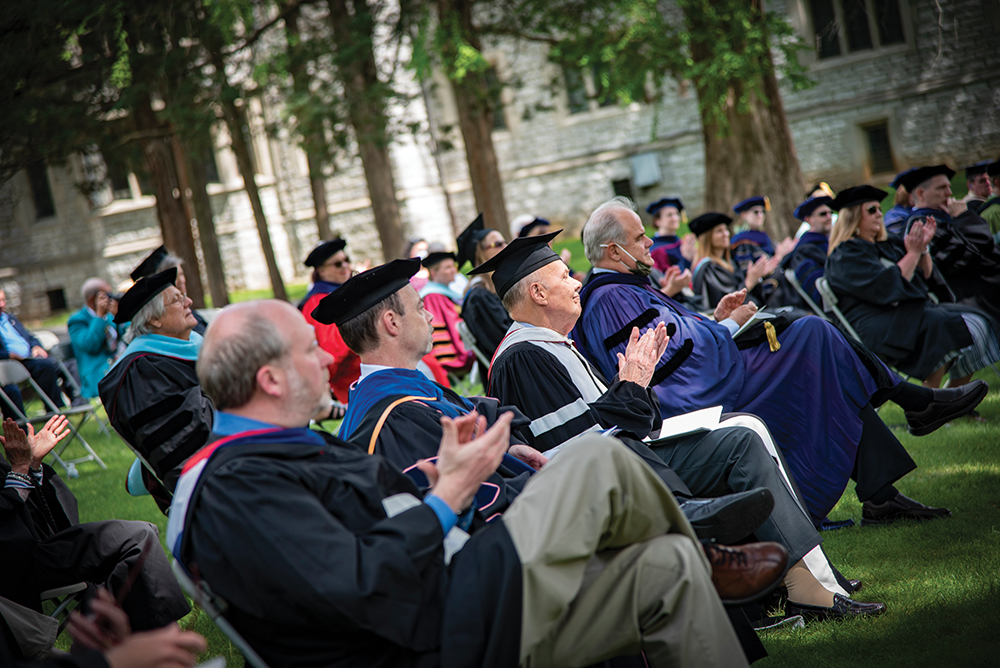 Persuaded that his inauguration was meaningful for the entire community, Fugate sanctioned the ceremony. It turned out to be a day to be remembered by all who attended and a fitting capstone to a weekend of celebration that saw two Commencements after a hiatus of two years.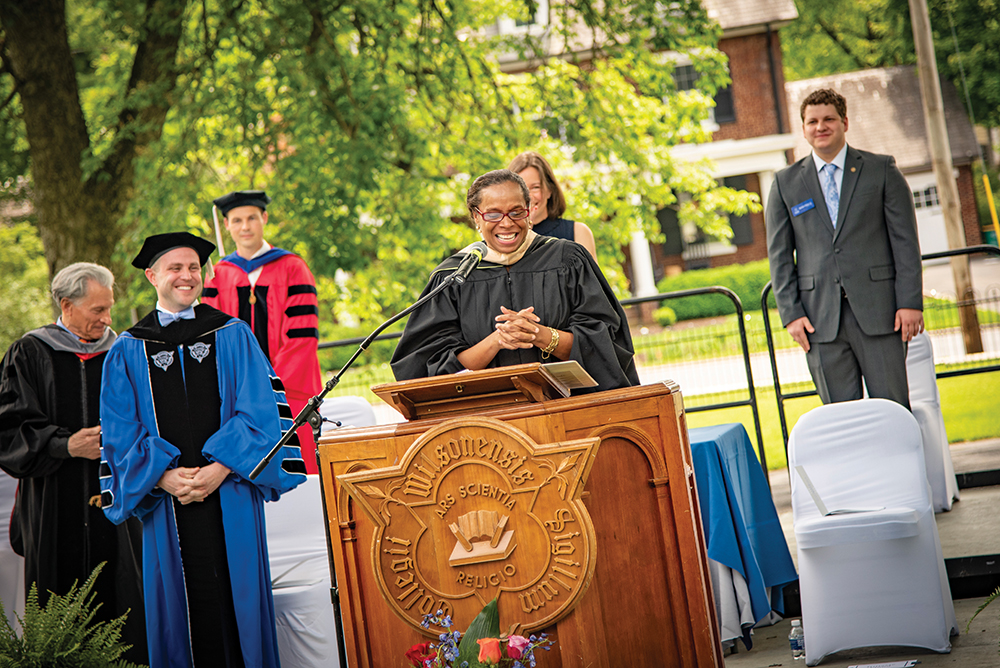 On May 17, on a beautiful afternoon, Hillarie Flood, Wilson College Board of Trustees member, welcomed the special guests, dignitaries, faculty, staff, family, and friends to the ceremony held on Main Green. Because the state was still operating under COVID-19 restrictions on gatherings, not everyone the College would have liked to invite could be there. With that in mind, the event was live-streamed for those who could not attend. (You can find the full recording here.)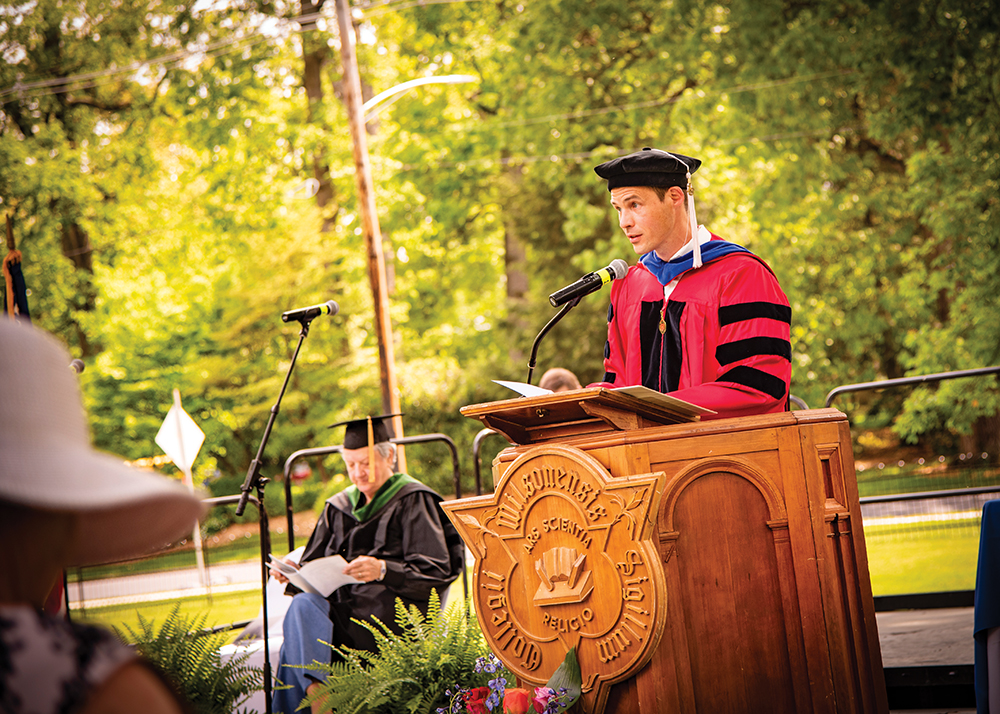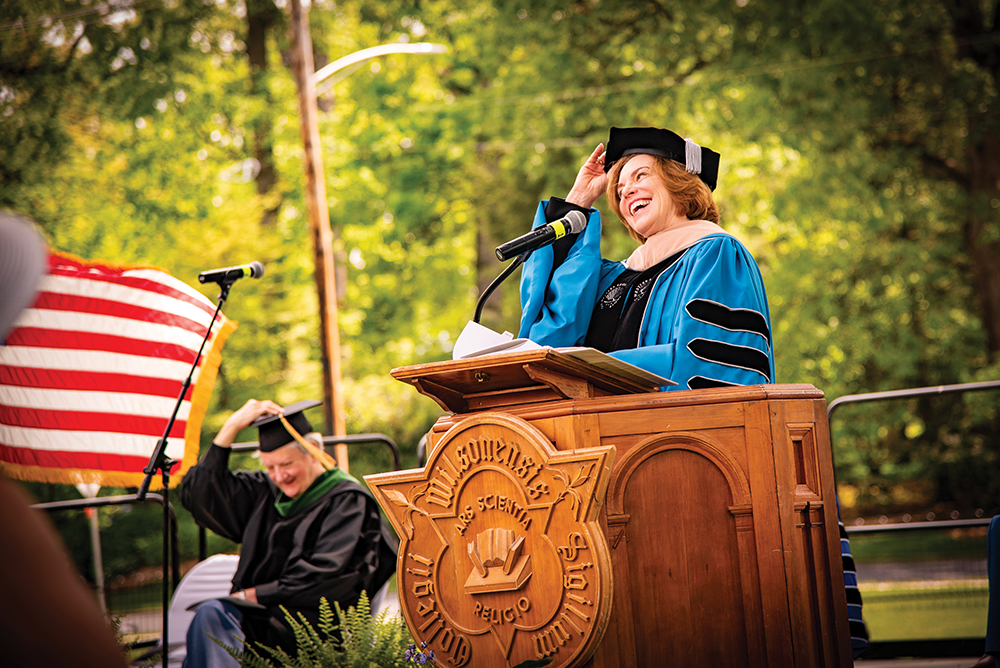 After the introductions, poet Matt McBride, Ph.D., read the poem he had written in honor of the occasion. Next, Wilson's 19th President Barbara K. Mistick, D.M., spoke of her time at the College and brought greetings from the presidents of other institutions represented by the National Association of Independent Colleges and Universities.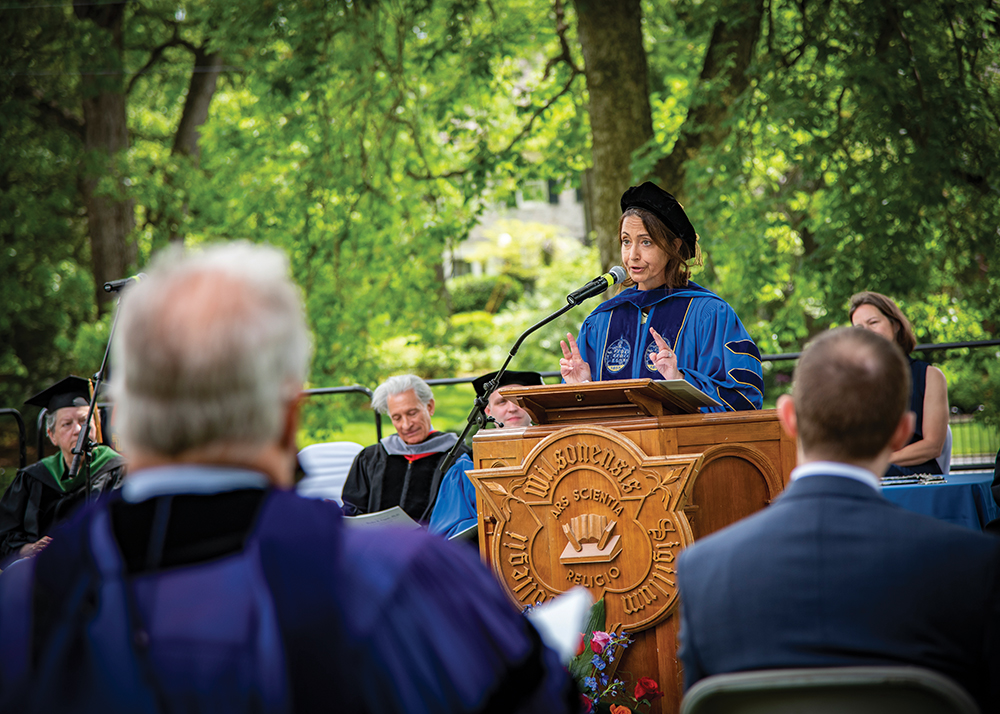 Hillary Link, Ph.D., President Allegheny College, congratulated Fugate and joked about his poor timing in taking on one of the most difficult jobs (under normal circumstances) during a pandemic. She described Fugate as transformational, agile, nimble, strong yet empathetic, and "the right leader for Wilson at this time."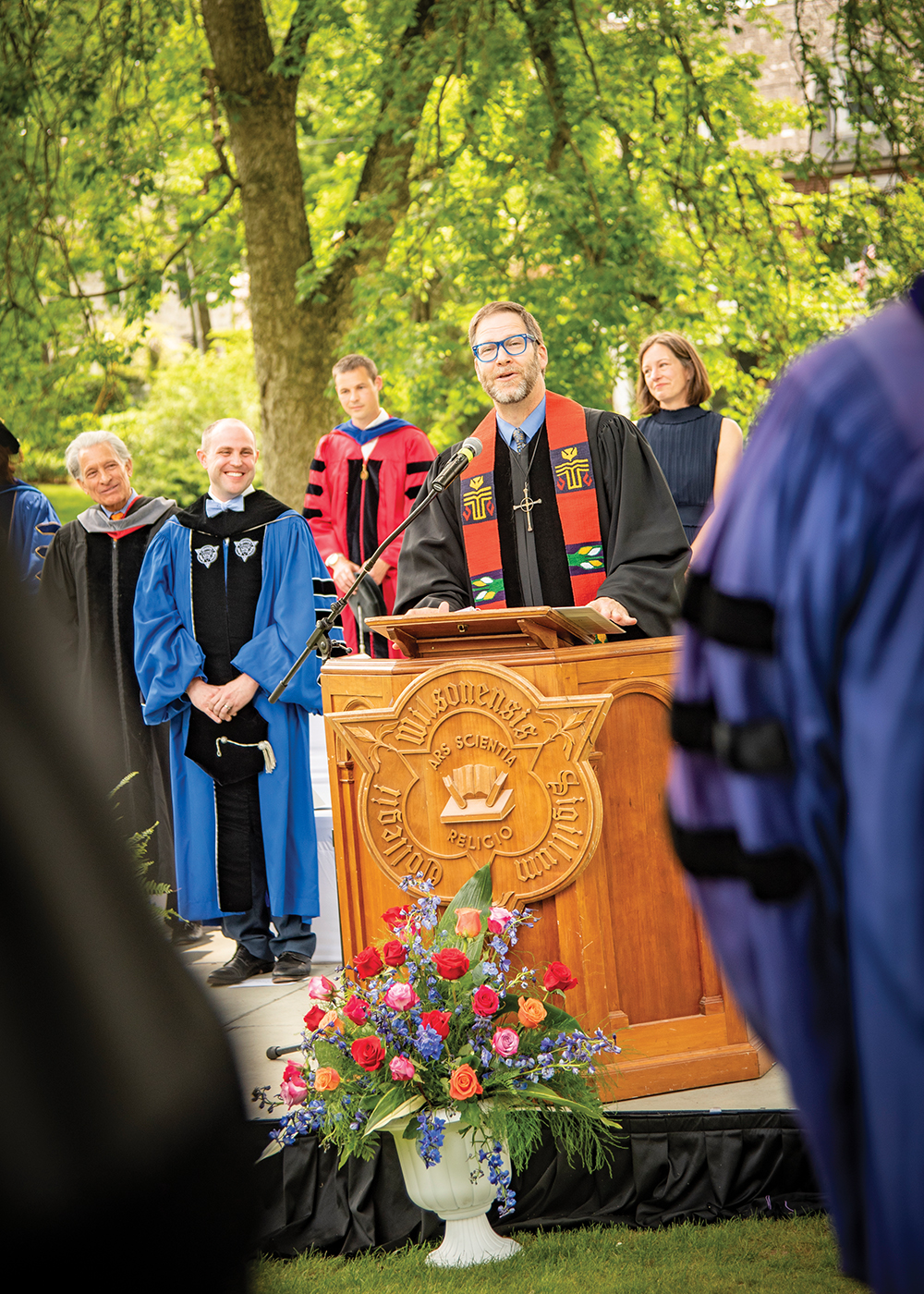 Alice C. Elia, president, Town Council, First Ward, Borough of Chambersburg, Lynne DiStasio '74, president, Alumnae Association of Wilson College, Matthew Wilson '23 , president, Wilson College Student Government Association, Jill Hummer, Ph.D., associate professor of political science, and Linda Boeckman, director of career development all welcomed Fugate on behalf of their associations or groups.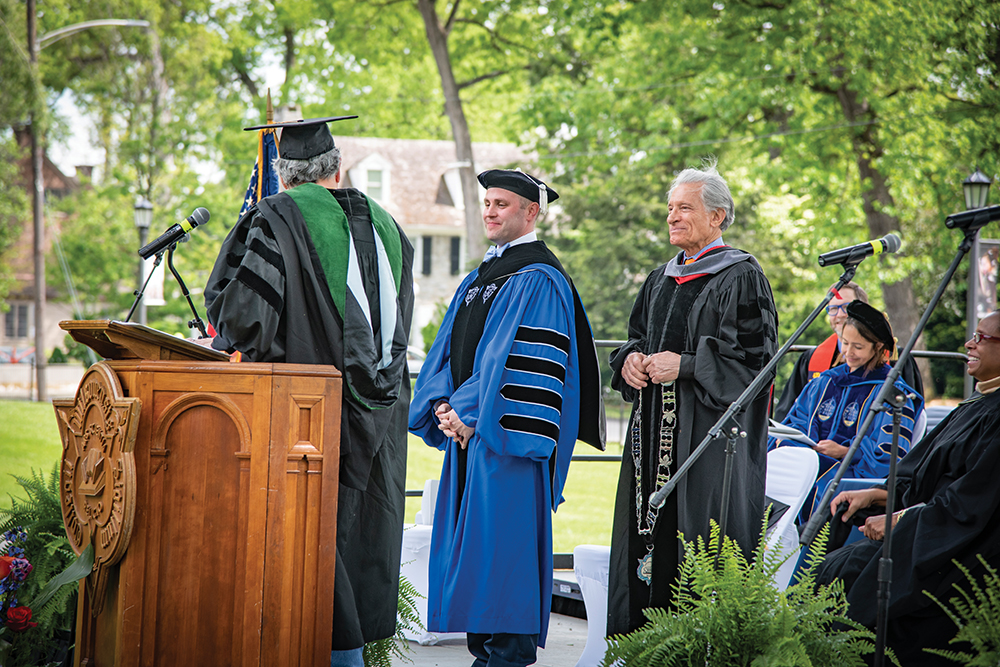 Barbara L. Tenney '67, M.D., chair Wilson College Board of Trustees, and James A. Orsini, vice-chair Wilson College Board of Trustees, oversaw the formal investiture of Wilson's 20th president. Tenney described Fugate as "the real deal" and expressed how proud the board was to have him as president. Orsini placed the official Wilson College Presidential Chain of Office over his shoulders to symbolize his official investiture.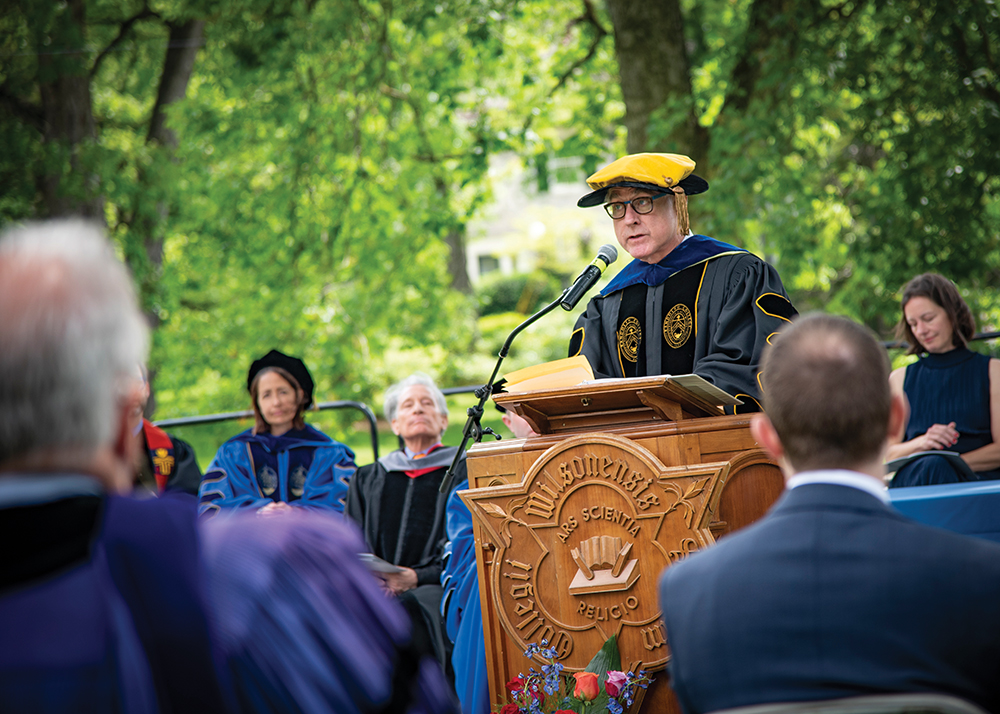 Bradley W. Bateman, Ph.D., president Randolph College, had the honor of introducing Fugate. He talked of Fugate's values, character, and passion. He described him as a "just, honorable, and wise man." He spoke of Fugate's transformation through his liberal arts college education into a passionate advocate for transformative education.
Fugate stepped up to the podium and addressed the audience. "It is perhaps fitting that I, as a first-generation college student, would one day become the president of an institution initially funded by a farm woman with no formal education who simply wanted to ensure that others had access to higher education," Fugate said. "Today is the realization of a dream for me and a testament to how education is key to reaching your goals. I am so grateful to serve Wilson."
He spoke of the sacrifices his family made to make his education and career possible. "Thank you, Mom and Dad, for giving all that you did to ensure I could one day achieve this dream." His parents sat in the front row, teary-eyed and proud.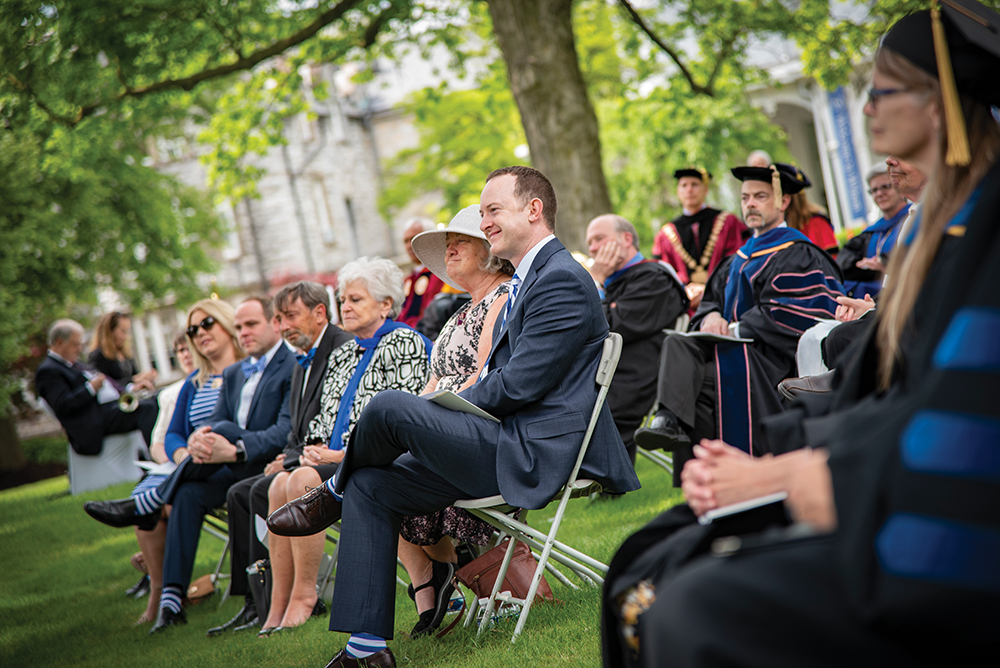 Fugate said he had two partners on his journey to Wilson. The first, his twin brother Les, accompanied him from childhood through graduate degrees at Vanderbilt University. He joked that "Wilson probably got the lesser of the Fugate twins." His second partner, his husband Cody, he thanked for his patience and support, especially when the crises of the last year took their toll.
He thanked all those present and especially the friends and colleagues who had traveled a great distance to join him for this special occasion. He thanked Dr. Bateman for his introduction and all he had done to prepare him for the position at Wilson.
Fugate then introduced his vision for the College and the theme of his inauguration address: "Wisdom. Honor. Justice: A Foundation for the Future." He explained how this vision was built upon those of his predecessors and motivated by his passion for Wilson's Honor Principle.
To fully appreciate the vision, it is best to read the address in its entirety. You can find a transcript and a recording here. To summarize briefly, he broke each component — wisdom, honor, and justice — into their past, present, and future iterations.
Wisdom, he said, is in the College's DNA and rooted in its liberal arts traditions. He traced the tenets of the liberal arts from the ancient Greeks, through the Middle Ages, the founding of the College, and its evolution since then. He noted how the liberal arts foundation contributed to and strengthened the more vocational programs currently offered.
Honor, he said, has always been a core value of the College. The institution's original purpose was not simply to produce educated graduates but to produce graduates with consciences and honor. "Honor is more than do not lie, cheat, or steal," he said. "Here, Honor is about honorable living: the way you care for yourself and for others."
Justice has been central to Wilson's mission from its inception. The concept of education for women was radical for its time and came in part out of a movement "to apply Christian ethics to solve social ills." Fugate did mention that the road to justice at the College has been a little bumpy and, in particular, was very late in admitting its first black student. However, by the 60s, Wilson students were fierce advocates for civil rights. He said this work and advocacy for justice is as important today as it was back then. "Higher education delivers the promise of tomorrow, and Wilson believes that we play a critical role in providing that promise to all people, regardless of their background," he said.
Fugate explained how these three pillars would provide the structure and support for the College's evolution going forward. The first step would be to incorporate them into a strategic plan that takes a holistic approach to the institution and puts her on a path to success in a changing world. You can read about this strategic plan, "Future Wilson: The Phoenix Rises," in this issue.
"Wilson is a gem in the world of higher education," Fugate said. "We are a community united around the student experience and not afraid to adapt to our constantly changing world. As we have in the past, we will face tests, but together, as One Wilson, we will find paths forward that will build upon our strong traditions of Wisdom, Honor, and Justice and help us advance, ensuring Wilson will continue to shape the lives of our students well into the future. Small but mighty, we boldly persist."
His address received loud applause. Flood congratulated him again and said, "I think I can speak for the entire Wilson community when I say that we are with you and will support you every step of the way." The ceremony ended with the singing of the Alma Mater and a choral benediction.
A reception on the Mistick Quad followed, where everyone was treated to a new cocktail, the "old Wilson," in honor of President Fugate. At this informal gathering, many spoke of their admiration for Fugate and the hope he inspired for the College. Les Fugate, choking back tears, spoke of how proud he was of his "younger" brother and wished him future success.
As people greeted each other, smiled, laughed, and talked, most maskless thanks to the lifting of some restrictions, it truly felt like a new and bright beginning for the entire community.