COVID Testing by One of Our Own
With the return to in-person teaching, the College put in place rigorous protocols to limit the spread of the COVID-19 virus and keep students, faculty, and staff as safe as possible. From a mask mandate throughout campus and social distancing in classes, communal areas, and the dining hall to hand-sanitizer dispensers in all buildings, we have taken the precautions recommended by the CDC and state health authorities.
Equally important, we tested every campus community member for the presence of the virus when they returned to campus and repeatedly throughout the semester. Those who test positive need to quarantine for at least ten days and seek medical help if they become symptomatic.
The College has partnered with WellSpan Health to oversee the testing. And, to our great good fortune, they assigned one of our own to manage this process. Ashley Hamilton '20, a clinical manager for WellSpan, is the (masked) face of testing at Wilson.
Hamilton's history with the College goes all the way back to fall 2005 when she took a part-time job as an assistant teacher in our child care center. This was a very brief stint with us as she was expecting her first child at the time and did not return for the spring semester. However, a few years later, she returned to study to become a Licensed Practical Nurse (LPN). Although the classrooms were on our campus, the program was run by the Franklin County Career and Technology Center, and her certification was through them.
Hamilton jokes that she couldn't stay away from the College because, in 2017, she returned as a full-time undergraduate student in the LPN to Bachelor of Science in Nursing bridge program. When she graduated in May 2020, it was into a world dominated by the pandemic. With her combination of medical qualifications and aptitude for administration, WellSpan made her a clinical manager in charge of COVID-19 testing at Shippensburg University. Hamilton is responsible for testing both there and at Wilson.
Now she spends her workdays in Lenfest Commons, where we have set up our testing center. "I feel like I'm living here," Hamilton says. She spends a lot more time at the College now than she did as a student because she was a commuter student and worked full time too and didn't spend a lot of extra time on campus.
The testing began on Dec. 7, 2020, but that was just for students and faculty attending clinical laboratory classes and did not involve a lot of people. It was a good opportunity to set up the testing center and make sure everything was in order before the surge of testing that began in January.
"Jan. 30 and 31, we really ramped up because that's when everyone was returning to campus," she says. "We did over 150 tests a day that weekend." It is a rapid antigen test — the nurse swabs the person's nasal passage, places the sample in the testing solution, and waits ten minutes for the result. The person being tested must wait until the results come back before leaving.
Hamilton does the majority of the testing. The record was 183 in one day, of which Hamilton did 108 before another "staff member came to my rescue around 3:30 and we did 75 more."
Most people deal well with the discomfort of having their nasal cavities swabbed, but there have been tears. Hamilton recalls one student who was so ticklish every time she tried to swab his nose, he instinctively pulled his head back. She tried sitting him in a reclining chair with his head tilted back, but nothing worked. In the end, she had another staff member hold his head while she swabbed.
There have been relatively few positive tests, and most people who learn they are positive for the virus accept it because they have suspected they may have it (people with symptoms are not supposed to go to the testing center and are encouraged to quarantine and seek medical help if needed). "But those who have no symptoms and test positive are different," Hamilton says. "Some have become tearful and others angry."
The College's COVID-19 measures have been relatively successful. At the time of writing, our positivity rate for the last week is 0.65% compared to 6.8% for Franklin Co. and 6.5% for the state over the same period. With the cooperation of everyone on campus and the hard work of Hamilton, we hope to keep the community safe and continue in-person classes.
---
Commencement Weekend Speakers
Originally scheduled to speak at last year's ceremony (canceled due to COVID-19 restrictions), Mario Capecchi, a molecular geneticist and co-winner of the 2007 Nobel Prize in Physiology or Medicine, will address the senior class at the 150th annual commencement ceremony on Saturday, May 15. Capecchi shared the Nobel Prize with two other scientists for discovering a method of deactivating — or knocking out — specific genes in mice known as "knockout mice." The technique provided a much more reliable method of altering animal genomes. This is used in gene targeting and has contributed to the development of new treatments for diseases in humans, including cancer and diabetes.
In addition to his distinguished career in science, Capecchi has a fascinating personal story. He was born in Italy in 1937, son of Italian air force officer Luciano Capecchi and American Lucy Ramberg, a poet and daughter of impressionist painter Lucy Dodd Ramberg and German archaeologist Walter Ramberg. Capecchi and his mother were living in a chalet in the Italian Alps when World War II broke out. His mother was arrested for her anti-fascist activities and sent to Dachau, the first Nazi concentration camp.
Expecting arrest, Capecchi's mother had paid friends to let her son live with them. But when the money ran out, they turned him out of their house at age 4 1⁄2. Capecchi lived on the streets of northern Italy with other homeless children, as well as occasionally in orphanages, for five years. He spent the final year in a hospital, where he nearly died of malnutrition. After Capecchi's mother was released from Dachau, she spent two years searching Italy for him. She eventually found him at the hospital. Soon after, they came to live in the United States, settling in a utopian commune in Pennsylvania co- founded by Lucy's brother, physicist Edward Ramberg, and his wife, Sarah.
After earning a bachelor's degree in chemistry and physics from Antioch College, Capecchi worked at the Massachusetts Institute of Technology (MIT), where he became interested in molecular biology. He did his graduate work at Harvard University in the laboratory of James D. Watson, co-discoverer of the structure of DNA. Capecchi earned his doctorate in biophysics from Harvard in 1967. After teaching for a time at the Harvard Medical School's Department of Biochemistry, Capecchi joined the faculty at the University of Utah in 1973.
Capecchi has held a number of teaching positions at prestigious universities and is currently distinguished professor of human genetics at the University of Utah School of Medicine. There, he also runs a laboratory with an extensive history of training graduate students and post-doctoral fellows who have gone on to successful careers in academic and industrial research. Capecchi studies cancer models (experimental versions of cancer) recreated in mice and has a particular interest in the study of sarcomas, focusing on unraveling the function of the Hox genes associated with developmental and neuropsychiatric disorders.
Capecchi is a member of numerous professional organizations, including the National Academy of Sciences, the American Society for Biochemistry and Molecular Biology, and the National Science Foundation Advisory Panel on Genetics. Likewise, he has received awards too numerous to list, including the American Association for Cancer Research Lifetime Achievement Award and the Alfred P. Sloane Jr. Prize for Outstanding Contributions to Cancer Research.
Gwendolyn Sykes, the United States Secret Service CFO, will address the 2021 graduating class at the 151st annual commencement ceremony on Sunday, May 16. Sykes is responsible for the execution, development, and stewardship of the Secret Service's resources and currently manages a financial team that includes budget, financial management, relocation, and financial systems experts.
Sykes is the first African American female to have served as the CFO at NASA, the National Aeronautics and Space Administration. Nominated by the President of the United States and confirmed by the United States Senate, she was responsible for this $16 billion agency's financial management and health. She led more than 500 finance professionals, located across ten geographically dispersed locations throughout the United States, to develop and execute financial policies, processes, and procedures. Sykes has also served as Yale University's CFO, the first in that university's 306-year history, and CFO for Morehouse College. Previous government experience includes working within the Department of Defense and in the office of U.S. Senator Ted Stevens.
Sykes holds a Bachelor of Arts in accounting from Catholic University and a Master of Public Administration from American University, where she also serves as an adjunct professor in the School of Public Affairs. She has been recognized for her achievements by Black Enterprise, Newsweek, the Today Show, and the National Black Caucus of State Legislators.
---
Seeing Spots at the Smithsonian
Carter Marsh, a junior at Wilson, has wanted to work with animals since he was a child. So, when the opportunity to spend a semester at the Smithsonian Conservation Biology Institute (SCBI) came his way, he jumped at it.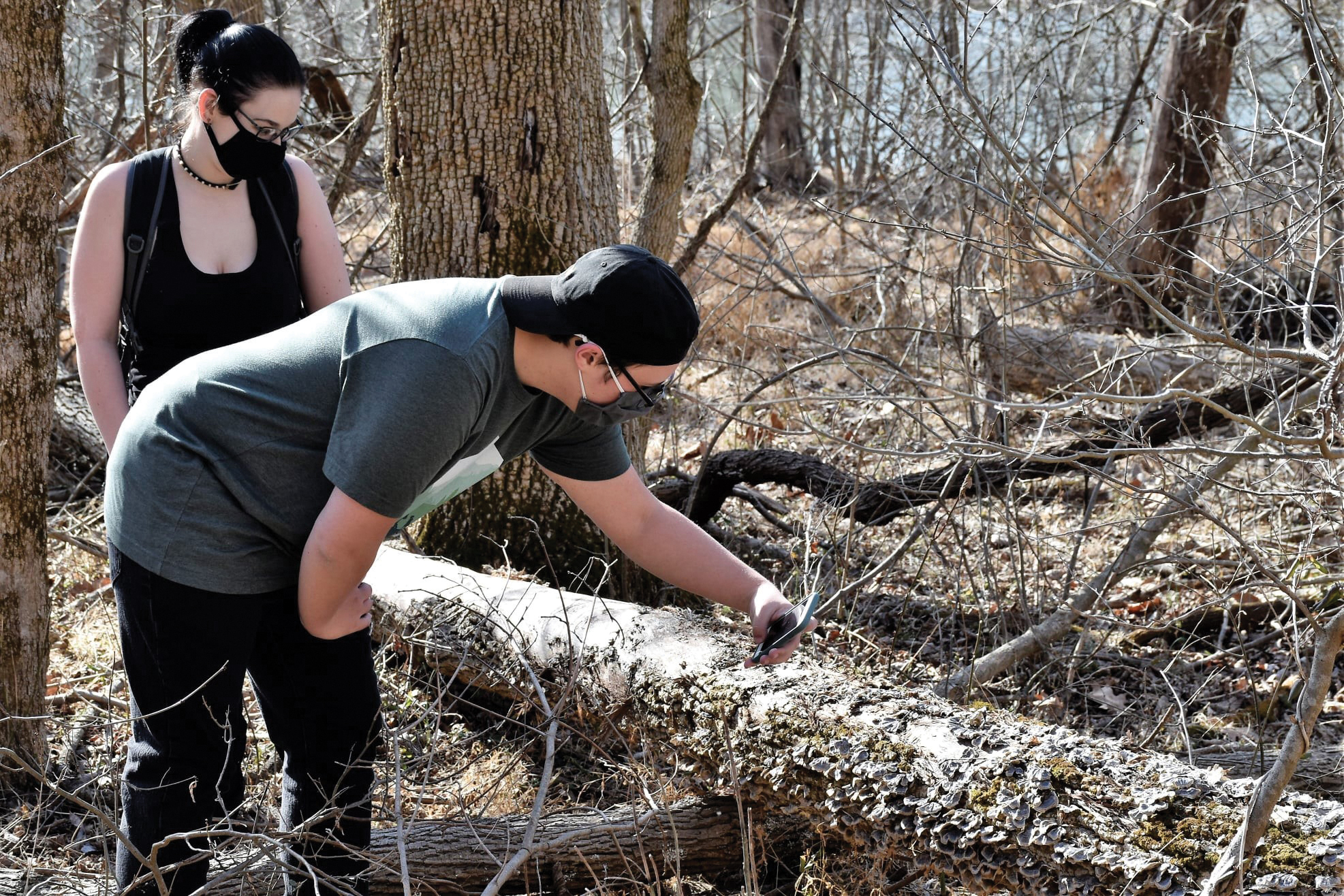 Marsh, who is majoring in animal studies with a concentration in biology and psychology, learned about SCBI from biology professor Dana Harriger and his adviser and equestrian professor Ann O'Shallie. He is spending the spring semester in the Endangered Species Conservation program at SCBI's Smithsonian-Mason School of Conservation. The campus is located on 3,200 acres of forest and grassland alongside Shenandoah National Park.
Marsh and the other students share the campus with the institute's on-site endangered mammals, birds, and amphibians. To date, in part due to COVID restrictions, he's only seen a few of these residents, including maned wolves, cranes, and loggerhead shrikes — a native bird that is in decline nationally and endangered in some of its range.
Students are mentored and taught by international conservation experts who've had hands-on experience working in the field or with captive breeding populations of animals.
"I'm creating management plans and looking at both conservation of endangered species in the wild and in captivity," Marsh said. Recently he did research on clouded leopards and got to "sit down with the head of the species survival plan for clouded leopards and talked with them about what is actively happening in the field with this species. They are unsure how many there are in the wild because of how elusive they are."
SCBI has a clouded leopard breeding program at the facility, but Marsh hasn't met the leopards yet. He did learn that they are listed as "vulnerable" and that there are only about 150 individuals globally in captivity. Given that they are challenging to breed and there are so few left in the wild, captive breeding programs may be crucial to the species' survival.
From small spotted cats, Marsh has moved on to spotted animals on a different scale — giraffes. "This giraffe research just fell in my lap, and I'm very fortunate to have gotten it," he said. "I am focusing on a herd of giraffes in a national park in Uganda." Researchers in the field follow the herd and record data about each giraffe. "The data I've been playing around with extends over days with what each giraffe is doing at five-minute intervals." By learning about natural giraffe behavior, conservationists hope to come up with better management plans for protecting the species.
Marsh intends to pursue a career in wildlife conservation but is unsure whether he would prefer to work with captive breeding programs or follow a more academic route and educate others about conservation. For now, he is happy contributing to the research efforts at SCBI.
Thanks to the vision of alumna Susan Breakefield Fulton '61, Wilson is one of three colleges nationally — including George Mason University and Bridgewater College — that have full partnership status with the SCBI program. This allows up to six Wilson students to attend the school each semester.
---
New VP to Lead Institutional Advancement
The College has named Angela Zimmann, Ph.D., CFRE, of Gettysburg, Pa., as the new vice president for institutional advancement. With more than 20 years of fundraising, leadership, and teaching in higher education, Zimmann joined the College on March 15. She replaces Camilla Rawleigh, who retired from the institution in November 2020.
Zimmann served as the vice president for institutional advancement at United Lutheran Seminary. She led the institution's fundraising strategies, including the annual fund, major gifts, planned gifts, and various philanthropic campaigns. She also oversaw alumni relations and donor relations and was the president of the seminary's endowment foundation. Prior to that, Zimmann served as interim president of the institution from Dec. 2019 to Aug. 2020 and advancement executive from 2014 to 2016.
Wilson conducted a national search for this important position. "It is a time of transformative change at the College. We have launched a new strategic action and planning process that will enable us to better respond to the needs and desires of today's students and beyond," Wilson President Wesley R. Fugate said. "We needed an advancement professional with the ability to tell the story of Wilson College and share the student experience. These skills are critical to securing needed resources and engaging all constituents in the work of the College. Angela's leadership skills, ability to harness the power of data to influence key decisions, as well as her ability to inspire others with the Wilson story, make her a great addition to the team."
Lynne DiStasio, president of the Alumnae Association of Wilson College, agreed. "During the interview process, it became clear Angela has a real passion for the mission of the College. Her desire to build meaningful connections with our alums will go a long way in bringing forward much-needed resources for the College's future programs."
Reporting to Fugate, Zimmann is responsible for enhancing Wilson's resources and relationships to respond to changing student and institutional needs and create a vision for a sustainable future. She will work closely with the executive team, academic deans and directors, faculty, staff, students, and the Board of Trustees.
"I am excited to join the team at Wilson College and am very much looking forward to helping the College build upon its past successes," Zimmann said. "Wilson is poised to thrive and flourish. I'm grateful for the opportunity to be a part of its bright future."
Zimmann holds a Bachelor of Science in industrial engineering from University of Toledo, a Master of Divinity from United Lutheran Seminary, and a Doctor of Philosophy in English, rhetoric, and writing from Bowling Green State University.
---
Best Buddies Brings the Best out of Wilson
A chapter of Best Buddies connects the local disabilities community with our campus community.
When Maddie Walker transferred to Wilson, she felt she had made the right decision. The process was easy, the staff supportive, and the faculty and students made her feel welcome and at home. But there was still something missing—her Best Buddy.
Walker had been part of the Best Buddies (BB) organization at her previous college. Through this, she had been "peer paired" with a local woman who has an intellectual disability. Walker missed their friendship and the joy it brought. "I loved it so much I wanted this community to experience it, and I wanted to continue it for myself too," Walker explained.
BB promotes and facilitates connections between people from the dis- abilities community and others in their local communities. The idea is to make relationships between the two groups "a norm" and a positive experience. The adults with intellectual disabilities get to meet and become friends with people they would not normally interact with. And the BB volunteers get to bond with people who broaden their horizons and connect them to the local community. "It's really great to meet someone who is as excited to see you as you are to see them," Walker said of having a Best Buddy.
However, Walker wasn't sure she could found a chapter of BB without knowing anyone on campus. She didn't have to worry. When she reached out to Lynn Newman, an associate professor of education, Newman jumped on board as faculty adviser. "I think this is great for our students because they meet members of the community where they are going to college and learn how to give back," Newman said.
The response from students was equally enthusiastic. After Walker put up flyers asking if anyone was interested in BB, 18 students contacted her. Janae Watkins was among the first to respond. "I've always had a heart for the special needs and disability communities," Watkins said. "Even as a little child, I loved hanging out with them because they brought me so much joy."
Watkins, who is now VP of Wilson's chapter of BB, turned out to be a great resource. She volunteers and did an internship at the Franklin County Learning Center (FCLC), and her connections there were very interested in partnering with Wilson's BB and are actively recruiting local people with intellectual disabilities to join.
The Wilson BB chapter is now up and running and, with the help of FCLC and the Pennsylvania BB, has organized virtual meet and greets between Wilson students and community members. Until the pandemic restrictions are lifted, these meetings and events will remain virtual and at the moment they have not paired individual students with individuals from the community. However, Walker hopes they can move to peer pairing members of both communities next fall and, if things go well on the pandemic front, they can host in-person events and buddies can hang out together. Either way, BB looks like it is going to be a permanent addition to the Wilson landscape.
If you are interested in being a part of BB, you can contact Maddie Walker or any of the other board members. Student officers include, Maddie Walker and Ally Schulz, co-presidents; Janae Watkins, VP; Brandon Cook, treasurer; Emily Gavlak, secretary; and Kim Hale, social media manager.
---
Athletics Scores Two Head Coaches
Jonathan Rose has joined the Phoenix family as the head coach of the men's volleyball program. He comes to Wilson after a stint as the head coach of men's and women's volleyball at Brewton-Parker College. Rose will take the reins from current head coach Katie Barnett who will continue leading the women's volleyball program.
"We're excited to have Coach Rose join the Phoenix family," said Tina Hill, Wilson director of athletics. "He brings with him the experience and dedication to the sport of volleyball with a passion for helping students grow and learn, not only on the court but throughout their lives. There is no doubt that Coach Rose will serve as a mentor that expects a commitment to excellence in the classroom, giving back to our community, and creating a competitive culture that competes for championships. We can't wait to get started with the next chapter of Phoenix men's volleyball."
Coach Rose brings a wealth of life experience to Wilson and looks forward to returning to Pennsylvania, where he attended Doylestown High School. He is a 2011 graduate of fellow Colonial States Athletic Conference member Cairn University where he was a 4-year starter on their volleyball team. There he earned his bachelor's degree in Biblical studies and a youth ministries certification. He received his master's degree in 2020 from Georgia Southern University in kinesiology and coaching education.
"I want to thank Tina Hill and everyone at Wilson College for the opportunity to join the athletics staff," said Rose. "I am excited to get the men's program to a competitive state and really focus on building strong-minded men. My family and I are excited to be moving back to Pennsylvania, closer to our hometown. I know everyone has been very welcoming, and I'm happy to be calling Wilson College home!"
Before Brewton-Parker College, Rose developed an extensive background in coaching when serving as a head coach at the club and high school levels and the All-Navy men's beach and indoor volleyball teams. Rose also served in the United States Navy.
Director of Athletics Tina Hill announced the hiring of Zack Morgan as the head coach of the men's soccer program. Morgan comes to Wilson after serving as the assistant men's and women's soccer coach at Waynesburg University.
"Coach Morgan stood out as a leader that will invest in each of our players and help prepare them for success in the classroom, on the pitch, and in their lives," Hill said. "He is eager to recruit excellent academic and athletic students who will compete for our league championship while serving our community in meaningful ways. The future is bright for Wilson men's soccer under Coach Morgan's leadership."
While at Waynesburg, Morgan was heavily involved in the daily operations of both the men's and women's soccer programs, including practice planning, scouting opponents, and individual player development. Morgan was also highly successful on the recruiting trail. He helped grow the Waynesburg roster while expanding its recruiting footprint in the region and internationally. Morgan also coordinated the program's first international trip to Costa Rica.
"I am grateful for the opportunity to serve Wilson College as its head men's soccer coach," Morgan said. "Wilson has clearly demonstrated itself as an amazing community of people who care deeply about the holistic student-athlete experience, which resonates with the purpose I find in coaching. Thank you to Tina Hill and the rest of the search committee for the invitation to join the Phoenix family! I am eager to meet the players and begin working together, where, as a coach, I have the privilege to engage, equip, and empower them to lead lives of purpose in our community. I can't wait to get on the field and begin growing the Wilson soccer program!"
During his collegiate playing career at Waynesburg, Morgan served as team captain and scored 23 goals while adding eight assists. He was named to the Presidents' Athletic Conference All-Conference Team in 2013. Before Waynesburg, Morgan served as the Athletics Director and varsity boys' coach at Grace Academy.
---
Monarchs Reign
We have created a waystation for monarch butterflies to refuel or lay eggs on their four-generation migration to Mexico. Students and staff planted native species, including the milkweed varieties monarchs lay their eggs on, in the runoff basin outside the John Stewart Memorial Library.