The Class of 2020 returns for in-person Commencement.
On Saturday, May 15, the class of 2020, a year after their graduation — because COVID-19 restrictions had closed campus for their final semester and prevented an in-person commencement ceremony — got to walk the stage and receive their diplomas from President Wesley R. Fugate, Ph.D.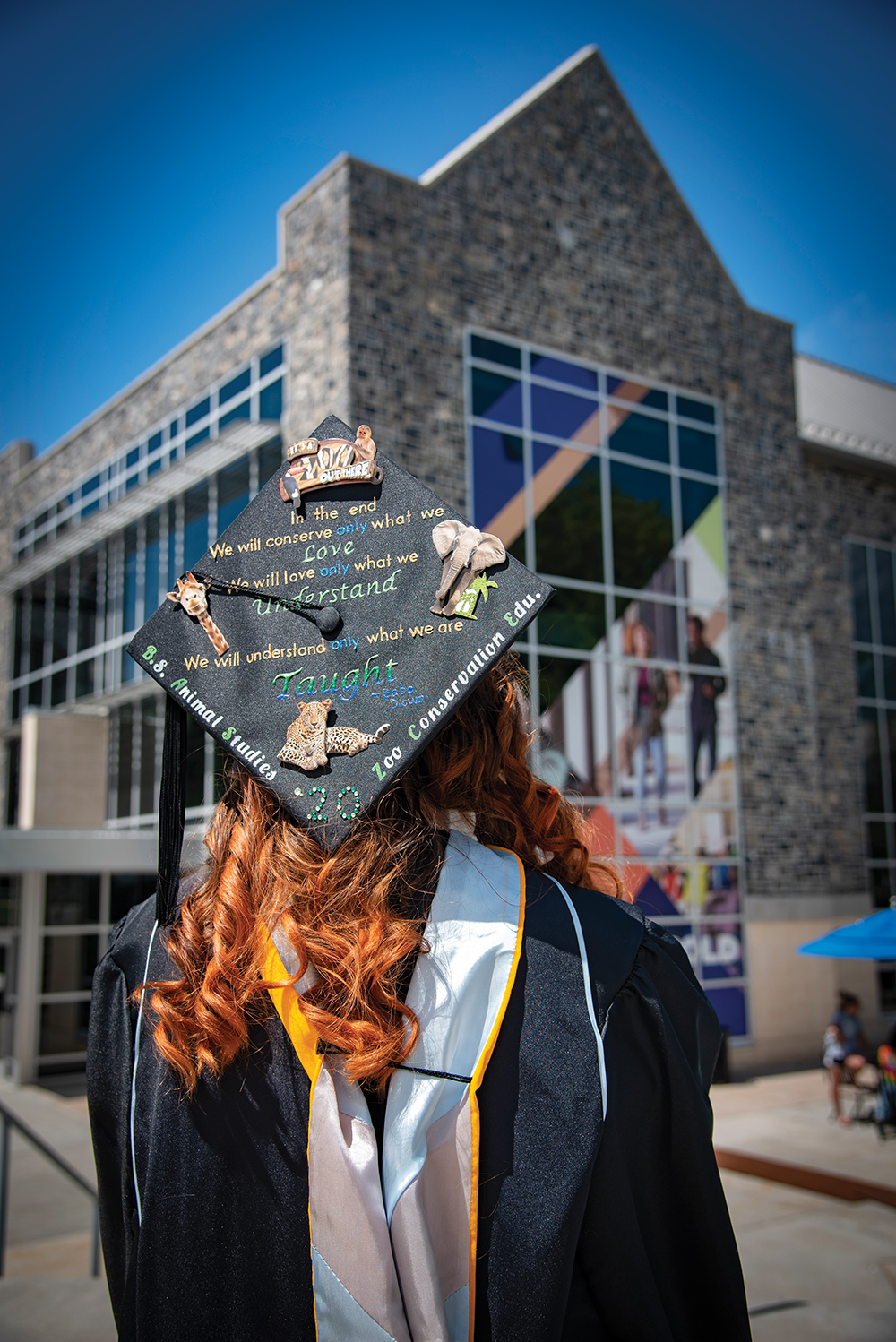 It was an emotional day for the graduates, their families, the faculty, and staff and a resounding celebration of resilience and triumph. As Fugate told the audience, "It is about time! What a year it has been! So proud to finally be here with you celebrating your graduation from Wilson College!" He added, "On a personal note: You're my first class [to graduate] and will always be in my heart."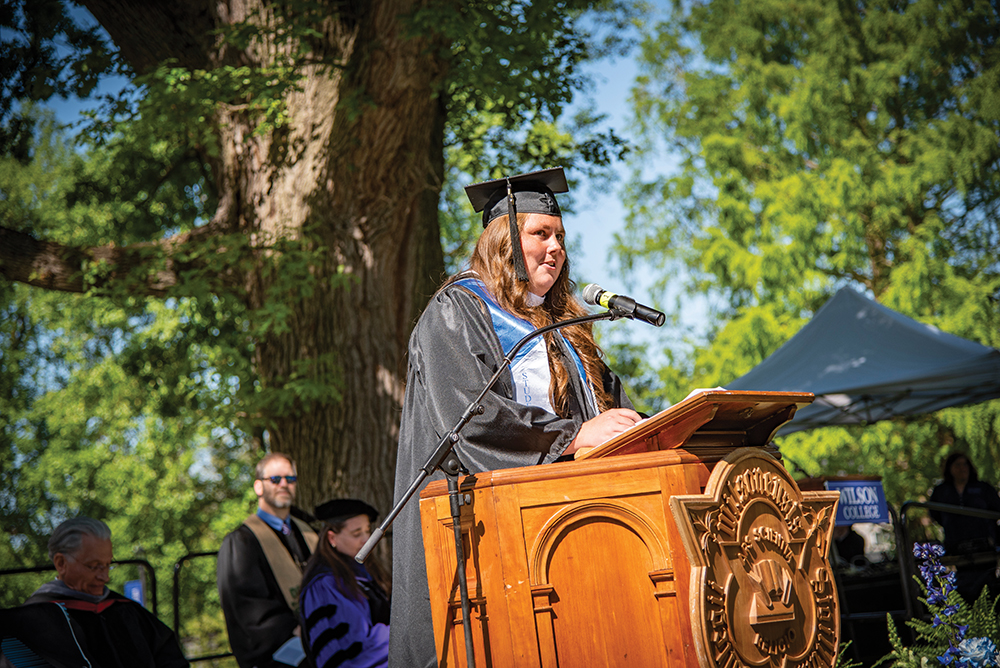 Class president Megan Potter opened with a joyful "Welcome home!" She told her classmates that they had learned what "to expect the unexpected" meant in very real terms. Like the College, they would not be bitter but bounce back better from this extraordinary experience.
Class vice president Samuel Ritter announced that the class wanted to do something special because of their difficult final semester. They made a gift of benches and other materials to improve an area around the library for future classes to enjoy.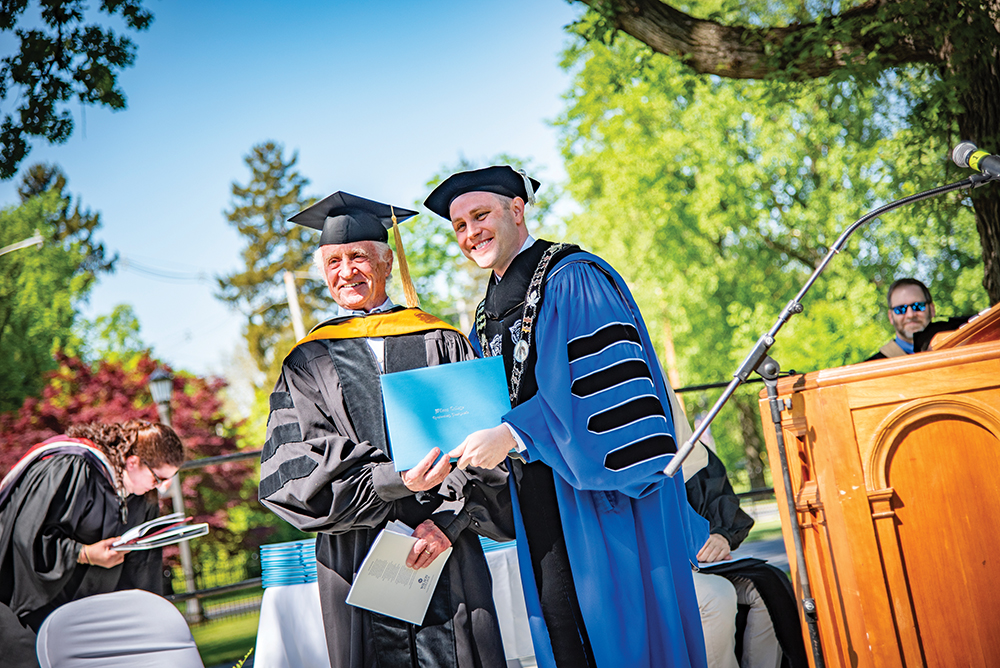 It was appropriate that the commencement speaker and Nobel Laureate, Mario Capecchi, Ph.D., had a message of triumph over extreme adversity to share with the class. After he was conferred with an Honorary Doctor of Humane Letters from the College, he shared his life's story with the audience.
With his mother imprisoned in the Dachau concentration camp during World War II, the 4 1⁄2-year-old Capecchi was left to fend for himself on the streets of Italy. His mother, who miraculously survived Dachau, later found him aged nine, malnourished, suffering from typhoid, and almost dead.
The lessons he took from his journey from an illiterate street child stealing food to stay alive to a heralded scientist were these:
Survival — he survived on the streets by close observation and understanding human nature.
Assimilation — when he came to America, he quickly learned English, how to read and write, and how to be a child again on a commune in Pennsylvania where people of all races and religions supported each other.
Vocation — at college, he transferred from political science to the natural sciences because he felt he could make a difference through the latter, not the former.
Criticism — when his mentor at Harvard described his first presentation as the most boring thing he'd ever heard, Capecchi realized the value of honest criticism and has since sought it out.
Listen to your gut — rather than doing the research he would have been paid to do, he took a huge gamble and did the research he wanted to do. He figured if he failed and never got another grant, he could always dig ditches for a living. Following his gut led to the Nobel Prize.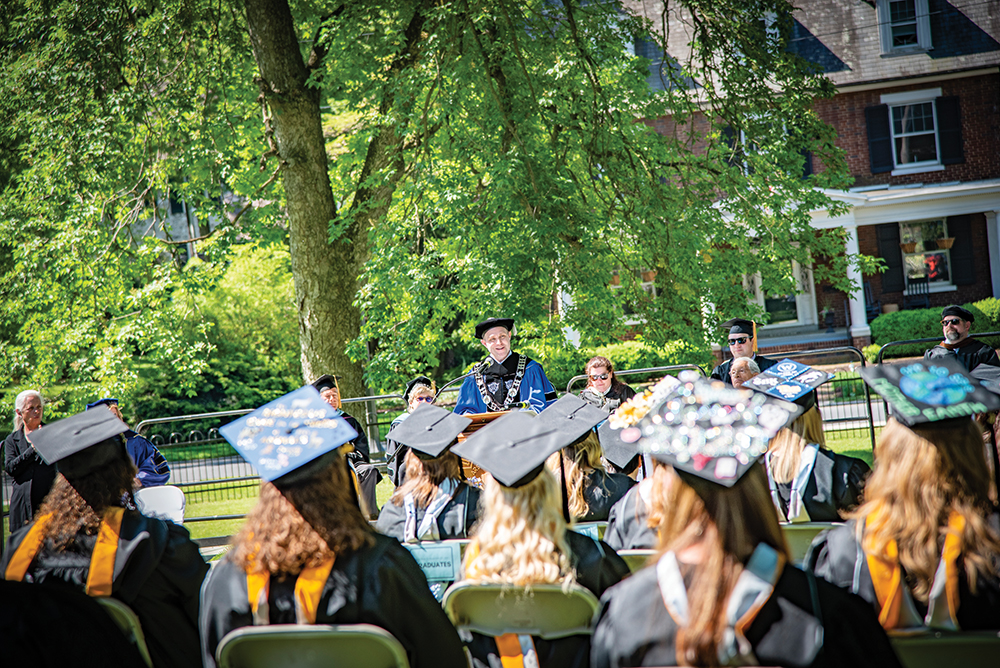 Lynne DiStasio '74, president of the Alumnae Association of Wilson College, welcomed the new alums and encouraged them to do great things in the world.
The ceremony ended with Fugate asking the class to close their eyes and remember all the things that had happened to them, good and bad, over the past four years. He told them that they were not the same people who entered Wilson and that now it was their time to go out into the world and write their own stories. He reminded them that Wilson would always be their home and hoped that they would return often.