Five Alumnae Find a Home at New Jersey Veterinary Hospital
by Coleen Dee Berry
photos by Daryl Stone
In an emergency, they are cool under pressure. Faced with a species or situation they have never encountered before, they are unflappable. Five Wilson veterinary medical technology graduates are making a big impression at New Jersey's Red Bank Veterinary Hospital, a cutting-edge, 24/7, emergency critical care and specialty care facility.
"There's not a department here that I would hesitate to send them to—they can handle them all," said RBVH clinic manager Christina Giovannielli. "They all have a great foundation in medicine, a passion for caring for animals—and this confidence. Even if they are facing an unfamiliar procedure or an out-of-ordinary situation, their confidence shows."
Designated as a Level 1 Veterinary Trauma Center by the American College of Veterinary Emergency Critical Care, RBVH handles as many as 100 emergency cases a day, Giovannielli said. The facility operates 18 departments, including oncology, neurology, radiation therapy and pain management, and maintains a staff of approximately 350, including 30 certified veterinarian technicians. "I've worked for years with interns and CVTs from schools like Cornell and University of Pennsylvania, and the Wilson grads here are equal to any of them," said Eric Glass, a veterinary neurologist at RBVH. "Their medical knowledge and professionalism are a credit to the program at Wilson."
The five Wilson CVTs are the most technicians from any one school RBVH has employed at the same time, according to Giovannielli.
Nicole Knop '96 signed on with RBVH in 2009 and currently works in the oncology department, administering chemotherapy to animals with cancer. "The biggest challenges I face in oncology are when I explain to owners that chemotherapy in most cases is not going to cure their dog or cat. It's intended to extend their life," she said. "The other challenge is knowing that these animals that you spend week after week getting to know are (eventually) going to die. It is very emotional at times … but we work to give owners more quality time with their pets."
Knop's first assignment with RBVH was in the critical care and emergency unit, and she continues to assist with those cases. "I found out I'm very calm in these situations and I can do the job I need to do without panicking," she said.
Beginning in 2016, four more Wilson graduates joined Knop at RBVH. Daniela Kenmure '14 was the first to be hired and then recruited her friend, Victoria Alterio Vierschilling '14, who in turn urged two more CVT Wilson friends—Raquel "Rocky" Feliciano '13 and Elizabeth Moore '14—to join the practice.
Kenmure first worked as a CVT in the emergency department and now is a clinical staff trainer. Moore is an anesthesia technician in the special surgery department, assisting in operations such as cardiology and neurology. Vierschilling and Feliciano both work as technicians in the hospital's avian and exotic pet department, as well as assisting with emergency and critical care cases. Their patients range from pets like parrots, cockatoos, skunks and rabbits to exotic or native animals from regional zoos. Recent zoo referrals have included a South American tamandua, also known as a lesser anteater, and an emu.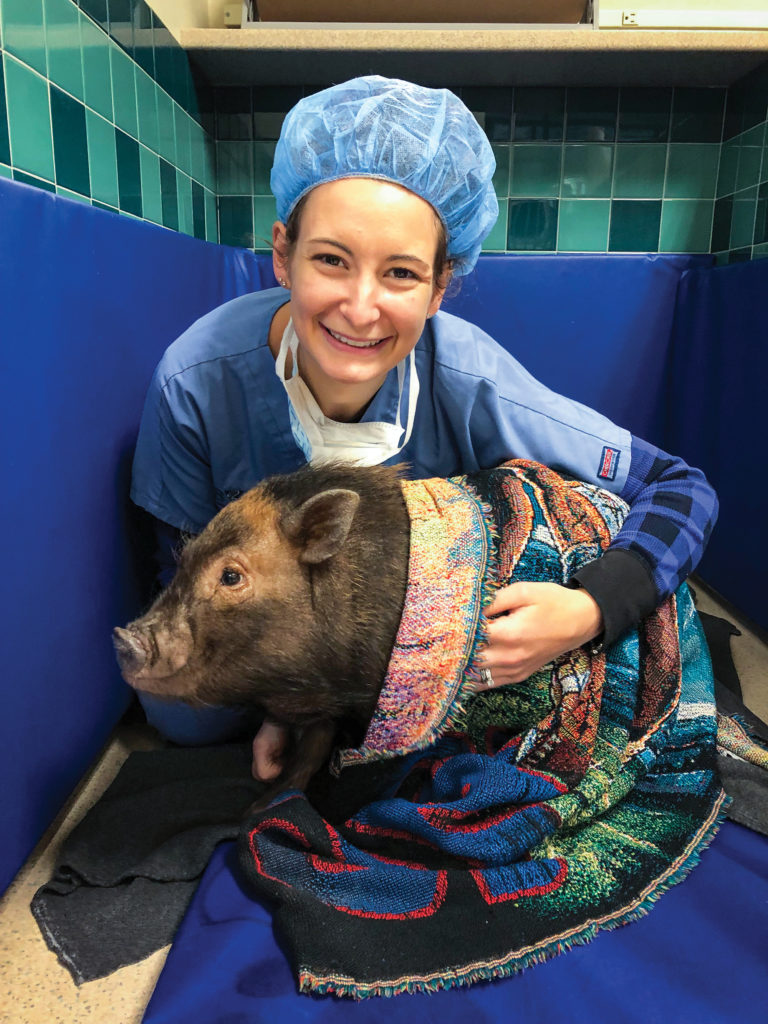 All five graduates are longtime New Jersey residents. Feliciano was born in Puerto Rico and moved to West Orange, N.J., when she was 10 years old. The other four grads grew up in the Monmouth and Ocean County area of the Jersey Shore and were familiar with RBVH from an early age. The hospital was founded as a smaller veterinary and emergency practice in 1986 before expanding and moving into its current facility in 2006.
"I was born and raised in Red Bank and as a little girl, I brought my pets here when it was Red Bank Animal," Moore said. "I have always wanted to work with animals and my dream was to come here (to RBVH) to work." At Wilson, Kenmure said she and Moore "would talk about working at Red Bank one day when we were together in anatomy lab—and here we are!" Knop, who was acquainted with RBVH while growing up in nearby West Long Branch, said when she returned to New Jersey after she was married, "I knew this is where I wanted to work."
All five grads grew up with a love of caring for animals and each one said their quest to find a college that offered a bachelor's degree in veterinary medical technology led them to Wilson. The College is one of only approximately 20 schools nationwide that has a four-year VMT program. Feliciano recalled that while visiting a college fair with her mother, she became discouraged because she hadn't found a school offering a four-year program. As they were leaving the fair, her mother noticed a small table displaying a toy horse "and it was the Wilson table! I would have walked out if my mom hadn't seen that stuffed horse," Feliciano said.
Vierschilling had a slightly different path to Wilson. She originally wanted to attend culinary school until a spinal injury left her temporarily dependent on a walker and a cane. Her doctors warned her that culinary school at that point in her recovery would be too strenuous. "So I decided to pursue my other passion of caring for animals, and once I visited Wilson, I knew it was the place for me," she said.
Knop credits her calmness in the face of emergencies to her Wilson education. "At Wilson, we were taught to ask questions and not just sit quietly. We were explained scenarios that we might see in actual practice and how to deal with them. Wilson enabled me to be more confident … because I felt that I not only had the book knowledge, but I also had hands-on experience."
"Even if they are facing an unfamiliar procedure or an out-of-ordinary situation, their confidence shows." —Christina Giovannielli, RBVH clinic manager
The VMT program and faculty at Wilson "helped me build a strong work ethic, be a team player and gave me the mindset to apply my knowledge and technical skills," Moore said. Feliciano thanked the faculty for their "tough love. To say my time in their classes was easy would be a lie," she said, but added that she gained "a strong foundation in veterinary medicine that gave me the tools to excel and allowed me to grow into the person I am today."
After graduation, Knop and the four friends all passed the Veterinary Technician National Exam to receive their CVT certification. RBVH's Giovannielli noted that in New Jersey, veterinary technicians are not required to be certified. "I can see, from the work of the Wilson graduates here, the value of having a four-year program and receiving certification. It gives them a solid foundation of medical knowledge that they can build on with experience and it gives them that confidence. We'd like to see more New Jersey VMTs be certified."
Both Kenmure and Vierschilling help with the New Jersey certification effort by teaching veterinary assistant courses as adjunct professors for Brookdale Community College. Their courses are held at the hospital. "We can describe a procedure and then take the students right in to watch the real thing," Kenmure said. Both are also members of the New Jersey Veterinary Technicians and Assistants board, where the two work to review and process certifications.
Kenmure would like to see more of her fellow Wilson alumni at RBVH and often reaches out to other grads when new jobs are posted. "Slowly but surely, we are forming a little Wilson College technician army at Red Bank Veterinary Hospital," she said. "The clinical managers often ask me if I have any more 'Wilson friends' to recruit whenever they are looking for new employees." Giovannielli agrees. "We'll definitely take more Wilson CVTs," she said. "Send us more!"
********************************************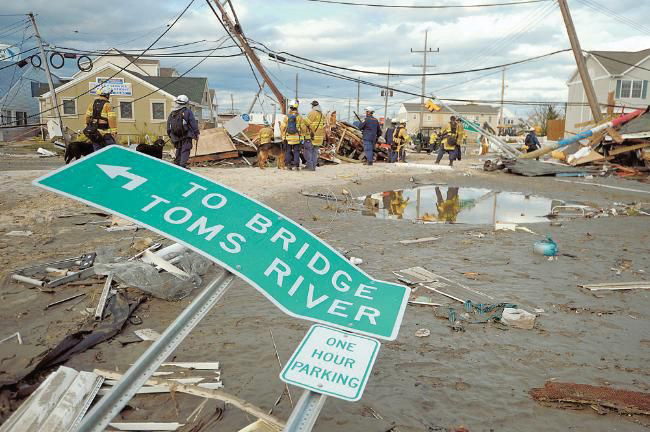 Superstorm Sandy
Daniela Kenmure '14, Victoria Alterio Vierschilling '14, Raquel "Rocky" Feliciano '13 and Elizabeth Moore '14 became fast friends at Wilson, bonding over their New Jersey roots and their love of animals. They appreciated Wilson's close-knit community, as evidenced by the story Vierschilling and Kenmure recounted about the relief effort they organized when Superstorm Sandy hit the New Jersey shore in 2012.
All four had family and friends in the storm's path. "Seeing on the news and internet how much my hometown was devastated by this horrific event was devastating," Kenmure said. "I was longing to be home to help my community." Vierschilling said she had no contact with family for days in the storm's aftermath. "The support of the entire campus is what kept me going."
The friends decided to organize a relief effort. Vierschilling recalled walking into Lenfest Commons a day after they sent out a plea for help "and the lobby was already full of stuff people had dropped off. It was amazing!" It took them two separate weekends to deliver the donations to their hometowns, according to Kenmure.
While in New Jersey, Vierschilling volunteered for several days at a shelter in Toms River to help reunite rescued pets with their displaced owners. She remembered one reunion in particular: "The man had lost everything—his home, all his belongings, but all he was thinking about was finding his dog," she said. When volunteers located the dog and Vierschilling brought it into the shelter, "It let out this piercing cry when it saw its owner. The dog was crying, the man was crying, we all were crying. I was just happy I could be helping get them back together."
********************************************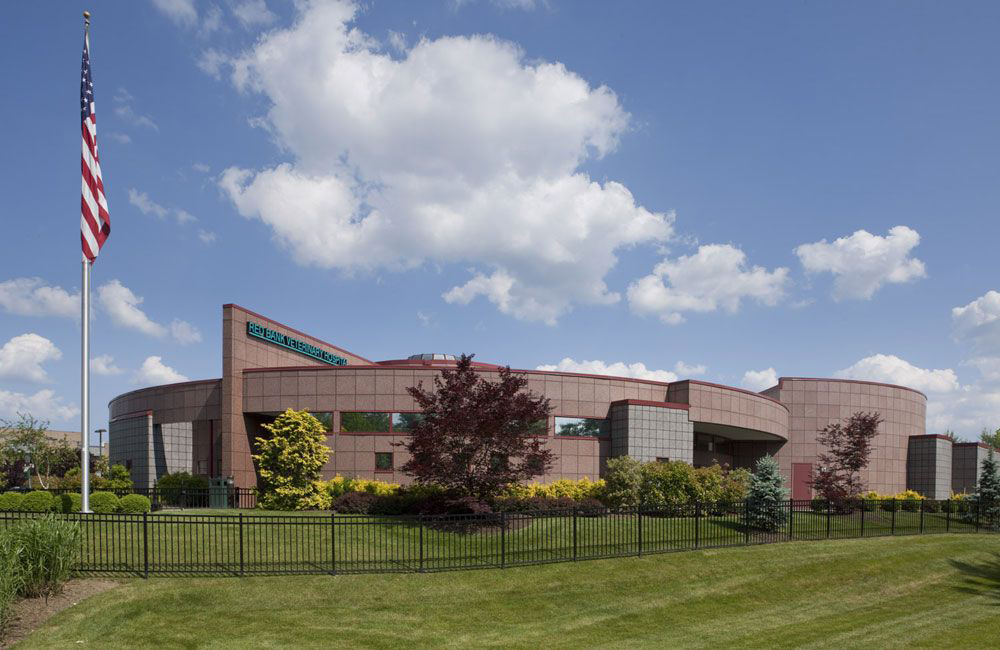 Red Bank Veterinary Hospital Fast Facts
The 58,000-square-foot hospital located in Tinton Falls, N.J., is part of the Compassion-First Pet Hospital network, which oversees 44 facilities nationwide. RBVH has:
› 25 examination rooms
› Four operating theaters
› 18 different departments, including oncology, neurology, cardiology, endoscopy and pain management
› Onsite laboratory, pharmacy and volunteer animal blood bank
› One of three linear accelerators in use nationwide for radiation therapy
› MRI and CAT scan onsite
› A "Good Samaritan" unit for injured wild animals such as rabbits, turtles and birds
› Pet rehab area, including water treadmill for dogs
› Staff on call and at the facility 24/7, 365 days a year
› No charges for euthanizing a pet