After 31 Years, Frey Steps Down as AD to Focus on Teaching
By Cathy Mentzer
When Lori Frey came to Wilson in 1988 as director of athletics, full-time physical education instructor and coach of two of the sports offered at the time−softball and field hockey−she was a one-person department. Three decades later, Frey was managing approximately 40 staff members and coaches, overseeing 11 sports and shouldering responsibility for Wilson's entire athletics program, facilities and more. And, she still taught.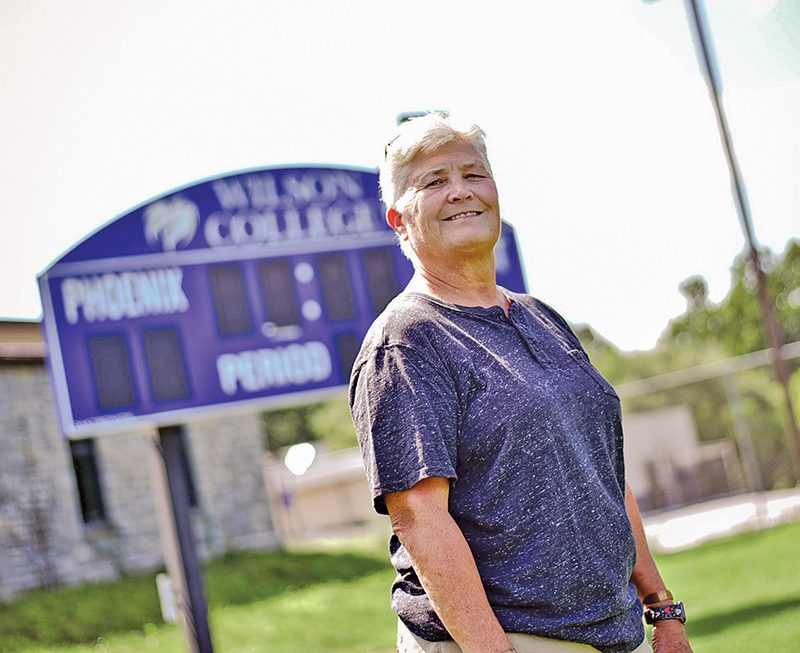 Frey has been happy in her role but after 31 years, she says it's time for a change. At the end of June, Frey stepped down as athletics director (A.D.) to focus entirely on teaching. Her reasons were two-fold.
The first is her love of teaching. Last year Frey underwent an extensive faculty evaluation and was elevated from associate to full professor of physical education and exercise science. "Over time, I taught less and had to be an administrator more. I loved that. I don't have an ounce of regret. But going through that [promotion] process was a good reminder that I love to teach."
The second reason has more to do with the time demands of the job. When Frey took the position, Wilson was a small women's college with a small athletics program. "In athletics, you're on call 24/7. You work weekends. You work nights," said Frey, who once prided herself on knowing every athlete and attending every home game of every team. "Today there are often days where we have three sports going on at the same time."
Frey still makes it to as many athletic contests as possible. However, the close relationships with athletes−many of whom Frey has mentored over the years−are no longer possible. "I used to know every athlete. I probably knew their name and their major," she said. "I can walk across campus now and not pick out every individual athlete."
Wilson's athletics program has seen tremendous change in Frey's 31 years−none more dramatic than when the College went coed in 2013. She had to add five men's sports to match the five offered for women at the time—essentially building a men's program from scratch and quickly. "The staff more than doubled" after the coed decision, Frey said. "Our athletes went from approximately 50 to approximately 200 [today]." Put another way, in fall 2013, the College welcomed nine first-year student-athletes and by 2019, that number had grown to 109.
The number of athletics facilities also rose as teams and sports were added. Those changes brought additional supervisory responsibilities, as well as recruitment expectations that were a vital part of the College's enrollment strategy. "I can't even describe the time commitment," said Frey, who estimates it tripled or quadrupled after the move to coeducation.
Frey is especially proud of the athletics leadership team she put together, a tight-knit group that weighs in on important decisions. The team includes a compliance officer, director of sports medicine, facilities director, athletics programs coordinator, fitness center director, associate A.D. for communications, intramurals coordinator and a number of part-time head and assistant coaches, as well as support staff. "At the end of the day, when you're an administrator, the weight is still on your shoulders," Frey said. "I love the environment that was created with the leadership team we have in place. Part of my comfort in taking a step back is that the program is at such a good place now."
Her teaching load this fall will increase from roughly two to six courses. Frey, who has taught everything from badminton and bowling to Fitness for Life, looks forward most to teaching the administrative aspects of sport, health and wellness, such as Women in Sport, Leadership in Sport and Psychosocial Aspects of Sport.
Frey was hired while she was still pursuing a Master of Education degree in athletic administration from Slippery Rock (Pa.) University. Even before the move to coeducation in 2013, she has been involved a number of chapters in the evolution of Wilson's athletics program, including in 1996 when the program was elevated to NCAA Division III status. Frey helped form the Atlantic Women's Colleges Conference to provide regular and post-season play (before that time, Wilson was independent) and later served as AWCC commissioner.
In 2004, the AWCC disbanded and Wilson was admitted to the North Eastern Athletics Conference. In 2018, at Frey's urging, the College applied for membership in the Colonial States Athletics Conference, where Wilson teams are more competitive. Since that move, in just 18 months, the College has won two conference titles and appeared in five more conference post-season tournaments.
Looking to the future, Frey said that while the athletics program is in a good place she hopes that some of the facilities will be updated. "It's key that you have facilities that are attractive," she said. "But we've gotten to where we are right now without them, so I think there are ways to continue to expand."