By Colleen Berry
With schools and businesses closing across the nation in response to the COVID-19 pandemic, Wilson students were not entirely surprised by the March 17 decision to suspend face-to-face classes and move to remote learning. Even so, the reality of the College being closed for the rest of the semester hit hard.
Jocelyn Strubel '20 was at work in New Jersey during spring break when she read the email announcement from Wilson President Wesley R. Fugate. "I was alone in the store because the manager had just left for lunch. I just sat there behind the counter and cried. I knew it was going to happen, but I think everything hit me all at once. How were the online classes going to work? When would I see my friends again? And what about graduation? It was very overwhelming."
Ethan Kron '20 said he was prepared for the announcement. "But after I got the email, it was definitely a surreal feeling," he said. "It's my senior year and I'm not going to be returning to campus. The news sunk in as a series of realizations for me, about all the things I was looking forward to this semester, and now I'll be missing them. What hit hardest was the announcement that graduation was postponed."
Fugate acknowledged that the decision was difficult, but said it was "the right thing to do for our community." The closure has had a profound impact on administrators, faculty and staff, but "the greatest impact is on our students," Fugate said in a college Facebook message. "Many feel a sense of loss. They have lost some of their experiences that they will never get back."
Spring break was extended by a week until Research Day presenters spoke via Zoom. An online conferral of degrees ceremony was held May 18, with the promise that an on-campus, in-person commencement would be held when possible.
Students without viable alternatives remained on campus—including international students, some of those in the Single Parent Scholar Program and other students who experienced difficulty with remote learning from home. They remained in their dorm rooms to take online classes and practiced social distancing on campus.
While most students interviewed said they would have preferred in-person classes, the majority were satisfied with their Wilson online experience, with the exception of labs and other hands-on courses. Every senior said they intended to be back for graduation and every student said they planned to return to campus when in-person classes resume. In the face of the pandemic, Wilson students coped, persevered and adapted. Here are some of their stories: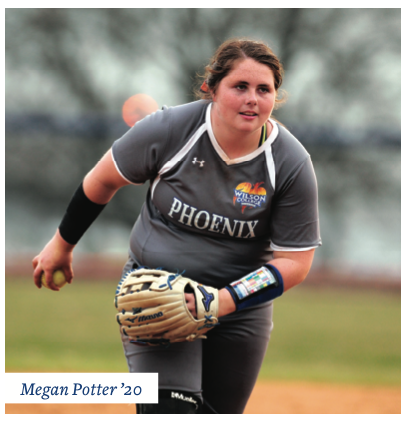 Megan Potter '20, Education
There were days during her time at Wilson, Class of 2020 President Megan Potter admitted, "when I just didn't feel like going to class, and I would think, 'I wish I could just do this online; it'd be so much easier.' Well, now everything is online and I really, really miss being in class! I miss being on campus, seeing my friends and going to softball practice." The award-winning scholar-athlete was gearing up for another successful season pitching for the Phoenix softball team, when, on the Friday before spring break, coaches broke the news at practice that the softball season was cancelled. The news hit hardest for the seniors. "Most of us were crying because we couldn't believe it was going to end this way, that we wouldn't get to play a single game this season," Potter said. "We were all very emotional."
At home in Hagerstown, Md., Potter said the sudden lack of a routine became her biggest challenge. "I'm struggling to stay motivated," she said. While most of her online classes worked out, her biggest disappointment was a physical education elective on tennis. "Well, of course, we can't do a hands-on class and actually play, so we've been learning about the history of tennis and about the different moves and foot positions, and it's not at all what I wanted," she said. "But it can't be helped."
Potter has also kept busy with weekly Zoom meetings with her softball teammates. As the outgoing Wilson College Government Association president, she helped organize the spring election of new WCGA officers. And as senior class president, she held an online meeting to hear the concerns of her fellow seniors.
She's eager to return to Wilson in the fall for her master's degree in education and will be eligible to play one more year of softball. "I'm so grateful I will be able to play," Potter said.
As class president she will give two commencement speeches−one for May's virtual conferral of degrees and a second whenever an on-campus celebration can be held. "There's a lot of sadness and a lot of anger in the class about everything that we lost with campus being closed, so I concentrated on being patient," Potter said of the virtual address she delivered.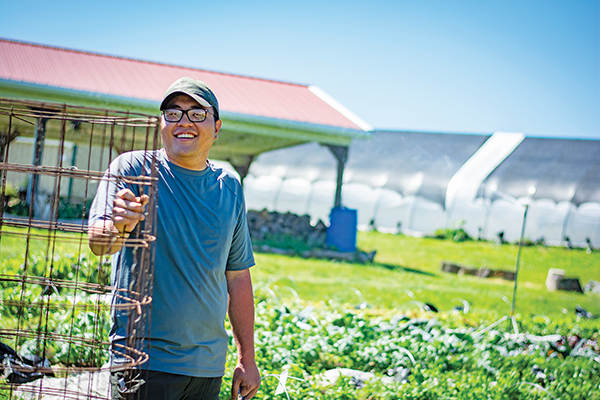 Ethan Kron '20, History and Political Science
During his time at Wilson, Ethan Kron devoted many hours to community service. He was co-president, lead tutor and site coordinator for Wilson's Learning Campus—the College's tutoring program for K-5 migrant children in the Chambersburg area. He interned at the campus' Fulton Farm. He volunteered at the Menno Haven assisted living facility. And he served with the Gleaning Project, a nonprofit effort to collect excess food produced by farms to feed the hungry.
Ending his senior year via online classes while under lockdown at his parents' home in Beaver Falls, Pa., was not how he envisioned his final chapter at Wilson.
So he decided to return to campus in June. "I will be working again on the Fulton Farm through
the summer. I wanted to go back to the farm, but I also realized I needed to do something for closure," Kron said. "I didn't feel that I got the chance to express my gratitude for all that the Wilson community has given me, and I wanted to take the opportunity to say goodbye."
Working online from home for his final semester took some adjustment. "You have to train yourself to have a regimented schedule even though you're at home. And keeping to it can be difficult. The professors have been wonderful and flexible." But he missed the human interaction. "Just talking to friends and the people I would see every day on campus, saying hello to people as I walked through Lenfest, that's what I really missed the most."
Usually, when he was home from college, Kron worked at a nursing home. He realized that was not possible at this time. "I'm not afraid of catching the virus. What I'm most afraid of is having
it, being asymptomatic and then unknowingly passing it on to someone more vulnerable, like an elderly resident in the nursing home," he said. "I don't want to take that risk."
Sheltering in place during the lockdown proved to be somewhat stressful. Kron talked about this with College Chaplain Derek Wadlington, who compared going through the lockdown with going through the stages of grief. "I think that has been true for me. Now, I think I've reached the acceptance stage," Kron said. "I think the College made the best decision for the safety of the students and the campus community. They have been very transparent and have kept us well informed."
"It's easy to feel victimized, but everyone is impacted in some way or another [by the virus and the lockdown]," Kron said. "No one is escaping. So we are truly all in this together."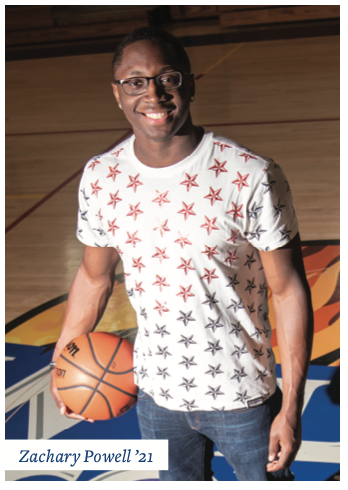 Zachary Powell '21, Communications
Remote learning from home was not working for Zachary Powell. After a spring break vacation, he returned to his parents' home in Northern Virginia, but found he had trouble concentrating on school work with so many distractions. So he got permission to return to Wilson. "Now that I'm on campus, I have pretty much a daily routine—get up, do my online coursework, do my homework and try to do a daily workout," Powell said. "I'm much more motivated than I would be at home."
He has a part-time job with DoorDash, a food delivery service, which he said "helps you from going stir crazy."
A member of the men's basketball team, Powell found that a physical education class does not translate well online. His weight training class had to be conducted in his dorm room or outside on the campus green, since both the college field house and gym are closed due to virus restrictions. "It's just not possible with the virus restrictions to hold the class the way it was planned," he said. "It's not the professor's fault."
What Powell misses most are the social interactions. "I miss having face-to-face conversations with teachers and my adviser and my friends who are not here on campus."
Powell was supposed to complete a public relations internship with the NCAA Basketball Academy in Indianapolis over the summer. At the end of the spring semester, he was still waiting to hear if the internship would go forward.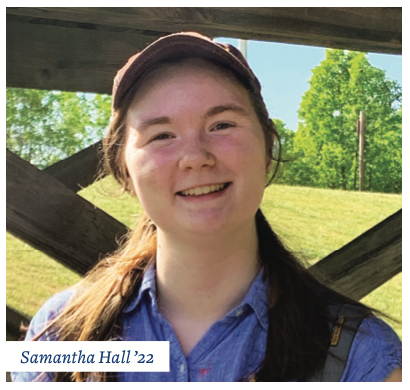 Samantha Hall '22, Animal Studies
Not returning to campus meant that Samantha Hall and her friend Kallie Carter '23 had to cancel all the campus activities both had been working on for months to celebrate the 50th anniversary of Earth Day.
In fall 2019, they founded the Plant Club, with Carter as president and Hall as vice president. "We wanted the whole campus to celebrate the 50th Earth Day together with the College's 150th anniversary," Hall said. "Now we have to postpone it all until next year."
While Hall, of Pasadena, Md., feels she finished the semester strongly, there were some disappointments. In one course, she had been looking forward to collecting and testing water samples from the Conococheague Creek. "The professor did the sampling and walked us through the test analysis," she said. "I would have much preferred getting my hands dirty myself, but with the lockdown in place, it was impossible."
Her biggest challenge has been staying positive. "I feel for anyone who has a mental health issue going through this right now," said Hall. "I have struggled a bit with anxiety and this has been a major stressor for me."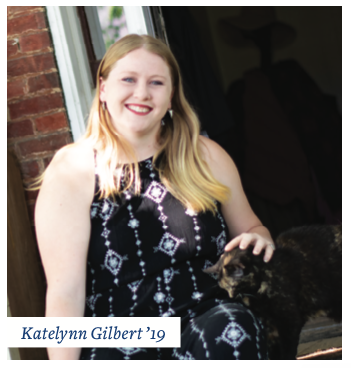 Katelynn Gilbert '19, Biology, graduate student in Master of Humanities program
Katelynn Gilbert's volunteer work with Sarah's Cupboard, the campus food pantry, became even more important after the College closed. Many of the students who remained on campus relied on Sarah's Cupboard to supplement their meal plans.
Gilbert began assisting Chaplain Derek Wadlington in managing the food pantry in fall 2019. A resident of Palm Spring, Calif., Gilbert decided to stay when the campus closed. "I thought about going back to California, but the virus was a lot worse there at the time, so I decided I would be safer if I stayed here."
Sarah's Cupboard partners with the Fulton Farm to get fresh produce to stuents. To comply with social distancing, every week students receive a list of the produce available, give Gilbert their individual orders and pick them up at the pantry. "This helps cut down on food spoilage—there's not unwanted items sitting around in storage," Gilbert said. "And since the farm can't take CSA orders right now due to state restrictions, this also helps the food the farm is growing from going to waste."
The pantry also stocks milk, eggs, yogurt and other items, so that students can reduce their trips to grocery stores.
Switching to online classes was not a problem for Gilbert. "Humanities courses translate so much better than some others to an online format, so the transition was very easy," she said. But she was disappointed that she lost a graduate assistantship at the Hankey Center when campus closed.
Now, Gilbert volunteers at the Fulton Farm. "It gets me outside and breaks up my routine," she said.
Jessica Eshelman '21, Nursing
Jessica Eshelman faced two Wilson challenges during the spring semester: to adapt to an online format for her Mental Health Nursing course and to create a vegetable garden at home for her Gardening for Fitness and Pleasure class. This was on top of being furloughed from her job as a patient care technician/clinical assistant at West Shore Hospital in Mechanicsburg, Pa.
The switch to online for the nursing class was tougher than she had anticipated. "The difference was the course load. It changed drastically and was almost unmanageable," she said. "Overall though, I think it proves that we can really do any course online. The only part that should NOT be online is the clinical experience. As future RNs, we absolutely need that face-to-face, hands-on experience. We cannot learn this stuff through online simulations and scenarios."
Switching the gardening course to her home played into one of Eshelman's strengths. "I spend a lot of time outdoors," she said. She created a new garden area in her yard and planted corn, peas, carrots, onions, cucumbers, green beans and peppers from seed. Then the weather refused to cooperate.
"We were still in the frost zone but also hearing it could be 75 degrees tomorrow, so there was a lot of uncertainty," said Eshelman, who started new seedlings to transplant in the warmer weather after the semester ended.
Academic challenges aside, the biggest difficulty Eshelman has faced during the pandemic "is finding the willpower to remain at home … I have learned that no one was truly able to see how fortunate we were to actually be able to go out until COVID-19 began to unravel everything. It is very challenging to be so cautious of every step and move I make, because I am also looking out for the health of others around me, and more importantly, my husband and daughter."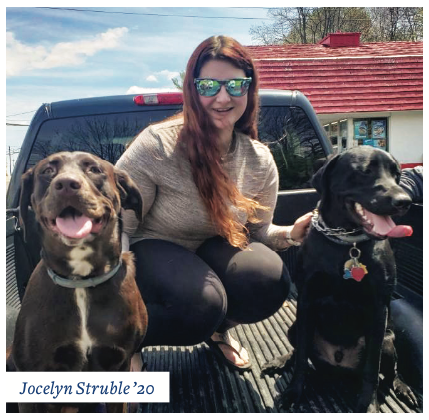 Jocelyn Struble '20, Equine-Facilitated Therapeutics
Every weekend for most of her senior year, Jocelyn Struble journeyed back to Hackettstown, N.J., to work at a pet supply store. After campus closed, Struble received essential worker status through her employer. While she welcomes the additional work hours, being back in New Jersey full time makes her uneasy due to the high COVID-19 infection rate. "What's really brought it home to me is that we have lost some of our longtime store customers to COVID, people that I knew by name and knew all about their pets," Struble said. "That's been really upsetting. It makes the statistics real."
Struble adapted well to her online classes, with one exception. Usually, the student teaching course for equine-facilitated therapeutics requires working in-person with disabled students on campus. "We ended up doing research on disabilities and discussing how we would teach someone with that dis- ability and then wrote up a lesson plan. But it's really not the same thing at all," Struble said. "I was looking forward to student teaching and getting guidance from my teachers."
Once she receives her certification, Struble will begin looking for EFT instructor jobs. She is also applying to become an emergency medical technician in Hackettstown. "I want to help people," Struble said. "That's why I fell in love with the EFT major−because you get to help disabled people."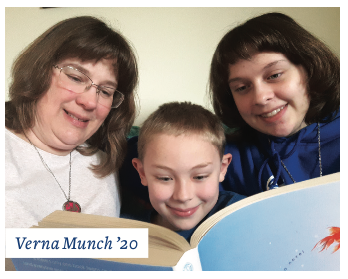 Verna Munch '20, Adult Degree Program, Pre-K-4 Elementary Education
Online education took over Verna Munch's life this spring. In addition to taking remote classes, she completed her student teaching by creating virtual lessons for a first-grade class and helped her own school-age children with their online classes.
"Not only was I learning to teach full time, I was learning how to teach remotely," Munch said of her experience. "I created a learning website filled with virtual field trips, activities, free resources for parents and instruction videos."
Her website includes math lessons using tall sequoia and redwood trees to teach measurements, virtual field trips to the Louvre and the San Diego Zoo and links to art lessons by children's author and illustrator Mo Willems. "I wanted the students to understand that learning takes place everywhere and provide them learning opportunities to explore around their homes and backyards." Before the schools were closed, Munch was doing her student-teaching practicum at Guilford Elementary School in Chambersburg. "It is much more time-consuming to remote teach due to the need to create instructional videos or YouTube videos and keep things updated," she said.
Munch, a Maryland resident who is in Wilson's Adult Degree Program, also had to keep her 9-year-old on schedule with online learning while making sure her teenager took breaks from technology. Her own Wilson online classes were much easier. "The advantages are working at your own pace, the opportunity to work ahead, easier planning and flexibility of class time," she said.
On May 17, Munch graduated with a bachelor's degree in early childhood education. She and her family celebrated with an at-home party while watching Wilson's virtual conferring of degrees.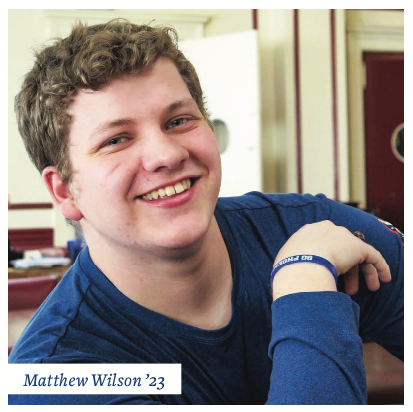 Matthew Wilson '23, History and Political Science
Besides adjusting to a completely online schedule to finish the spring semester, Matthew Wilson had an election to win. The first-year student ran successfully for president of the Wilson College Government Association, replacing outgoing president Megan Potter '20 on April 28. His priority as WCGA president this fall is helping students get back to their routines. "What's most important is to make sure that everyone can stay safe when we return to campus," he said. "We all might have to keep up some sort of social distancing and we have to make sure everyone is committed to that."
After Wilson took an online course during the January-Term, he knew what to expect when the College transitioned to remote learning. "I have to admit, I find it a bit of a relief to be online when I'm asking a question of the professor and I don't have everyone looking at me while I'm speaking," Wilson said. "That always makes me a bit nervous."
His biggest challenge is staying inside under the lockdown in Maryland. Netflix and walking around the neighborhood have been his biggest diversions.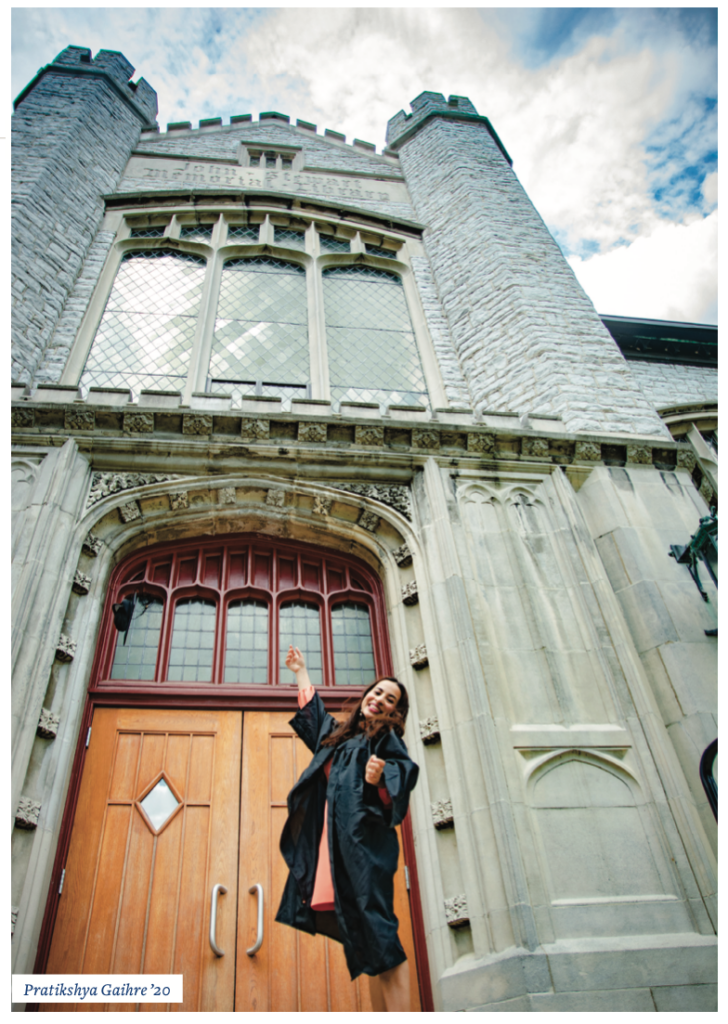 Pratikshya Gaihre '20, Accounting and Financial Mathematics
"Oh, my life has been upside down due to this virus!" said Pratikshya Gaihre, an international student from Nepal. Gaihre had secured a full-time job, only to see it evaporate in May due to the virus shutdowns. She usually stays with relatives in New York City when campus is closed, but found that impossible with the virus raging in the city. "What is more upsetting is that this is not how I wanted to graduate," Gaihre said. "I had plans for my parents to come and celebrate my graduation since I haven't seen them in four years. So basically, this virus has caused huge discomfort for me."
After Wilson closed, Gaihre remained on campus to finish her classes online, and her Friendly Family hosts agreed she would stay with them after finals while she searches for another job. "The struggle of not knowing if I am going to find a job soon, as most people are unemployed" is stressful—"and then what if when the economy opens up, and even though I'm qualified for the job, no one would want to hire me since I am an international student?" said Gaihre, Wilson's Newman Civic Fellow in 2018. "Thinking about all these things is very painful."
Despite the presence of about 50 students who remained in their dorms during the spring semester, the Wilson campus was quiet and Gaihre said she found the isolation difficult. But there was no time to be bored. "I am taking six classes, so I have plenty of classwork to do. I go out for a run or exercise a bit,' to fight cabin fever," she said.
She was worried about family members during the pandemic. "My aunt and uncle both are healthcare professionals in New York City," Gaihre said. "They got the virus and eventually all of the members in the family had it. They had very agonizing two weeks, but they have all recovered."
In Nepal, the number of COVID-19 cases remain much lower than other countries, but the country declared a lockdown that lasted from mid-March into June. "I FaceTime my parents every day, but I know I will not be able to go back home anytime soon," Gaihre said.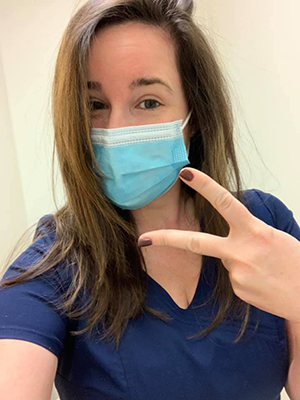 Jamie Kelley '21, Nursing, (LPN to RN program)
Jamie Kelley was already juggling work as a licensed practical nurse (LPN), a blended family of four children (ages 9, 7, 4 and 3) and coursework at Wilson to earn a bachelor's of nursing degree to become a registered nurse (RN). Then COVID-19 happened.
"I am much busier than before [the schools closed]—being a mom, a nurse, a student, and now I'm also a second and third-grade teacher," Kelley said. "There's not a whole lot of me time." She had to invest in a second laptop because she and the children had to do schoolwork online. "We all fell behind when we were trying to share one laptop," she said. "It's better now with two, but I feel I'm still playing catch up."
Just before the pandemic, Kelley began a 32-hour- a-week job at a medical facility. "It fits better with the kids and my college schedule, but it means working 16-hour shifts on weekends," she said.
While the facility has COVID-19 patients, she does not work with them. But she worries about exposure. "I was really frightened at first," Kelley said. "Not so much of getting sick myself, but of catching the virus and bringing it home." That same fear drove some of her fellow workers to leave. "But I have my duty as a nurse to care for the sick. And this is the time that you are needed the most. So I can't—I won't—walk away from the job," she said. "But it's stressful. My boyfriend has asthma, my son is asthmatic, and I worry all the time—what if they get the virus?"
Kelley had a scare just before spring break when she became ill with COVID-19 symptoms, including shortness of breath and fatigue. "I was never so scared to go get tested for something in my life," she said. "Luckily for me, it was influenza A, not corona." She was still feeling pretty ill when the College announced the campus was going to remote instruction. "It all didn't really sink in until later."
In a way, not being on campus is a relief. While she misses seeing her friends, "I'd be worried about carrying something back from work and infecting them," Kelley said. She found taking classes online easier in some respects. However, she misses the hands-on experiments in microbiology class.
She has disconnected from most social media and tries not to watch the news. "It's just too negative and upsetting," Kelley said. Most days, she keeps herself and her family on a tight schedule but makes time for the children to play in the yard and ride their bikes in the neighborhood. "For stress relief, we have dance party nights. We just put on some music and dance everything out," she said. "That helps a lot."