The administration and staff work behind the scenes to support students and faculty.
By Darrach Dolan
Quick action, preparation, dedication and a large dollop of good luck all played their parts in the College's remarkable response to the pandemic.
The spring semester ended with students taking finals remotely—most from their family homes—an almost empty campus, a virtual conferring of degrees and the cancelation of this year's Reunion. Yet, in the time of COVID-19, this is a success story.
Success because in a matter of two weeks, the College transformed into a 100 percent remote institution of learning. It was a sudden and dramatic shift for students and faculty alike. However, through video conferencing, digital chatrooms and boards, instant messaging, emailing, texts and even the old fashioned phone call, the instructors and support staff maintained the close contact and personalized learning Wilson is famous for and has provided continuously for more than 150 years.
While students and faculty justifiably take the limelight, behind the gothic facades of the Barbara K. Mistick Quad and scattered in buildings around campus, the administration and staff worked long hours to enable the former two groups to get on with the important business of education. This is the story of the people who provided carry-out meals to students isolating on campus, who drove international students to D.C. or Baltimore to catch planes home, who overnighted laptops to students, and who met daily to analyze the endlessly shifting realities of a capricious and unpredictable enemy and make the difficult decisions that got us through this crisis.
The story begins in late 2019 when reports of an unusual cluster of pneumonia cases in Wuhan, a city in central China, began to filter across the desk of Crystal Lantz, our director of international scholar services. Lantz, who oversees our international students and facilitates study abroad programs, checked that we had no students in the area. To her relief, we had no students from mainland China or students traveling there.
By the time the outbreak was identified as a new and dangerous pathogen, Lantz was keeping track of where all Wilson students and faculty were traveling. When it began to spread outside of China, she issued advisories to groups in Greece and elsewhere to return home immediately. Our students and faculty returned before the virus was widespread, and none, to our knowledge, contracted it while out of the country. Meanwhile, in early January, before the novel virus became a global threat, Dr. Wesley R. Fugate took the reins as the College's 20th president. As part of his push to familiarize himself with every aspect of the institution, he asked the Cabinet to review our emergency response plans and bring them up to date.
Cassandra Latimer, our vice president for marketing and communications, recalls that Fugate specifically asked the Cabinet to update our preparedness for an infectious disease outbreak or medical emergency on campus. To Wilson's great good fortune, by the time the virus was spreading within the U.S., we had updated our emergency response plans and procedures. Before Gov. Wolf issued stay-at-home advisories to the residents of Pennsylvania, we had already taken proactive measures—from increased cleaning and disinfecting of buildings to preparing students and faculty for the possibility campus may not reopen after spring break. In terms of having a plan in place and acting on it, Wilson was ahead of the curve.
Our swift action was fortunate but we weren't simply lucky. Instead, credit goes to the smart and dedicated staff who did their work behind the scenes conscientiously and to the best of their abilities. One of the great positives to take away from the current pandemic is that across campus, Wilson employees rose to the occasion and kept the gears of the institution oiled and in motion.
The library and information technology staff are an excellent example of how efforts over the past few years paid enormous dividends during this crisis. In anticipation of future technology needs, they had already been integrating new education streaming and online tools into courses and training faculty in their use. This work made our transition to remote learning much smoother than many other colleges and allowed students seamless access to course materials, lectures and faculty.
Similarly, preparedness and dedication meant our counseling staff were able to quickly help students deal with the wave of anxiety and depression brought on by the pandemic and change of teaching modality. They held virtual workshops on dealing with mental issues and offering tips and strategies for coping several times a week throughout the semester. When students needed extra help, they directed them to services in their areas or helped them find therapists who offered teletherapy in place of face-to-face sessions. Mary Beth Williams, our dean of students, recalls attending a webinar for college administrators on meeting the mental health needs of students due to the pandemic. She wasn't surprised to learn that of all the major recommendations of the experts, "we were already doing them."
Williams has learned a lot about Wilson's character during this ordeal. "I trust my staff and my colleagues more than I've ever done before because I've seen how we've adapted and helped students through a remarkably difficult period."
Much as we should give credit to the good work of our staff, dumb luck was on our side too. Our spring break, March 16 to 20, was later than many colleges' and that made a huge difference. We didn't have students traveling back to campus during those crucial weeks in early March when the community spread of the virus was peaking in parts of the country. Not only did we not have students exposed through travel, but we had time to tell students to prepare for the possibility that campus would not reopen after the break. Our residence life and student development teams ensured students took their computers and textbooks and everything else that they would need to complete their courses from home. Lantz reached out to our international students and advised them to stay on campus for the break instead of traveling to vacation spots as many would typically do. "We bought an extra week or two thanks to the timing of spring break and that was a godsend," Latimer said.
Which brings us to the official closure of campus and switch to remote learning. Beginning in February, the Cabinet had met every day to discuss the pandemic. By March they were often meeting twice a day to discuss the latest information from sources including the CDC, various higher education associations and Johns Hopkins coronavirus tracking data. "Ultimately," Latimer recalled, "it was Gov. Wolf's decision to limit gatherings to less than 50 people that made it impossible to keep the campus open." When Cabinet met that day, "Every member knew [closing campus] was the right decision but it was a scary decision. It was a somber moment."
Latimer and the other members of the Cabinet recognized that "students come to Wilson for a very personal, hands-on college experience. So if the new modality for delivering education is going to be a hybrid—sometimes on campus, sometimes remote—we have to figure out how to recreate that Wilson experience because that is what we hang our hats on." They were all silent for a few moments as they considered the enormity of what lay ahead. Then Fugate broke the silence and said they had to make the transition as painless as possible for the students and to keep the lines of communication open and transparent. Latimer summed up their resolve to make this new reality work as, "Just because we have a pandemic doesn't mean we are not going to graduate the class of 2020."
On March 17, St. Patrick's Day, Fugate announced that the College would move to remote learning for the rest of the semester. Once again, we were ahead of the curve. Two days later, Gov. Wolf announced the closing of all non-essential businesses, including colleges, within the Commonwealth.
The campus community acted swiftly and with an amazing unity of purpose. "Daily adaptability was the key to success for us—every day things were changing so rapidly we had to be nimble," Williams said. "We communicated all the time across campus. No one person had the answer but collectively we always found the answer."
With most of the international students remaining on campus and dining services closed over the break, Lantz had promised to take them out to a different local restaurant each night. That was now impossible. Instead, she emailed them menus from a different restaurant each morning, took their selections and ordered take out delivery. Students collected their meals from Sarah's Coffee- house and Lantz was able to touch base with each one before they took their food back to their dorms to eat.
The College extended spring break for an extra week to make sure students and faculty had access to the technology they would need for their courses and to allow faculty time to reconfigure their courses for the new modality. By the time classes resumed March 30, Wilson was ready and made a remarkably smooth transition to virtual learning.
Meanwhile, in addition to the international students who remained, many other residential students either returned to campus or had stayed over the break for a variety of reasons. For some, like several single parent scholars and their children, they had nowhere else they could go. For others, their home situations made studying impossible because they had no access to the internet or no place to do coursework without distractions. "For many students, Wilson is their home, and that is why we never completely shut down campus," Williams said. When classes resumed, 60 students were living on campus. As international students returned to their home countries, that number dropped to 42 by the end of the semester. "We created a safe environment on campus for anyone that felt going home was not a good option for them," Latimer said. "We made sure all our students were cared for."
Sage, the dining services contractor, provided three meals a day that students could preorder and pick up (they weren't allowed to eat meals in the dining hall). Sarah's Cupboard, our campus food bank, opened its doors to students, faculty and staff. As well as its supply of canned and shelf safe items, it distributed fresh produce from the Fulton Farm. Campus safety officers took on the responsibility of handing out masks to those who needed them and making sure the public remained off the campus grounds and buildings. The physical plant and housekeeping staff worked to keep the parts of campus that were open clean, safe and functioning. The rest of the employees worked from home making sure the bills were paid, students and faculty supported, alums kept in the loop and all the other unsung jobs that keep a complex institution like ours up and running.
Lantz personifies the sort of extra mile—literally—staff went to ensure the Wilson experience was a positive one for our students. The international students received a lot of different and sometimes contradictory instructions from their families or governments as to whether to stay or leave. Lantz sorted through the mixed messaging and managed to get the students who needed to leave out safely—she ferried students, often one at a time and at very short notice, to catch planes from Washington or Baltimore airports. "I now know how to drive to Dulles [airport] from memory," Lantz joked. Our two Pakistani students were the last to leave. They spent their final month on campus with their bags packed waiting for word of a plane to take them home. Throughout, Lantz remained in close contact with them and on call. On May 8 they finally got the good news that there was a plane home. She immediately went to them and drove them straight to the airport. Lantz was sad to see these last students go (three others remained on campus through the summer), but she is proud that we kept all our international students safe while they were with us.
Together, in person on campus or remotely from their homes, the staff and administration kept Wilson going through the spring semester and the summer. We may not know when the campus will once again resound with the voices of students, faculty and staff, but we do know that until that day arrives, Wilson remains in good and dedicated hands.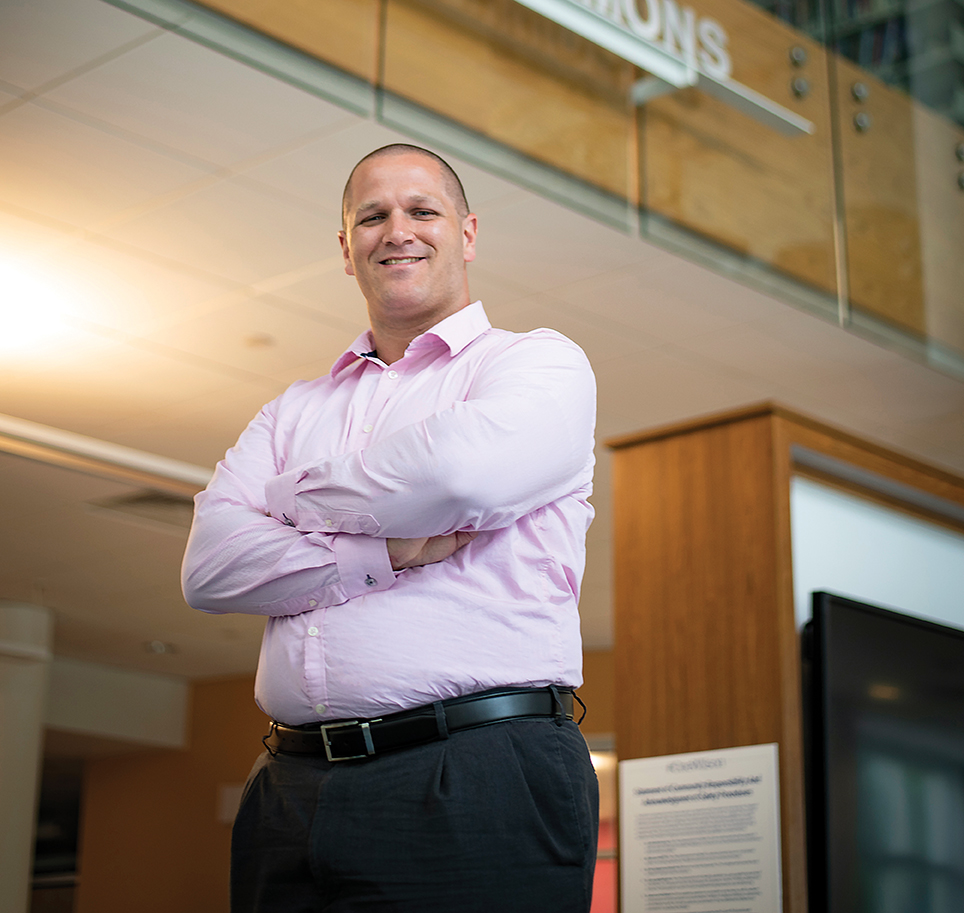 James D'Annibale: The Sheriff of IT
Weeks before campus closed, James D'Annibale, our technology and instructional design librarian, predicted colleges would have to switch to remote learning and quickly. He called Dean Heil. To his surprise—he thought she might view him as an alarmist—she said to do whatever was necessary.
"Dean Heil didn't second-guess us," he said. "Her attitude was, 'You guys know what you're doing, so let's get it done.'"
D'Annibale did know how to get things done. He had been upgrading our instructional technology for years, had trained faculty members in its use and had developed training programs and videos that were already on our learning management system. He had everything in place to incorporate 21st-century technology into the classroom—the pandemic meant this would be a revolution rather than an evolution.
"Compared to some of the more prestigious liberal arts colleges, we were more prepared," he said. But there was still a lot to do. Late one night, he realized we didn't have enough webcams or headsets. He texted Heil for the go-ahead to purchase them. She gave it. "That was the most I've ever been allowed to spend via a text message," he joked.
Next, he surveyed faculty and students about their technology needs. Amazingly he met every critical need identified. Of course, there were a few outliers and people who had not responded to the survey. Yet he got them what they needed too—he overnighted a laptop to a student in Florida, he drove to a student's home an hour away to deliver a headset and he worked with internet providers to get discounted service to students.
The hardware was in place. The software was up and running (he had purchased Zoom software years before it was a household name). Now, he faced his greatest challenge: converting every course Wilson offered into a remote course.
Over the two weeks of spring break, he worked day and night. He trained faculty and staff, gave lessons on converting face-to-face courses into the virtual domain, and put out fires wherever they ignited.
He had a small cadre of IT specialists and librarians who worked alongside him and shared the burden, but they were not enough. "I identified a group of faculty who had a lot of experience teaching online. I deputized them as my tech-ed posse and assigned one to each department."
When classes resumed March 30, to everyone's surprise, the switch to remote instruction was relatively seamless. "It really wasn't the panic I thought it would be," D'Annibale said. "The prep work we did in the years leading up to this served us well. I was really proud of how things went."