New Director of Justice, Equity, Diversity, and Inclusion
The College is pleased to announce the appointment of Erica N. Johnson, Ph.D., as our first director of Justice, Equity, Diversity, and Inclusion (JEDI). Johnson will oversee initiatives to ensure Wilson is welcoming to and supportive of all its constituents. "Wilson College has a rich history of empowering marginalized groups," Johnson said, "as evidenced in the founding of the institution [to educate women], and the commitment to this new position just builds on that legacy of diversity, equity, and inclusion."
Wilson President Wesley R. Fugate, Ph.D., has made expanding access to a liberal arts education to people from all backgrounds a cornerstone of his presidency. The new position and Johnson's appointment come directly out of his "President's Commission on Diversity, Equity, and Inclusion." This commission identified areas where the College could improve in terms of inclusion and recommended hiring a director to oversee and promote such programs and initiatives.
Johnson comes to us from Loras College, Dubuque, Iowa, where she was the Assistant Director of the Center for Inclusion and Advocacy and served on the President's Taskforce for Transformative/High Impact Learning, the Diversity, Equity, and Inclusion, Access and Equity subcommittee, and the Interfaith Strategic Committee.
Dean of Students Mary Beth Williams said, "I am thrilled to bring in someone with such a wealth of knowledge and experience. She has great energy, and I look forward to the programs and initiatives she will implement across campus to positively impact our students, faculty, and staff."
Johnson added, "I am so excited to be joining the Wilson family and having the opportunity to work with students and the entire campus community. I look forward to advancing work and conversations around justice, diversity, equity, and inclusion throughout campus."
Johnson received her doctorate in educational policy studies and evaluation in higher education from the University of Kentucky, Lexington, Ky. Her dissertation was titled, "Lifting As We Climb: Experiences of Black Diversity Officers at Three Predominantly White Institutions in Kentucky." She also has a master's in education from Western Kentucky University, Bowling Green, Ky., and a bachelor's in psychology from Transylvania University, Lexington, Ky.
---
Sports Wrap
The 2021 Spring season has come to a close for Wilson College athletics as the baseball, softball, and women's lacrosse teams all finished as runners-up in the Colonial States Athletic Conference (CSAC) Championships. Also, several fall sports were able to participate in limited competition in the spring after the postponement of competition in the fall and winter due to COVID-19.
BASEBALL had its best season in the short history of the program. The team posted a 21-6 record and finished one win away from a berth in the NCAA Championships. A record nine Phoenix were named to the CSAC All-Conference team, and Brandon Cook '22 was named the CSAC Player of the Year and named Second Team All Mid-Atlantic Region — both are firsts for the program. Head Coach John Poss was named the CSAC Coach of the Year.
Another solid season for the SOFTBALL team saw the Phoenix just miss out on a return trip to the NCAA Championships. After posting a 24-5 record, the Phoenix fell in the CSAC Championship game to Cedar Crest College. Megan Potter '20 recorded career strikeout #600 during the season and was named All-CSAC for the fourth time. Alyssa Wenger '23 was named the CSAC Rookie of the Year.
WOMEN'S LACROSSE concluded the first season since returning as a varsity sport by earning a spot in the CSAC Championship game where they fell to undefeated Notre Dame University of Maryland. Michalea Singer '21, Abigail Rosenberry '23, and Anna Gibson '24, were named to the All-CSAC team.
The MEN'S VOLLEYBALL team made the program's first postseason appearance in its six-year existence. The Phoenix fell in the CSAC Semi-Finals to top-seeded Cairn University. Oliver Perry '21 was named to the CSAC All-Conference team.
MEN'S GOLF finished the season with a seventh-place finish in the CSAC Championships. Josh Howells '22 and Connor Martin '22 both were named to the All-CSAC team.
WOMEN'S VOLLEYBALL, WOMEN'S SOCCER, MEN'S SOCCER, and FIELD HOCKEY each were able to compete in up to three scrimmages or games this spring.
---
Wilson is First to Offer American Sign Language Teaching Certification
We are the first college in Pennsylvania to offer post-baccalaureate teaching certification in American Sign Language (ASL). This teaching certification, awarded through the Pennsylvania Department of Education (PDE), is accepted in most states.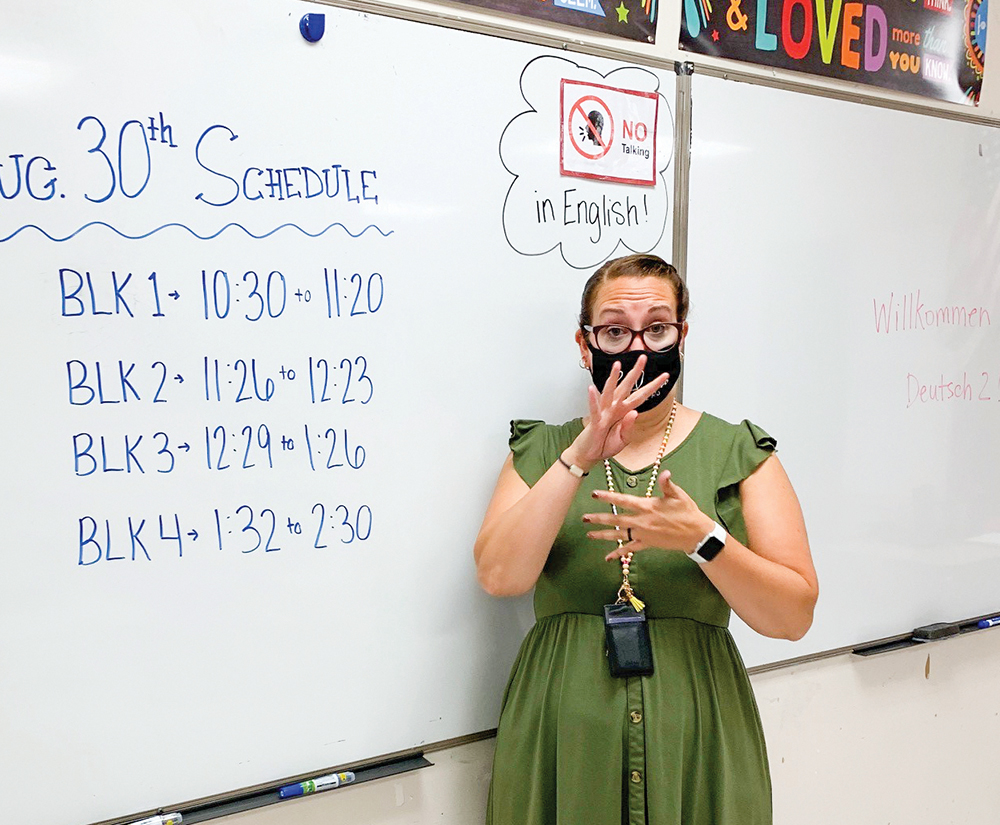 ASL is growing in popularity with students across the country. According to a recent survey by the Modern Language Association, ASL almost topped German to be ranked the fourth most popular language taken by college students. And increasingly, ASL is being offered in high, middle, and even elementary schools as a "foreign language" equivalent.
"ASL is the fourth most used language in the world," Theresa Whitbread, one of Wilson's first ASL certification students, said. "It makes sense that it should be offered as a foreign language option. Not to mention, there's always a chance you could lose your hearing as you age. Why not start early to allow yourself a life filled with communication?"
However, there are not enough qualified teachers to meet the demand. When the Bethlehem School District decided to offer ASL to high schoolers, they recruited ASL interpreters to teach. Whitbread and two other experienced ASL interpreters jumped at the chance to teach students the language. Unfortunately, they could not earn the professional certification required by the state because there was no program in place to certify teachers in ASL. That's when PDE approached Wilson and asked us to develop a path to ASL certification.
Beth Byers, Wilson's director of teacher certification pathways, said the department chose the College because "we have a long track record of providing qualified individuals with the instruction they need to become certified teachers." Our Foreign Language Intern Pathway (FLIP) is primarily online, and students complete their certification while teaching.
PDE and the College worked out the requirements, and Wilson has accepted its first four students. "The program offers insightful classes that educate us while also allowing me to have the ability to work full time and take care of my children," Whitbread said. "The asynchronous online approach is not just me and my computer. My professors are always willing to communicate with me, and they set the classes up in a way that makes learning enjoyable."
Whitbread teaches students from 9th grade through 12th grade. She said they choose the class for a variety of reasons, "from they took other languages and wanted to try something different to they think this will be easier than other languages." In her experience, the one common misconception is "that ASL is just a signed version of English. Once students start to learn true ASL, they realize that, just like any other language, there are rules and grammar that must be followed. It takes some getting used to when switching from learning a spoken language to a visual language, but when the students take the time to learn about the language and culture, they end up really enjoying their educational opportunity."
FLIP is for teachers who already have a bachelor's degree and wish to become certified in the subject they are teaching. Some colleges offer ASL certification as part of their undergraduate degrees. However, Wilson College is the only institution in Pennsylvania to offer this certification for those who already have a bachelor's degree. To qualify, a student has to be currently employed by a school (schools can hire teachers without certification if they agree to pursue certification within a given amount of time). Prospective students must also pass the ASL Proficiency Interview run by Gallaudet University and pass the state's general competency tests. School districts often reimburse the costs of certification for their teachers. To learn more about teacher certification at Wilson, email tcp@wilson.edu or go to teacher-certification.
---