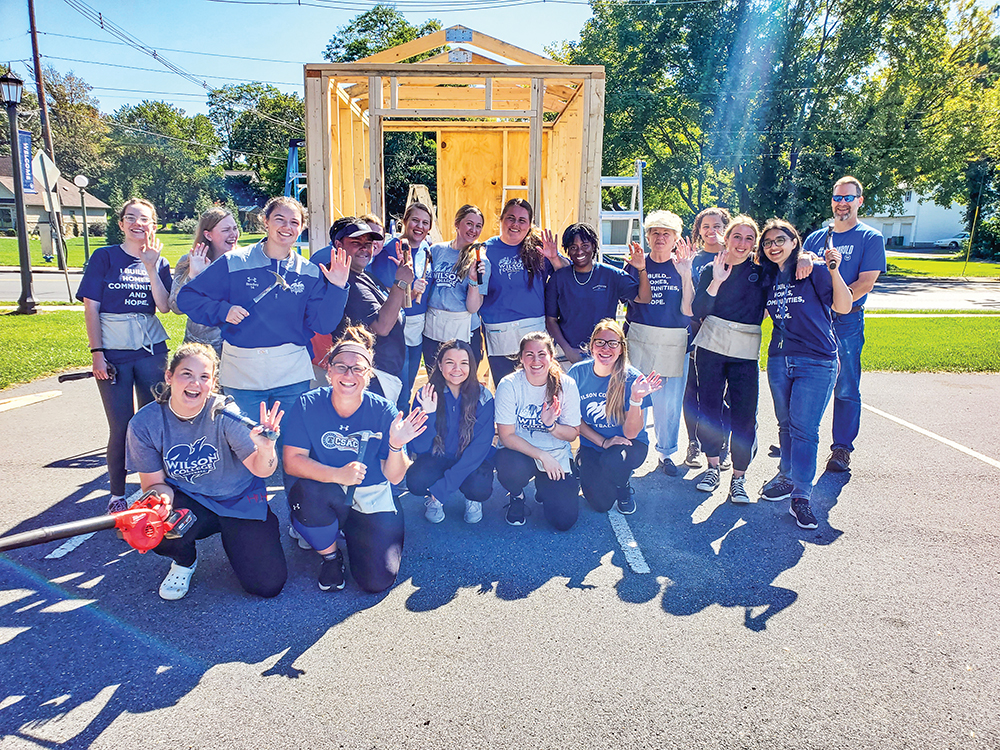 Wilson Helps Habitat for Humanity with its 50th Home in Franklin County
College volunteers aged 18 to 80 turned out to build a shed to complete a family's new home in Franklin County, Pa. The collaboration between Wilson and Habitat for Humanity of Franklin County (HFFC) was the brainchild of Habitat's Mark Story and Wilson's Rev. Derek Wadlington.
Mark Story, HHFC's community engagement director, read an article about Rev. Wadlington's work with student volunteers in "Wilson Magazine." Always on the lookout for potential collaborators, Story's interest was piqued by Wadlington's goal of having students engage in community actions and help nonprofit organizations.
Story contacted Wadlington about renewing or reinventing the relationship between the College and HHFC. Historically, Wilson had a partnership with HHFC, including having a Habitat chapter on campus during the tenure of Wadlington's predecessor Rev. Rosie McGhee. But between one thing and another, interest had waned, and the chapter had disbanded.
Wadlington was enthusiastic. He considered HHFC an ideal organization to connect his student volunteers with the wider community. For both men, the inspiration and motivation were to connect people with one another through actions that build communities, make a difference, and work for the common good. All they had to do was come up with a project to get the ball rolling.
At the time, HHFC was completing their 50th home in Franklin Co. Having Wilson students volunteer their time on this project was the obvious first choice. Wadlington would arrange to bus students to the home, and HHFC would train them in construction techniques — the traditional Habitat use of volunteers. Unfortunately, thanks to COVID-19 restrictions, that was not possible.
The men were not deterred. If they couldn't bring Wilson to Habitat, Story wondered, could they bring Habitat to Wilson? He suggested building a shed on campus and delivering it to the home once completed. Wadlington replied, "I don't have permission to say this, but YES! YES! YES!" Thus, the "Shed Some Light" project was born.
For one week, a parking lot on Wilson's campus became a construction site for the shed. "We had a steady stream of volunteers," Story said. "Then one afternoon, the softball team showed up, and suddenly we had more than 18 people there all trying to work on this little shed at the same time. It was a bit overwhelming, but we managed."
HHFC's mission is not just to build homes for deserving families but to bring volunteers together and teach them some construction techniques. "We brought a nail gun," Story said. "We could have done it all by hand with hammers, but we wanted to teach something new."
The shed was completed with the help of many students, staff, faculty, an 80-year-old alumna, and even College President Wesley R. Fugate. Then it was delivered to the home HHFC had built. Wadlington said, "I love that our community built a shed that will be part of Habitat's 50th build — it provides a tangible, long-lasting connection between Wilson and the community."
Half the materials were paid for out of the Chaplain's funds. According to Story, the other half was given by an anonymous donor who "is someone very close to Wilson." The shed was transported to the home free of charge thanks to Esh's Storage Barns.
Wadlington and Story see this as the first of many projects Wilson College and HHFC do together. "Will we build more sheds at Wilson? Probably," Story said. "Will there come a day when Wilson students can pile in a van and come to work at a Habitat site? Hopefully."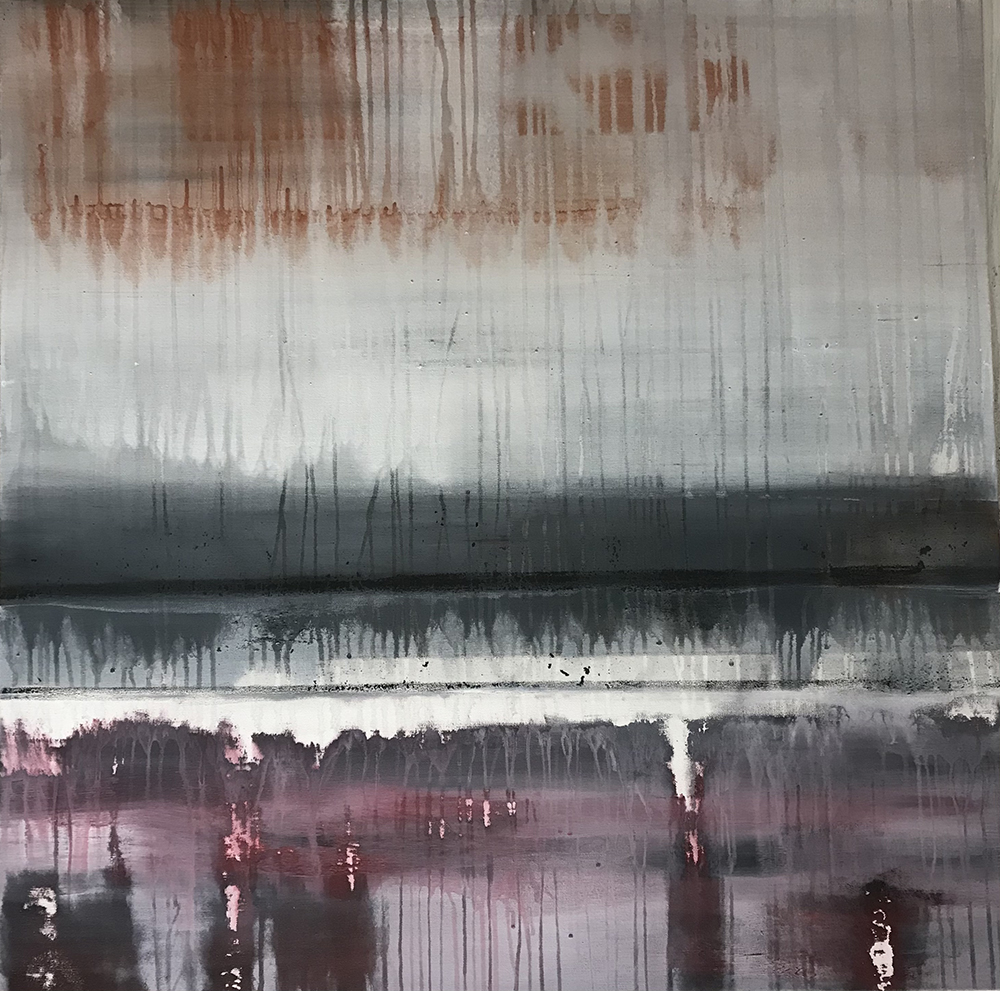 Professor Awarded Stipend to Curate Exhibitions and Complete Visual Art Project
The Class of 1955 Spring Research Stipend has been awarded to Joshua Legg, M.F.A., Associate Dean of Academic Affairs and MFA Program Director. The $2,000 stipend will help fund a catalog for two upcoming exhibitions curated by Legg at Wilson's Cooley Gallery. The first will present the work of Adam DelMarcelle, a visiting assistant professor of graphic design at Wilson (read more about DelMarcelle's work on page 26). The second will feature works by artists committed to bearing witness to the times they live in and their experiences and challenging the status quo. In addition, the stipend will help pay for materials in support of Legg's art project — a series of paintings "examining the ways in which Christianity has been misused as a front for racism in America."
DelMarcelle's exhibition "Epidemic" is centered around the ongoing opioid epidemic in this country and its effects on communities. "A Call to Question" is a collection of works by artists contacted by DelMarcelle as part of his MFA thesis on activist-driven art. Legg will curate both shows and produce a catalog to document the artists and their work.
Legg, a transdisciplinary artist in his own right, has been working on a series of paintings that ask questions about the relationship between the misuse of Christian images and beliefs and the perpetuation of racism in this country. Originally conceived as a series of paintings based around the Stations of the Cross, each "station" would examine the death of an unarmed black man by the police. It has since broadened its scope to include "the social movements and political machines that perpetuate racism and deadly violence against [Black, Indigenous, and people of color] and their communities."
"I am grateful to have received The Class of 1955 Spring Stipend Award this year," Legg said. "The award will allow me to expand my practice-led research as both a curator and a painter." He added that awards like this support Wilson's current strategic plan to "forge a culture that supports the faculty and staff experience." Furthermore, he explained that by funding artists like he and DelMarcelle, whose art is deeply concerned with social justice, this stipend directly supports Wilson's mission and values.
Thoroughly Deserved Scholarships
Wilson has received a $16,000 grant from the Thoroughbred Education and Research Foundation (TERF) for scholarships of $4,000 to four students pursuing equine or animal-related majors.
The recipients are Kaylee Bill '22 of Seven Valleys, Pa., a veterinary nursing major with a concentration in EQUI-ASSIST®; Drew Stevens '22 of Harleysville, Pa., an equestrian studies major; Natalie Cowdrick '22 of Hagerstown, Md., an equestrian studies major; and Rebekka Visniesky '22 of Ridgway, Pa., a veterinary nursing major with a concentration in EQUI-ASSIST®.
Students enrolled in the majors of veterinary nursing, animal studies, equine studies, and equine-facilitated therapeutics may be considered for the TERF scholarships. Scholarship awards are based on student need, scholastic achievement, and equine-related aspirations.
TERF awards scholarships consistent with its mission of promoting equine education and research by sponsoring scholarships in veterinary medicine and supporting organizations that are educating the public in the proper care of horses. The Board of Directors of TERF meticulously selects grant recipients in a competitive grantmaking process in the spring. TERF has provided $72,000 in scholarship awards to Wilson College since 2015.
The 2021-2022 TERF grant program at Wilson is directed by Ann O'Shallie, chair and professor of equine studies and equine facilitated therapeutics, and Tammy Ege, chair and associate professor of veterinary nursing.