Scarlet feels the College has honored her appropriately and seeks questions from her fans. By the College's Favorite Feline
Why hello there. I do hope you're doing well and have had a lovely summer. While I have always considered myself a proper southern lady, truth be told, your mild summer climate is much more agreeable to my luxurious fur than that oppressive southern heat. Yet another reason why I'm convinced that my decision to move our family to Chambersburg was for the best.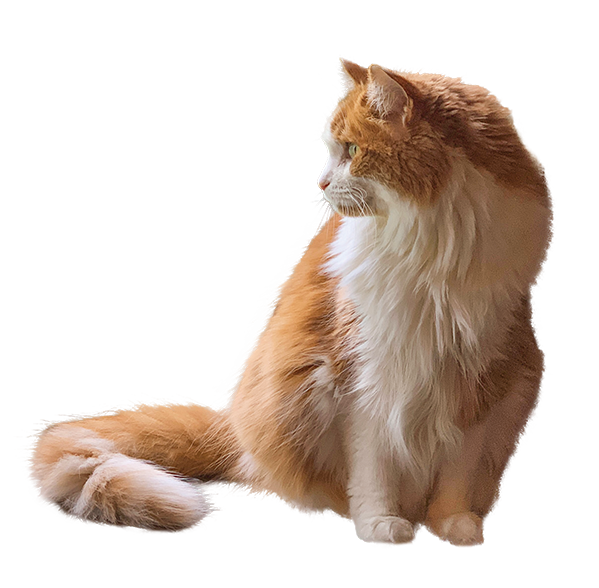 Here at Wilson College, life has been simply delightful. Every day I look out from my window on the third floor of Sharpe House, and I see more and more visitors on our lovely campus. In fact, one weekend last May was particularly active. If you'll indulge me for a moment, I'll share with you details about how friends and family of Wilson College converged on our campus from near and far. It was a weekend full of laughter, of reconnecting with old friends, and making new ones. And what was the cause for celebration, you may ask. Why darling, I don't intend to be immodest, but it was all for me, of course.
To begin, one of my dads wore the most curious costume. It consisted of a long, decorative robe, entirely in blue and black. Why he chose those colors, I'll never know. Surely, he knows my colors are red and white. Along with that robe, he wore the most unusual hat, which was clearly an homage to yours truly. It was soft, just like my coat, and it even had a tail! Interestingly, I thought that by now, I had tastefully decorated his entire wardrobe with my luxurious fur, but somehow, he has kept this outfit from me. I'll be remedying that soon.
Throughout Saturday and Sunday, the most interesting of ceremonies took place on the campus green. From my vantage point on the third floor, I couldn't quite make out all the details, but I believe I got the gist. Each graduating Wilson student walked across a stage, where my dad gave them something in a black folder. Why, I believe it was a photograph of me! Congratulations students, on your accomplishments, and treasure that photo and the memories that we've shared.
The following Monday, another celebration was held on the green. As my dad spoke, I strained to hear what he said. "Wisdom," he began. He knows no one as wise as me. "Honor," he continued. He was sharing what an honor it is to be my dad! "Just us," he concluded. Why, he was explaining about life before we moved to Wilson, when it was just us. He was giving a speech about me! The guests and dignitaries stood to applaud! Finally, I have received the recognition that I truly deserve.
And now, as the leaves change color, my dear friend Agatha the groundhog tells me that students have returned to campus. I'm excited about all the new friends I will surely be making. Fear not, though; I refuse to allow my newfound celebrity status to go to my head.
However, I've decided I will entertain a few questions from my adoring public. Is there anything that you, dear reader, have wanted to ask me, Miss Scarlet, the unofficial mascot of Wilson College? Do let my dads know, and perhaps I can provide you answers in a future letter.
Until next time.