Students Research Mexican Wildlife
by Cathy Mentzer
Wilson's Jocelyn Struble '20 and the other young women sleeping in her tent in the Mexican jungle were jolted awake at 4:30 a.m. by hair-raising, guttural whooping. A group of howler monkeys was waking up right above their tent, making the ominous, low-pitched vocalizations for which the species is known—their calls are among the loudest of any animal and can be heard miles away. This was Struble's first morning in Calakmul, Mexico, as part of the "Experiential Tropical Ecology" summer course.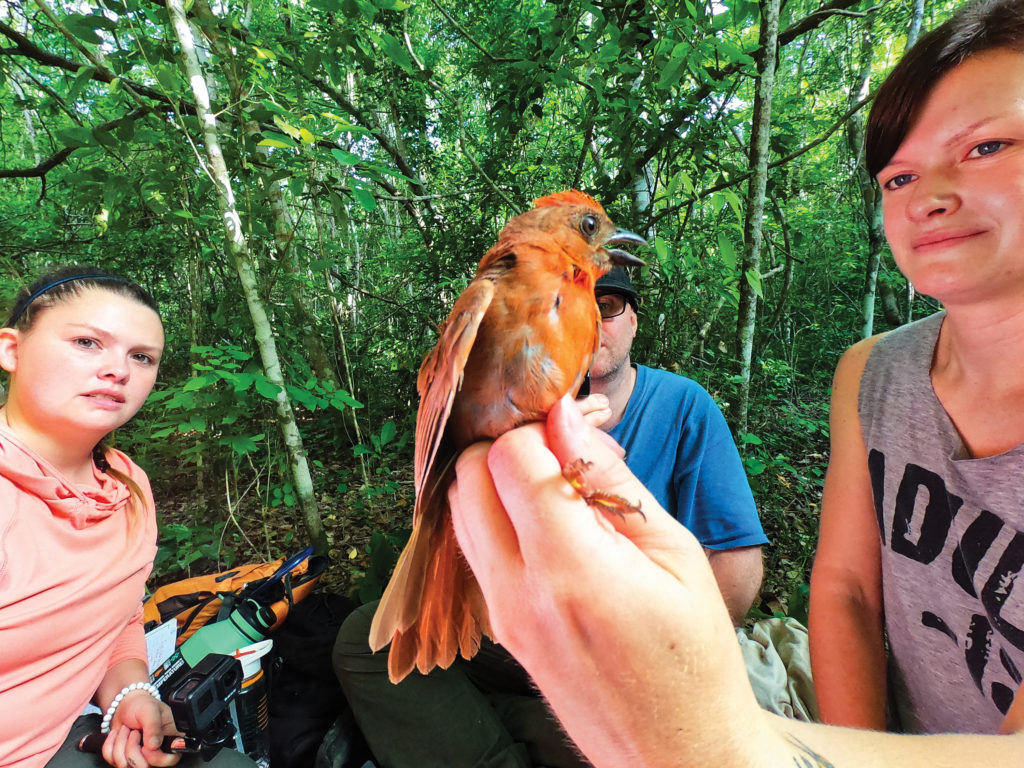 It was just the first of what Struble and some of the other five Wilson students who took the course describe as life-altering experiences during the June 24 to July 7 course led by Assistant Professor of Biology Abby Maley and Fulton Center for Sustainability Studies Director Chris Mayer. The trip was sponsored by Operation Wallacea, also known as Opwall, an organization that runs environmental research and conservation expeditions in remote locations around the world.
"It was an amazing experience," said Jacob Slifka, an Adult Degree Program student from St. Thomas, Pa., who is pursuing a biology degree with the hope of becoming certified to teach. The trip solidified Slifka's interest not only in teaching, but also in making scientific research part of his vocation. "It was awesome. I want to do it again."
For the first half of the course, the Wilson students worked alongside researchers and scientists monitoring the impact of climate change on animal life in the Calakmul Biosphere Reserve in the tropical Mayan forest. During the second half of the trip, the students worked with researchers studying the success and limitations of the Akumal Fish and Sea Turtle Refuge, a protected area for marine life created in 2017.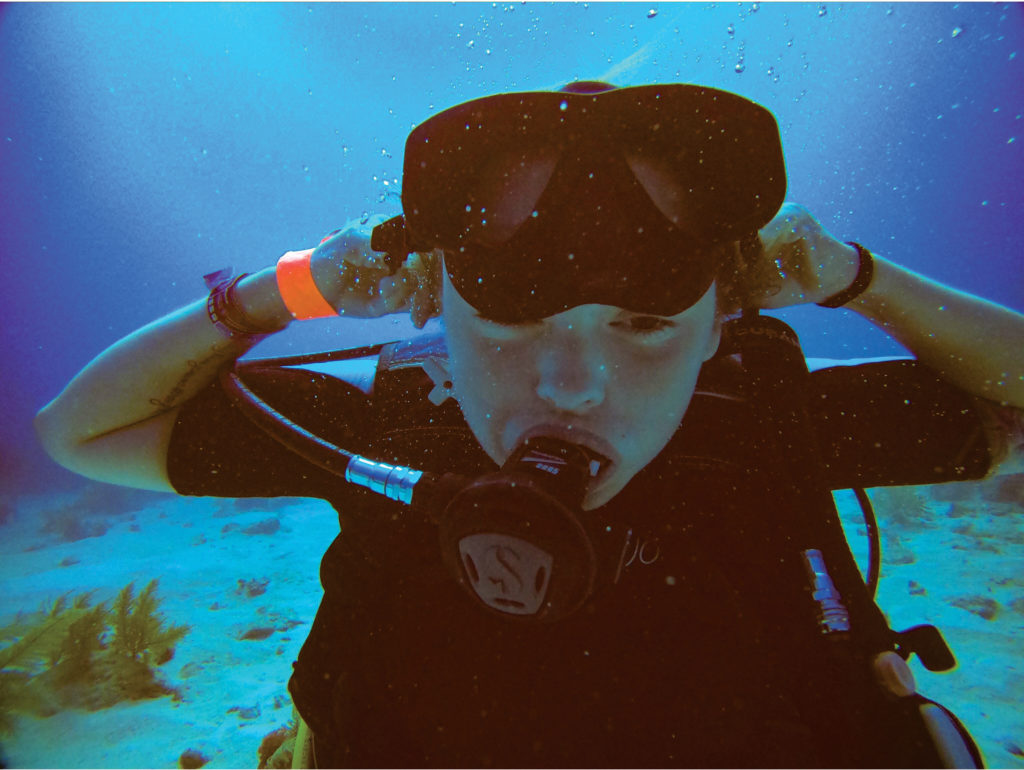 "The course, overall, is exactly what I wanted to explore," said Alyssa Fell '20, an animal studies major from New Jersey who plans to attend graduate school to study wildlife conservation and ecology. "What I'm interested in is how climate change is affecting the migration of species in different locations. [The course] was the perfect opportunity to dabble in everything all at once in a matter of two weeks."
Students said they appreciated the chance to get hands-on experience in a field they were considering but, before the trip at least, weren't sure about. "It definitely opened my eyes to the world of conservation because I was able to talk to seven or eight research assistants about what they're doing and why they're doing it," Fell said.
"For me, it was an opportunity to actually get out there and do things with the scientific community," said Slifka. "It was a discovery time. How much of a researcher do I want to be and what kind of research appeals to me the most?" He found he's equally interested in marine and terrestrial research.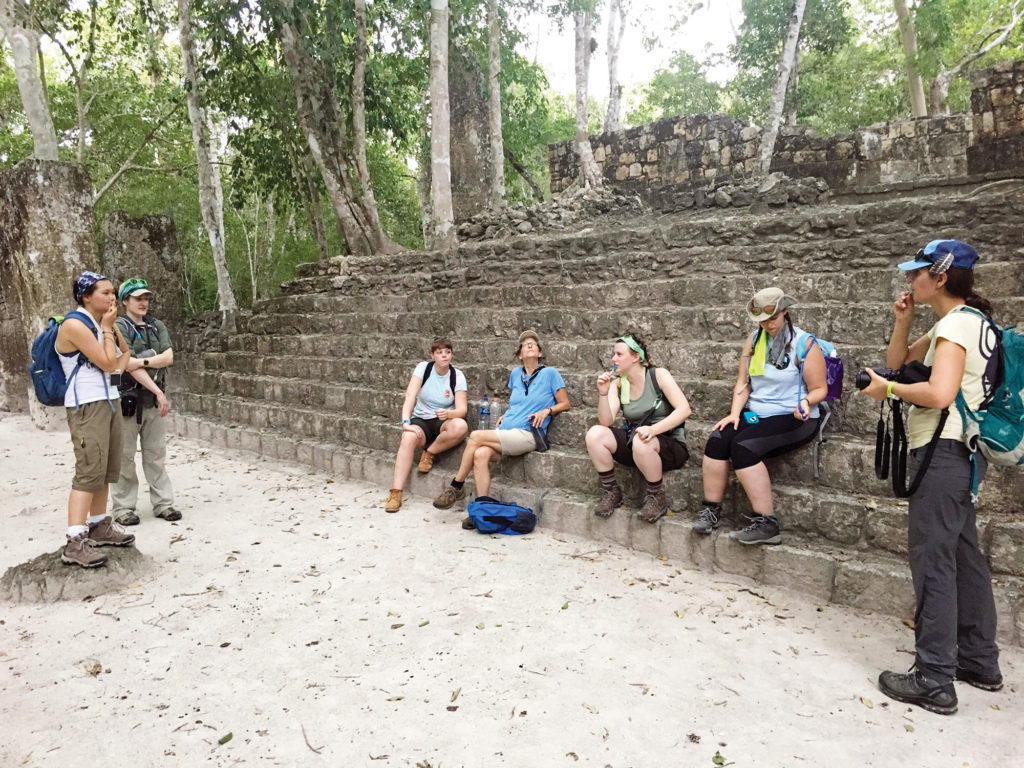 Struble, who lives in New Jersey and is majoring in equine-facilitated therapeutics, attended an informational meeting about the trip because a friend was interested but when her friend didn't show, she signed up herself. "As soon as I went to the meeting, I knew I wanted to do it," she said.
During the two weeks in Mexico, the Wilson group spent the first week living in primitive conditions in tents, helping with projects like identifying and counting a variety of species—from insects, reptiles and amphibians to birds and mammals, including the pig-like peccary, ocelots, white-tail deer, coati and tapir.
Slifka describes a typical day in the forest as waking up at dawn, eating a quick breakfast and sometimes trekking past scorpions and other creatures on the way to the bathroom before heading out to the forest to search for animal tracks or set up nets to catch birds. "Then you sit and wait and you see what comes your way," he said.
"It was very hands-on. The scientists let us be as much a part of it as they were," said Fell. "I was able to weigh snakes, lizards, turtles, frogs. We took measurements, we identified the species, we kept track of what we would find, and then we would use a GIS [device to record where the tracks or animals were found]."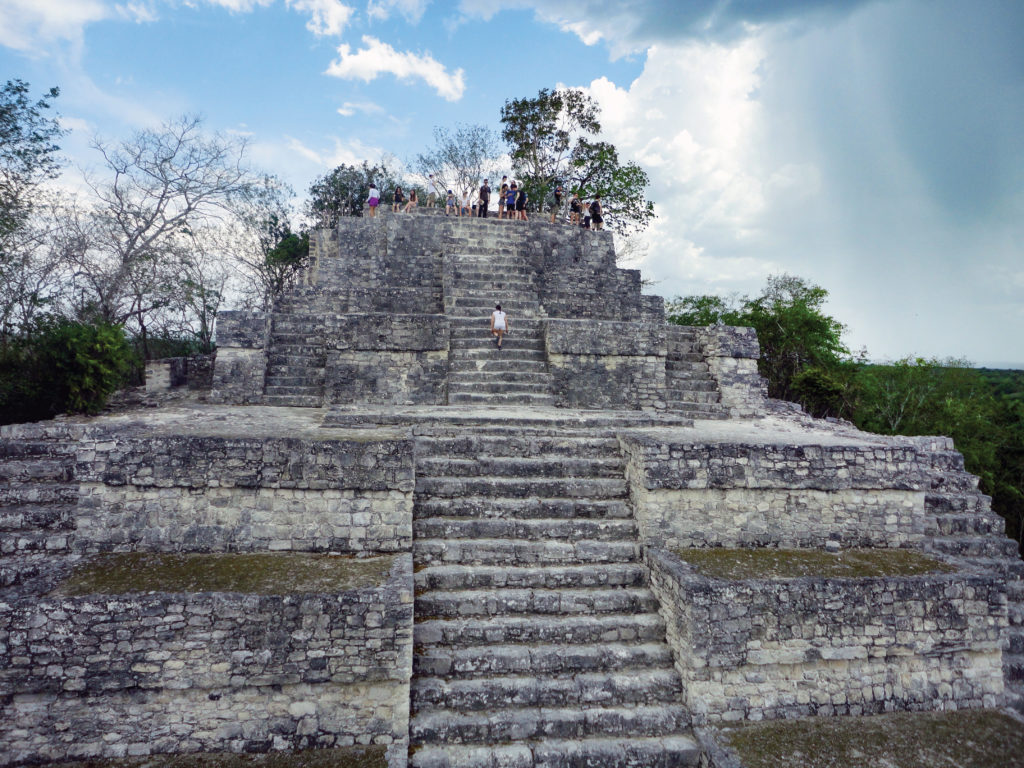 Fell enjoyed the jungle research the most. "I got to experience animals I would never get to experience here in the States, unless I went to the zoo," she said. "Seeing them in their natural habitat is by far the best experience."
Before they left the jungle, the group visited the ruins of the Calakmul Temples, which they rate among the trip's most impactful experiences. "I've never seen so much green," Slifka said of the tropical forest that stretched for miles and could be seen from the tops of the temples. "It's pristine. Absolutely amazing."
While jungle conditions were hot and harsh, accommodations were more comfortable the second week in Akumal, where students stayed in dormitory-style buildings with air-conditioning and a pool. There, five students, Maley and Mayer took scuba diving certification training so they could descend as far as 60 feet on dives. Struble opted instead to snorkel, which did not involve intense training and gave her more time to participate in research activities.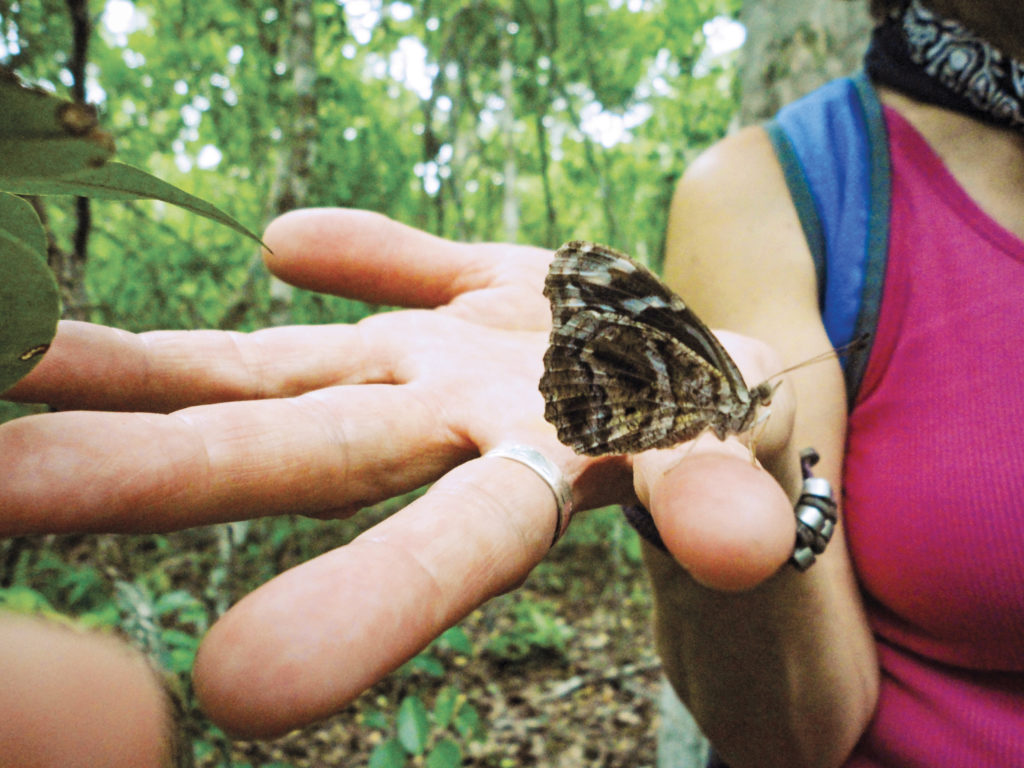 The second week was just as incredible as the first, according to Slifka, who said his diving group got to swim through a coral cave and saw barracuda, spiny lobster, sea turtles, stingrays and lots of fish.
Several of the students overcame mental hurdles in learning to scuba dive, including Fell. "I saw the boat drive away and I had a complete panic attack," she said of the first day when students were taken out to the ocean after hours of practicing in shallow water. She received one-on-one help from the diving instructor, who held her hand as she descended a rope leading from the surface to the ocean floor. "I was able to see the bottom and I think that helped a lot," Fell said. "By the time we got down there, I was in complete awe and was so happy I could do this."
The trip was the first time many of the Wilson students had been in another country or experienced a different culture. "It was a really magical experience for the students," Maley said. "It was such a period of personal growth for them."
One of the biggest culture shocks centered on the food, Fell said. "We had a lot of rice and beans. I told my mom when I come back, I'm never eating rice and beans again."
Struble had what she calls a "lightbulb" moment (Maley described it as an epiphany) during the trip when she suddenly understood how the decline of one species affects others up and down the food chain and understood the ways that all life is interconnected. "Seeing that firsthand and seeing the connections, it clicked for me," said Struble, who came away more committed to protecting the environment. "It all came together in a big life circle, just seeing how what we do impacts habitat. It did change me, being down there."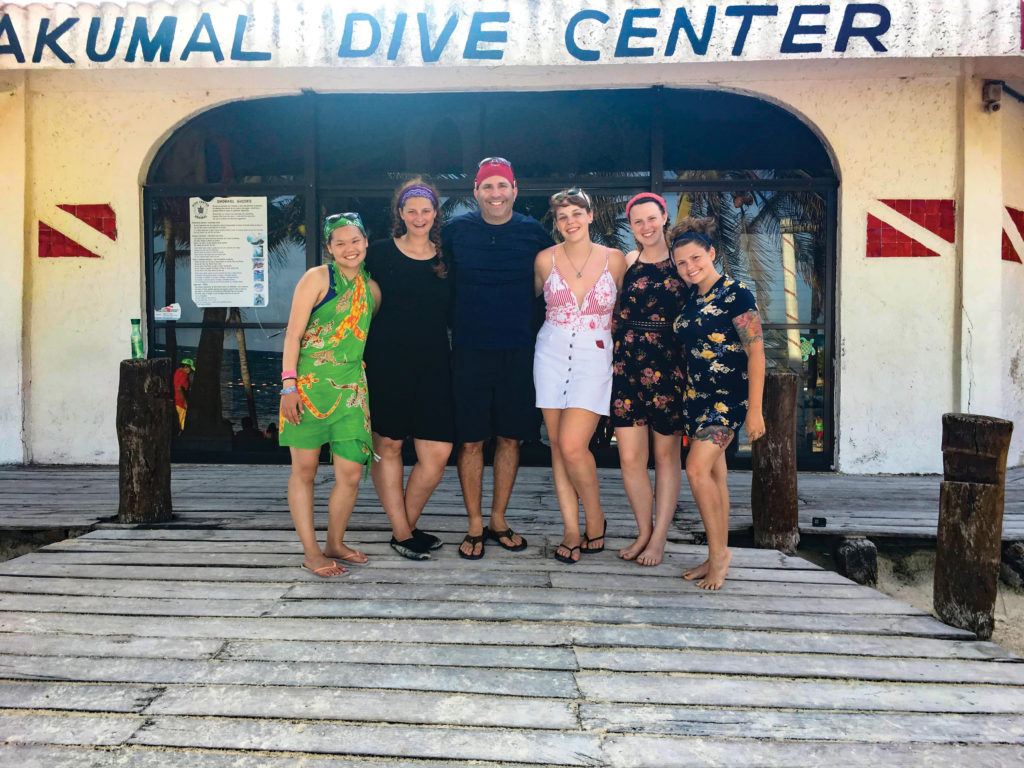 The students say they would like to go on more Opwall expeditions. "The amount of learning that is done within that period of time is absolutely immense because it's hands-on, 24/7," said Slifka. "You're learning data collection techniques for different species and what is currently working out in the field now. It's as current as it could possibly be."
Fell returned inspired by the power of commitment. "It gave me hope that researchers can make a difference and if you get enough people that share the same interest, you can make even a bigger difference," she said.
According to the Operation Wallacea website, opwall.com, the organization has been leading research expeditions since 1995. This past summer, Opwall ran two-week expeditions—each with specific research objectives—in 15 locations, including Peru, Madagascar, Indonesia, Transylvania, Croatia and Fiji.
Wilson scholarships help pay for students who can't afford the trips on their own. The Mexico expedition was the second time Wilson has participated with an Opwall expedition. In 2017, Mayer led a group to South Africa for a conservation biology course and on returning, said the experience was "transformative" for all students involved.