Fulton Farm inspires tasty recipes.
By Jennifer Cisney
There is a saying that to eat healthily, you should eat the rainbow. By adding a rainbow of fruits and vegetables to your diet, your body gets the variety of vitamins and minerals needed for good health. In this spectrum of nutrition, green may be the best of all.
Green leafy vegetables are packed with antioxidants and folates. They are a great source of vitamin C and have more vitamin A than carrots. Kale has as much calcium as milk and is rich in vitamins A, C and K. Spinach is a great source of folate and is low in sodium while high in potassium, which may help with high blood pressure. Swiss chard has potassium, manganese and iron promoting bone, brain and gut health.
The Fulton Farm produces a wide array of these leafy greens, such as the ones pictured here. They are one of the first crops to be harvested in the spring and are a welcome sight after a long winter.
Lettuce Wraps
INGREDIENTS
1 head butter lettuce
1 lb ground or finely chopped chicken
1 tbsp olive oil
1 onion minced
1 cup red pepper diced 1 garlic clove crushed
1 tsp ginger grated
18 oz can water chestnuts diced
1/2 cup peanuts crushed
2 green onions, sliced thinly
3 tbsp soy sauce
3 tbsp hoisin sauce
1 tbsp sesame oil
1 tbsp rice vinegar
1 tbsp peanut butter
1 tbsp honey
2 tsp sweet chili sauce
Salt
Pepper
1. Heat olive oil in a pan over medium-high heat. Add the chicken and cook until browned, then drain the fat.
2. Stir in the onion, red pepper, garlic and ginger. Cook until the onions are soft.
3. Stir in the soy sauce, hoisin sauce, sesame oil, rice vinegar, peanut butter, honey and sweet chili sauce. Add salt and pepper to taste.
4. Stir in the water chestnuts and green onions. Cook until soft.
5. Remove from heat and spoon mixture into center of butter lettuce leaves.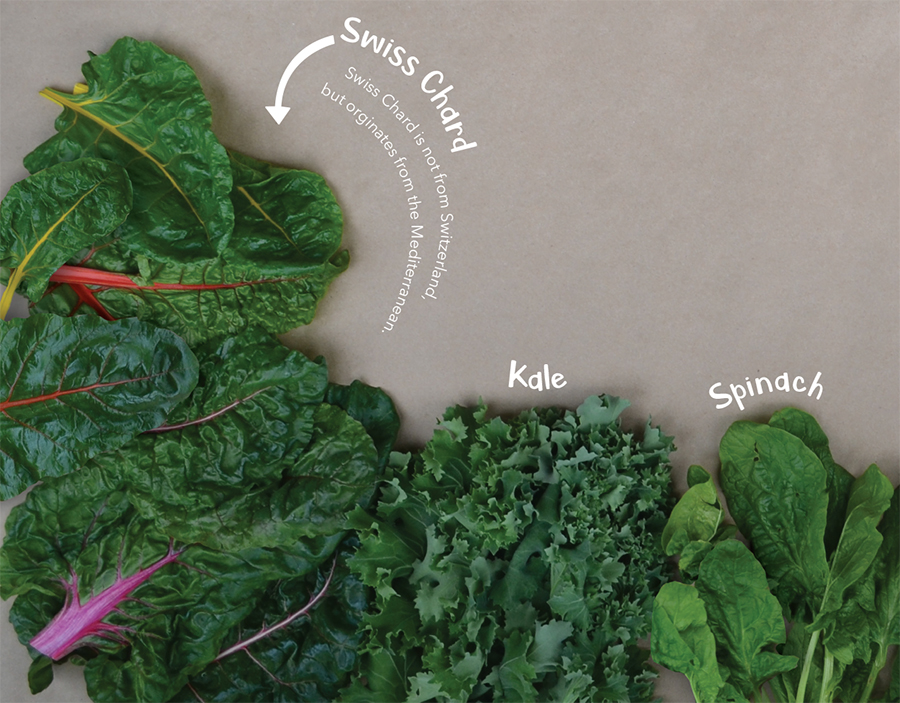 Spinach Salad with Warm Bacon Dressing
INGREDIENTS
8 cups of spinach
3 hard-boiled eggs sliced
1 package of white mushrooms sliced
1 small red onion thinly sliced
8 slices of bacon
3 tbsp apple cider vinegar 1 tsp sugar
1 tsp honey
1/2 tsp Dijon mustard
Salt
Pepper
1. Cook the bacon until crispy, then move to a paper towel. Save 5 tbs of the bacon grease.
2. Cook the red onion and mushrooms in 2 tbsp of the bacon grease until soft. Remove and set aside.
3. To make the warm bacon dressing, combine 3 tbsp of the bacon grease with vinegar, sugar, honey and mustard in a pan over medium heat while whisking until warm. Add salt and pepper to taste.
4. Place the spinach in bowls and top with chopped bacon, onions, mushrooms and eggs. Pour warm dressing over the top and mix. Serve while warm.
Chard Quiche
INGREDIENTS
2 1/2 cups Swiss chard, stems removed and chopped
1 pie crust
1 onion chopped
2 tbsp butter
1 cup milk
1 cup heavy cream
2 1/2 cups shredded cheese – Swiss or Gruyere
4 eggs
1 tsp thyme
1 tsp nutmeg
1 tsp salt
1/2 tsp pepper
1. Preheat oven to 375°F.
2. Melt butter in a pan and cook onions until soft.
3. Add the Swiss chard and cook until soft.
4. Add the thyme, nutmeg, salt and pepper.
5. Pour the mixture into the pie crust.
6. Beat the eggs with milk and heavy cream.
7. Stir in the shredded cheese.
8. Pour the mixture over the Swiss chard in the pie crust.
9. Bake 45 minutes.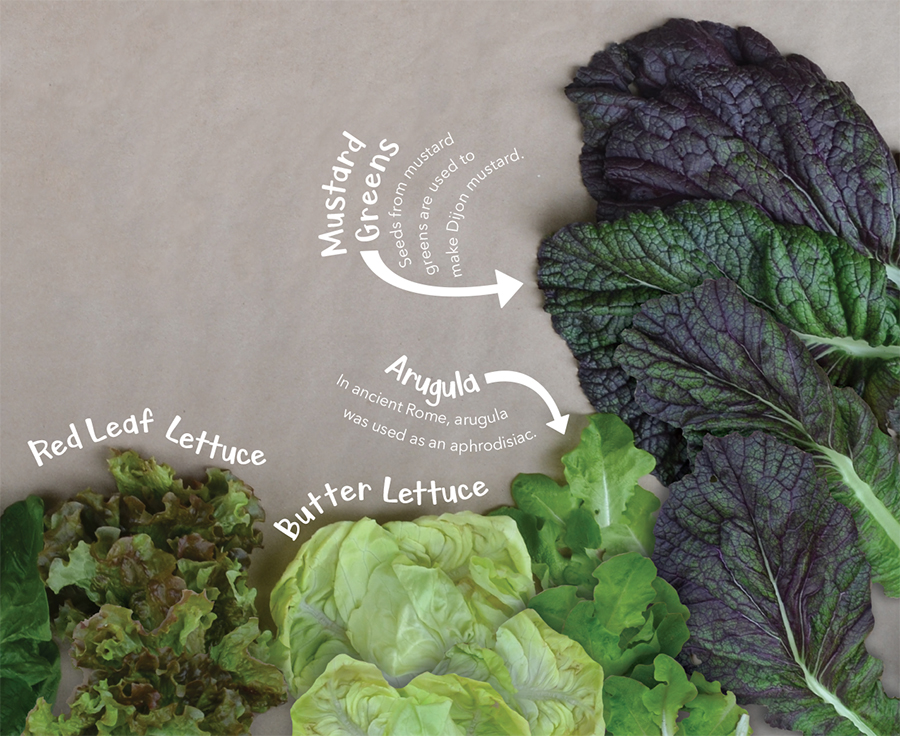 Kale Chips
INGREDIENTS
1 large bunch of kale
2 tbsp canola oil, olive oil or coconut oil
Flaky or fine grain sea salt to taste
1. Preheat oven to 300°F.
2. Line two large baking sheets with parchment paper.
3. Remove the center stems from the kale.
4. Wash the kale in cool water and dry it in a salad spinner or pat dry.
5. Place the kale in a bowl, drizzle the oil on and massage it into the kale.
6. Sprinkle with salt.
7. Spread the kale out onto the sheets in a single even layer.
8. Bake for 20 minutes swapping the baking sheets between racks halfway through.
9. Let the chips cool and eat them soon. They lose their crispiness with time.
* Experiment with different seasonings like garlic powder, onion powder, chili powder, smoked paprika, nutritional yeast, Old Bay seasoning, red pepper flakes or cayenne pepper. You can also make chips with Swiss chard .