By Darrach Dolan
A Truly Wilson Commencement Weekend. Wilson's 152nd Commencement is a weekend-long celebration.
With so many students graduating and events around campus, Wilson College's 152nd Annual Commencement was a weekend-long celebration.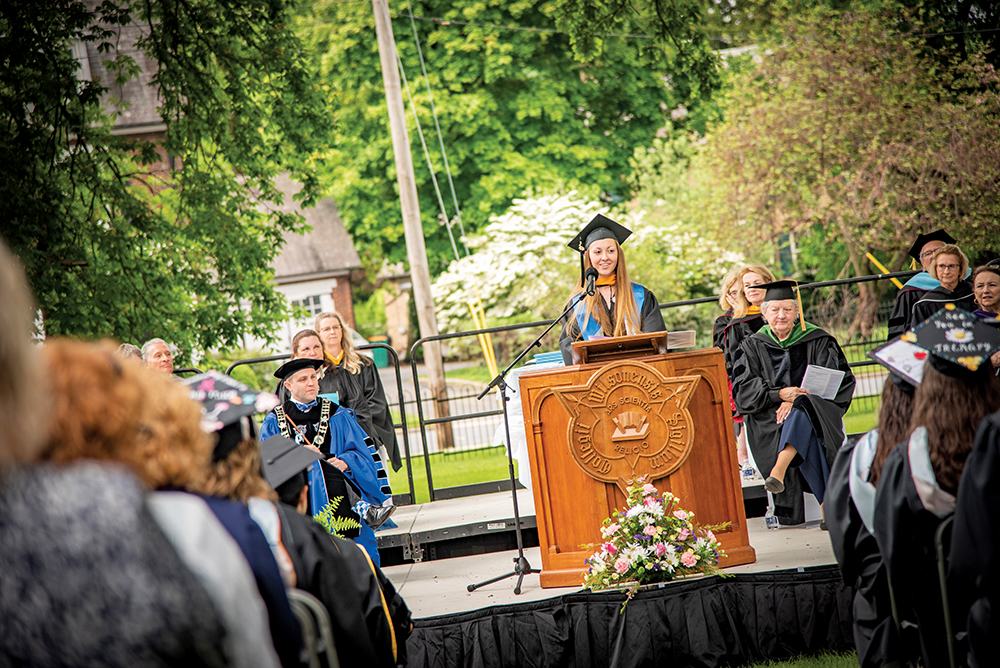 This year we honored 170 undergraduate and 135 graduate students plus, for the first time, the 107 students who completed their Pennsylvania teacher certification program. The achievements of this year's graduating class were all the more extraordinary because they succeeded despite the disruptions of the pandemic.
Congratulations to all 412 new Wilson alumni, their families, and friends!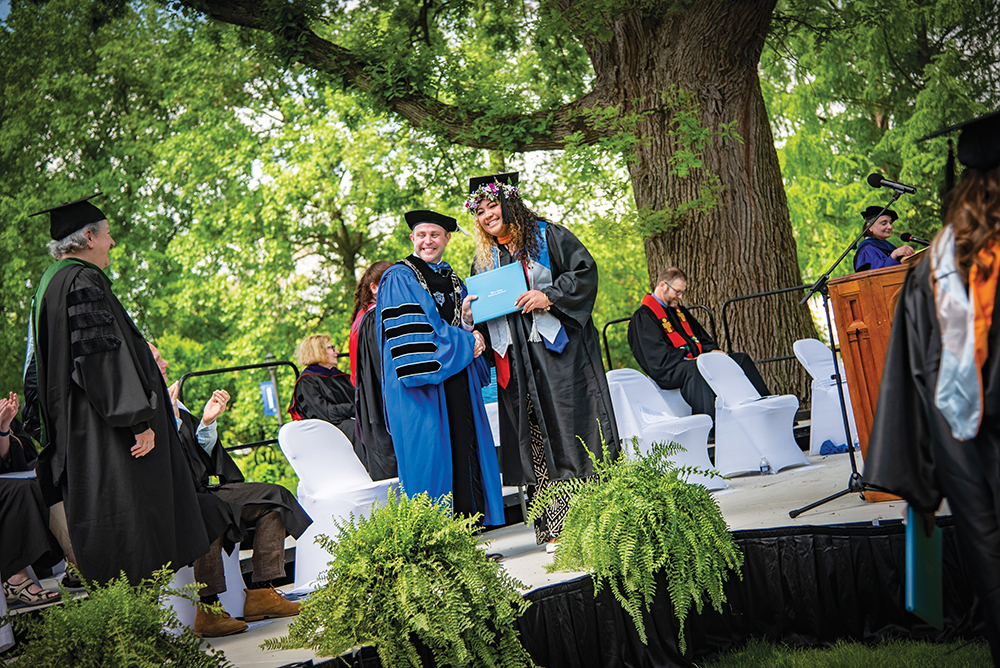 Friday and Saturday: Fun, Tradition, and Honors
The festivities kicked off on Friday night with the Ring it Forward ceremony (see page 34), followed by the traditional Senior Bash, where our graduating seniors let off steam with party games, treats, and fun.
At 10 a.m. Saturday, the more formal events began when students assembled and marched in a procession to the Alumnae Chapel for our traditional Baccalaureate — a blessing and celebration conducted by Rev. Derek Wadlington and featuring the Wilson College Choir.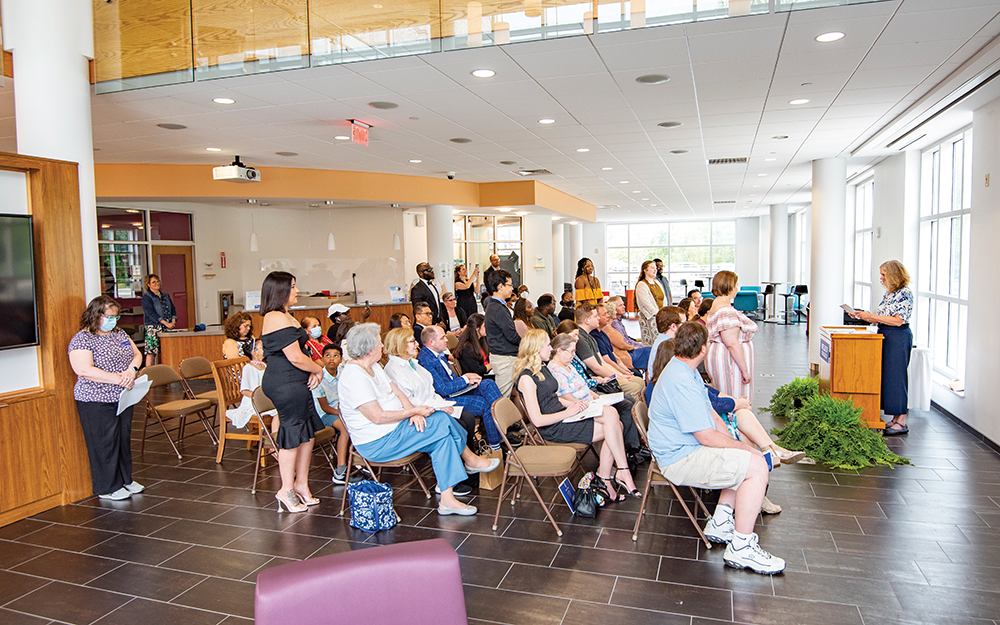 The afternoon festivities got underway with a ceremony recognizing the 57 students graduating with Latin Honors and the many inducted into the national honors societies Omicron Delta Kappa, Phi Beta Kappa, Pi Gamma Mu, Sigma Tau Delta, and Sigma Theta Tau.
The nursing graduates took center stage with their convocation and pinning ceremony. The graduates recited the Florence Nightingale Pledge to uphold the morals and best practices of their profession and devote themselves to the welfare of their patients. In a ceremony that dates back centuries, new nurses receive a pin from their conferring institution to remind them of this pledge and to recognize their entrance into the nursing profession.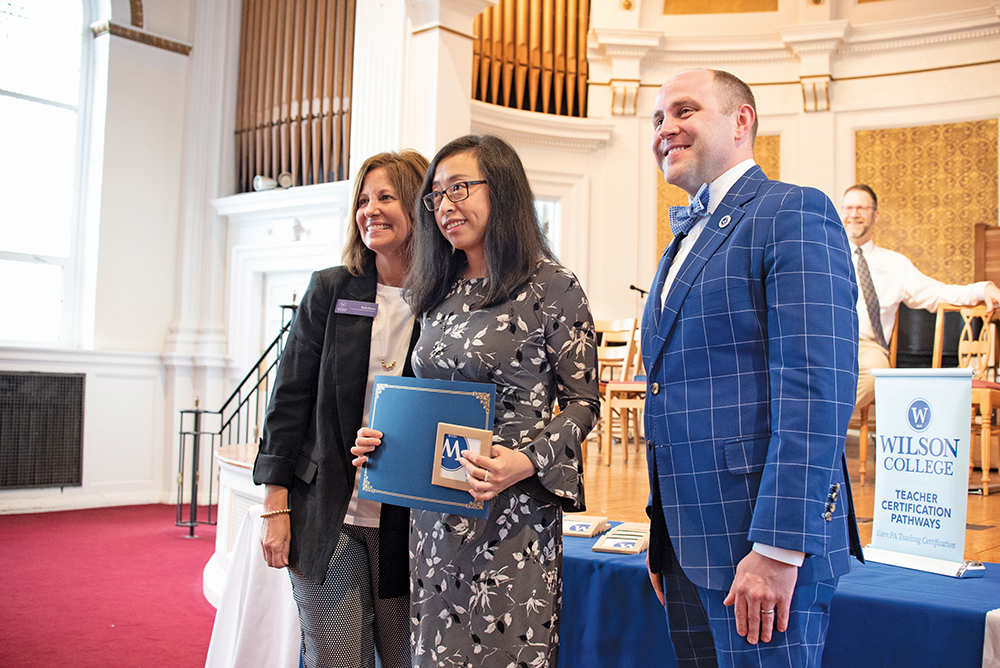 We celebrated the "completers" who finished the required coursework for Pennsylvania teacher certification. The College proudly graduated 107 future teachers, and we wish them well as they go out into the world to educate the next generations.
And in another first, we honored our graduating veterinary nurses with a pinning ceremony to honor their entrance into their profession. They pledged to uphold professional and ethical standards and remain lifelong learners.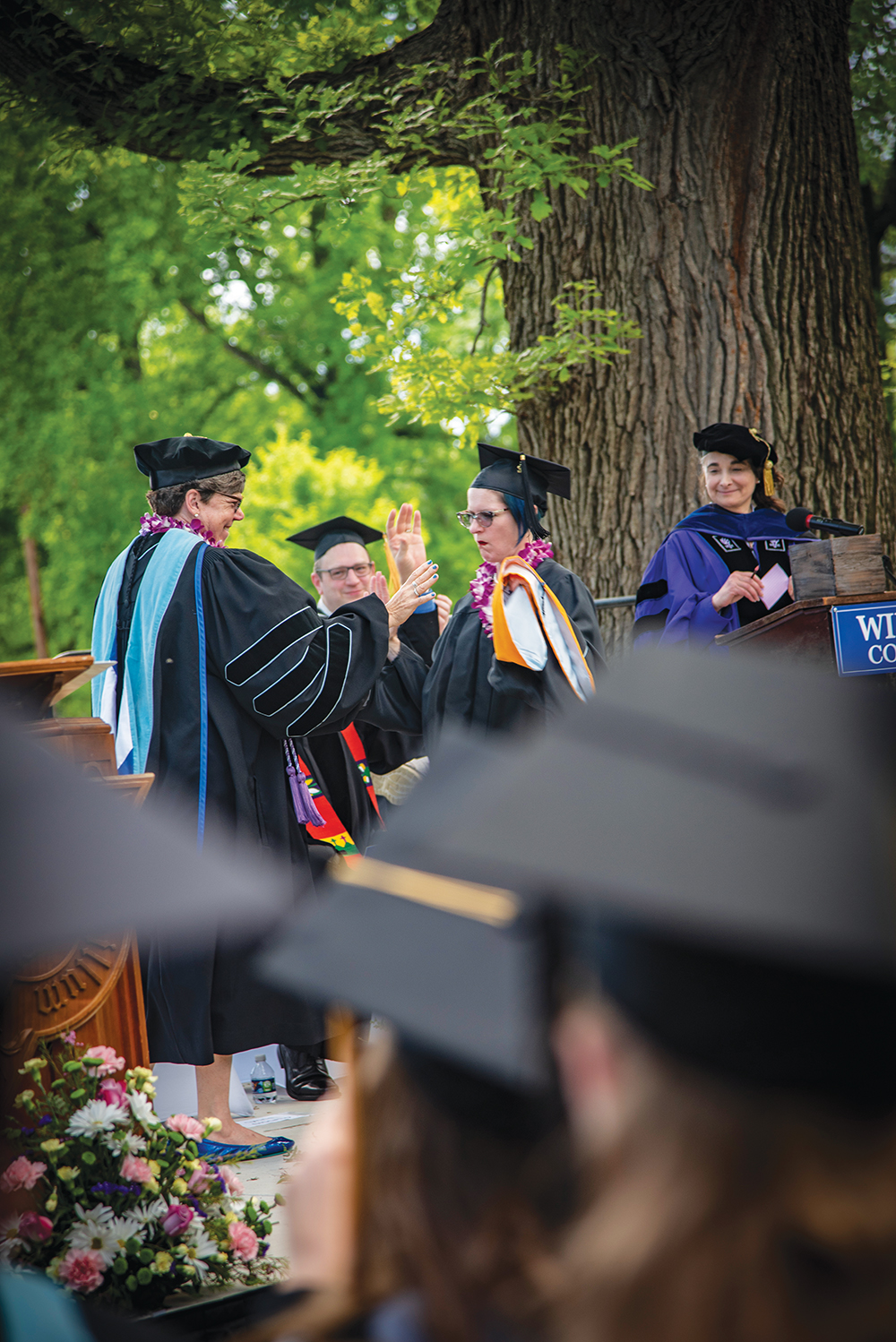 Sunday: Undergraduate and Graduate Commencement
Although the forecast had called for severe thunderstorms, keeping the staff and administration on tenterhooks, the weather gods smiled on this year's graduates, and Commencement went ahead under sunny skies with a nice breeze to keep the temperatures pleasant.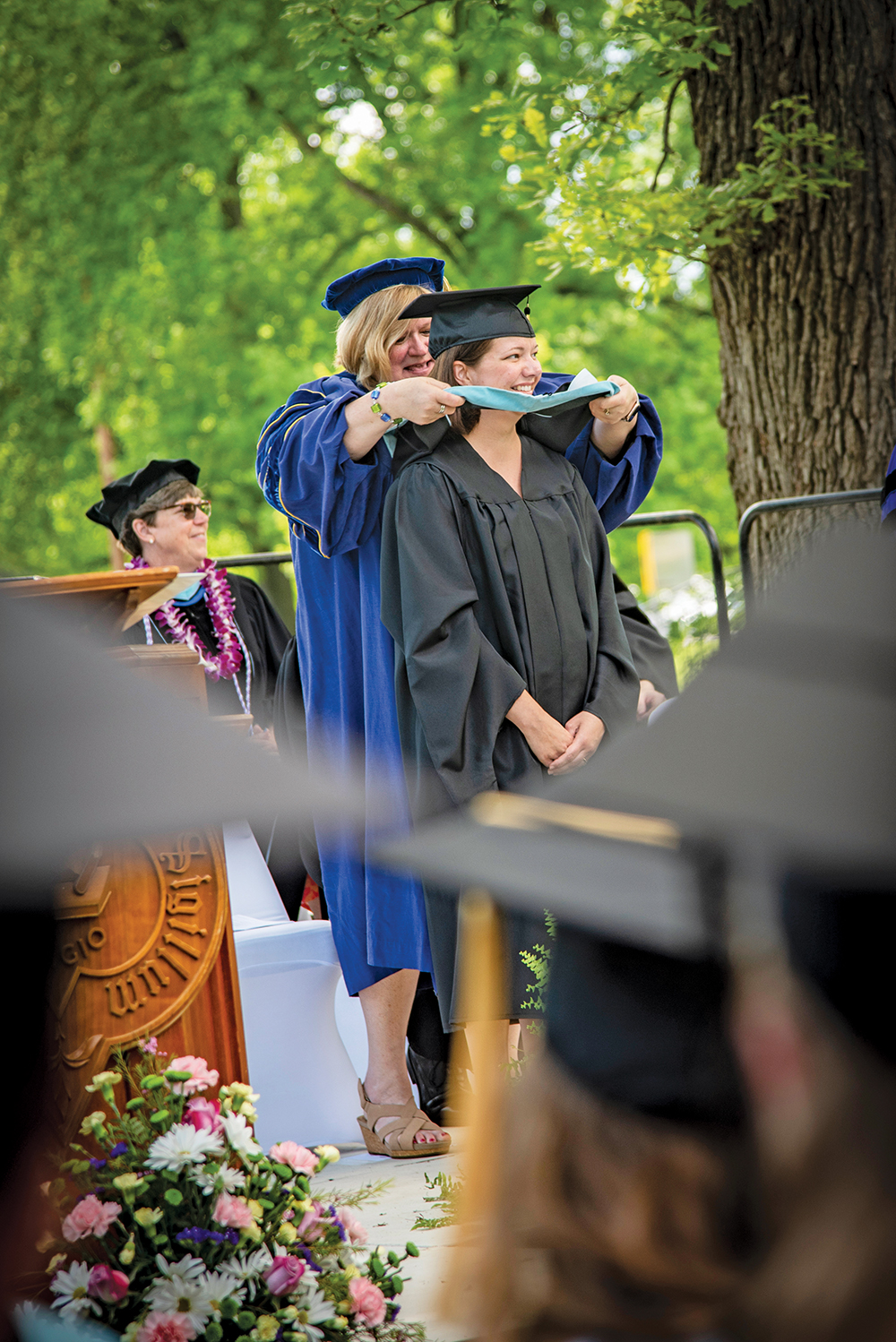 At 10 a.m., the graduating undergraduates took their seats and were welcomed by Board of Trustees Chair Dr. Barbara L. Tenney '67 and President Wes Fugate. Juliann Winkler, president of the Class of 2022, spoke on behalf of the class and presented the College with a gift to help install new water fountains around campus.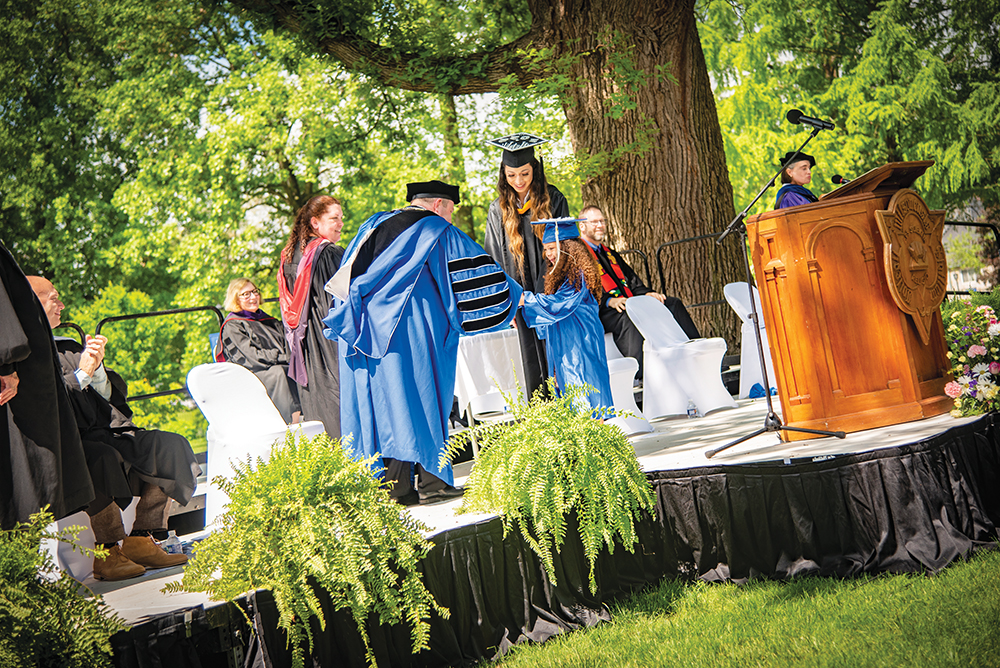 Fugate and professors Jill Hummer, Tammy Ege, and Michael Cornelius led the praise for Associate Professor of History Kay Ackerman, Associate Professor of Veterinary Nursing George Bates, and Professor of English Larry Shillock, who were bestowed with the honor of Professor Emerita or Emeritus.
Then Fugate introduced commencement speaker Michael Cerveris, the acclaimed and award-winning stage and screen actor, and conferred on him the honorary degree, Doctor of Humanities.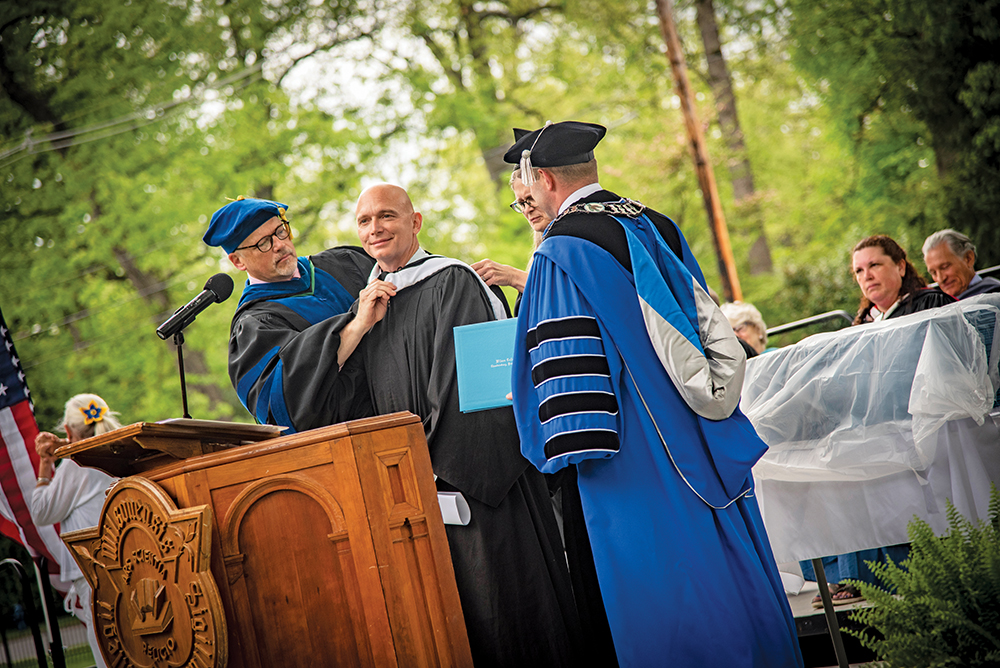 In a speech peppered with self-deprecating humor, Cerveris told the graduates that he was an example of what was possible if they set their minds to it. He was not unlike a lot of them in that he grew up in a small town "not all that different from where a lot of you are from." And he was "someone who went from fairly unspectacular beginnings to a life that sometimes has me flying around the world for work with famous people in fancy surroundings. [This] might help you see that so many things that seem out of reach and impossible because of where you're from might actually be possible for you, just as it turns out they were for me."
Inspired by a handwritten sign he saw in the aftermath of Hurricane Katrina, "Think That You Might Be Wrong," his final advice was to question everything, remain open to all possibilities, and not be afraid to get things wrong. "The humility we gain by considering we might be wrong is how we hear the still, small voice that tells us what that next right thing is," he concluded. "Take your convictions and beliefs and try to make the world you want to live in. But also leave room for the world as it is, and as it has been, to change you and to ask you questions."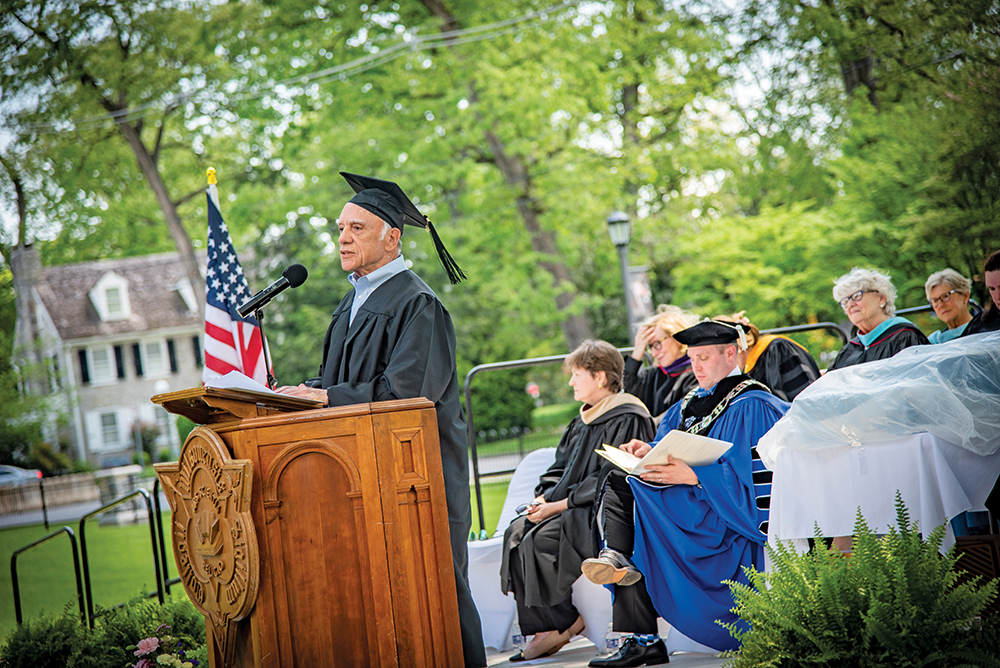 The graduate degree candidates were also greeted by Dr. Tenney and President Fugate. Their class speaker, Ralph J. Ursillo, received his master's degree from Wilson 60 years after he received his bachelor's from Columbia College in 1962.
Ursillo told the class that we live in turbulent times, mentioning the war in Ukraine, the pandemic, racism, gender inequalities, and disagreements about abortion as examples. In his experience, "One answer is to read, interpret, question, and act upon one's conclusions with civility. Listen to counterarguments with an open mind. Question the assertions of both real or fake news."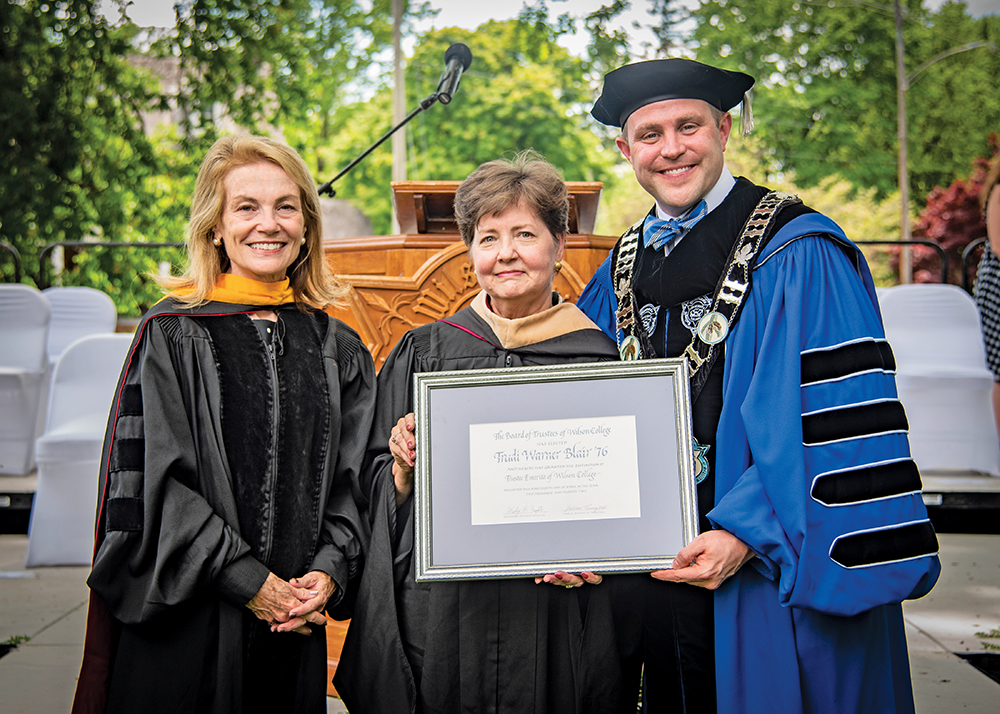 He asked the audience to be lifelong learners because "study in the arts and history can yield a wealth of information that is applicable to every walk of life and at any time of life." Being an inveterate reader has helped him throughout his career, "To sum it up, for me, reading and the study of the humanities embody the best elements of humanity — human creativity and imagination — and are to be treasured and enjoyed."
Next, the honor of Trustee Emerita or Emeritus was conferred on Jeanne Crawford Beck '65, Trudi Warner Blair '76, and John W. Gibb.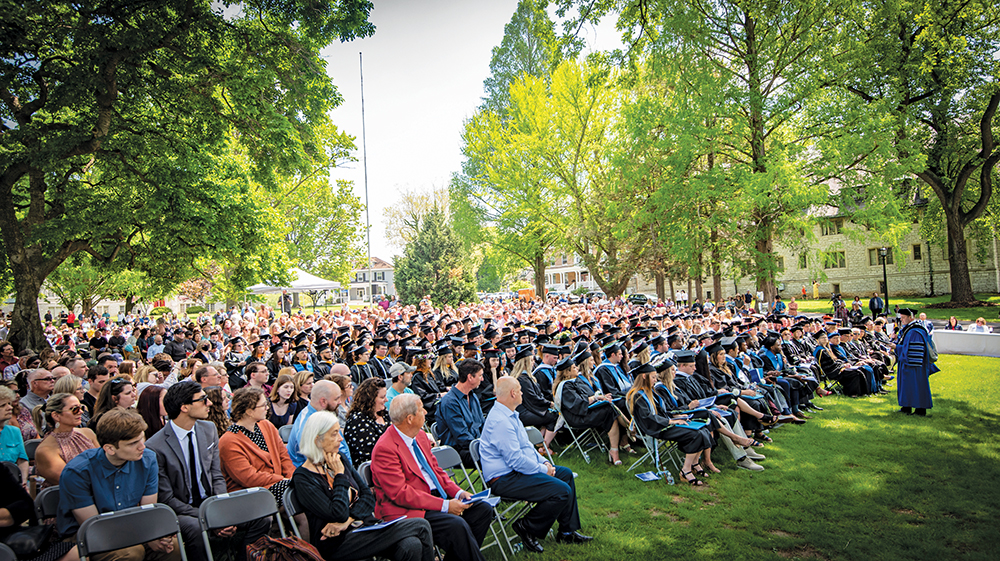 Both ceremonies concluded with the conferring of degrees and AAWC President Lynne E. DiStasio '74 welcoming the classes into the association. In his parting words, Fugate congratulated the classes, wished them success, hoped they would always consider Wilson their family, and encouraged them to return frequently.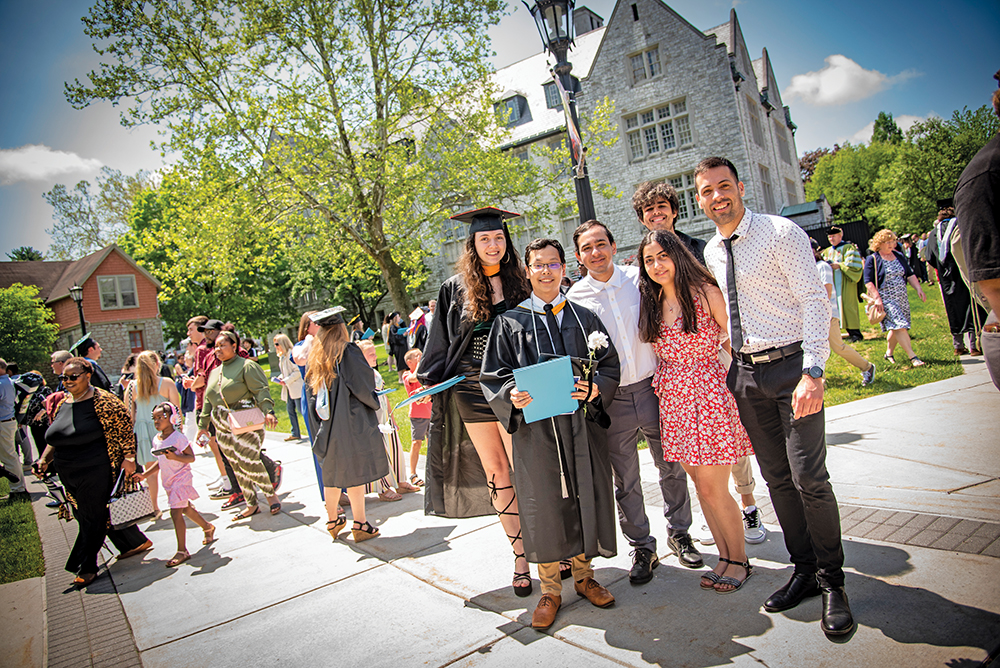 Only minutes after the graduate Commencement concluded, as Main Green cleared and families, friends, and graduates left, cell phones buzzed and blared with emergency weather warnings! The thunderstorms had held off just long enough to act as a natural curtain call on Wilson's spectacular 152nd Commencement!