Recipes for potatoes that are out of this world.
By Jennifer Cisney
Potatoes originated in the Americas and weren't introduced to Europe until the 16th century, when Spanish Conquistadors brought them from Peru. The potato gained popularity across Europe thanks to its resistance to spoiling, affordability, and ability to satisfy hunger. Today potatoes are the world's fourth-largest food crop, with Idaho being the largest producer.
At 110 calories per serving, potatoes are a good source of vitamin C, B6, potassium, and complex carbohydrates while also fat-, sodium-, and cholesterol-free. Potatoes also have a protein called proteinase inhibitor 2, which is shown to be an appetite suppressant. Eating a baked or boiled potato with a meal can lead to eating less.
Potatoes were the first food source to be grown in space, and NASA continues to study the cultivation of potatoes for space voyages and colonies. Researchers at the International Potato Center in Peru successfully sprouted a potato in a container mimicking Mars' temperatures and atmospheric conditions. All of the potatoes pictured here however, were grown on Wilson College's Fulton Farm.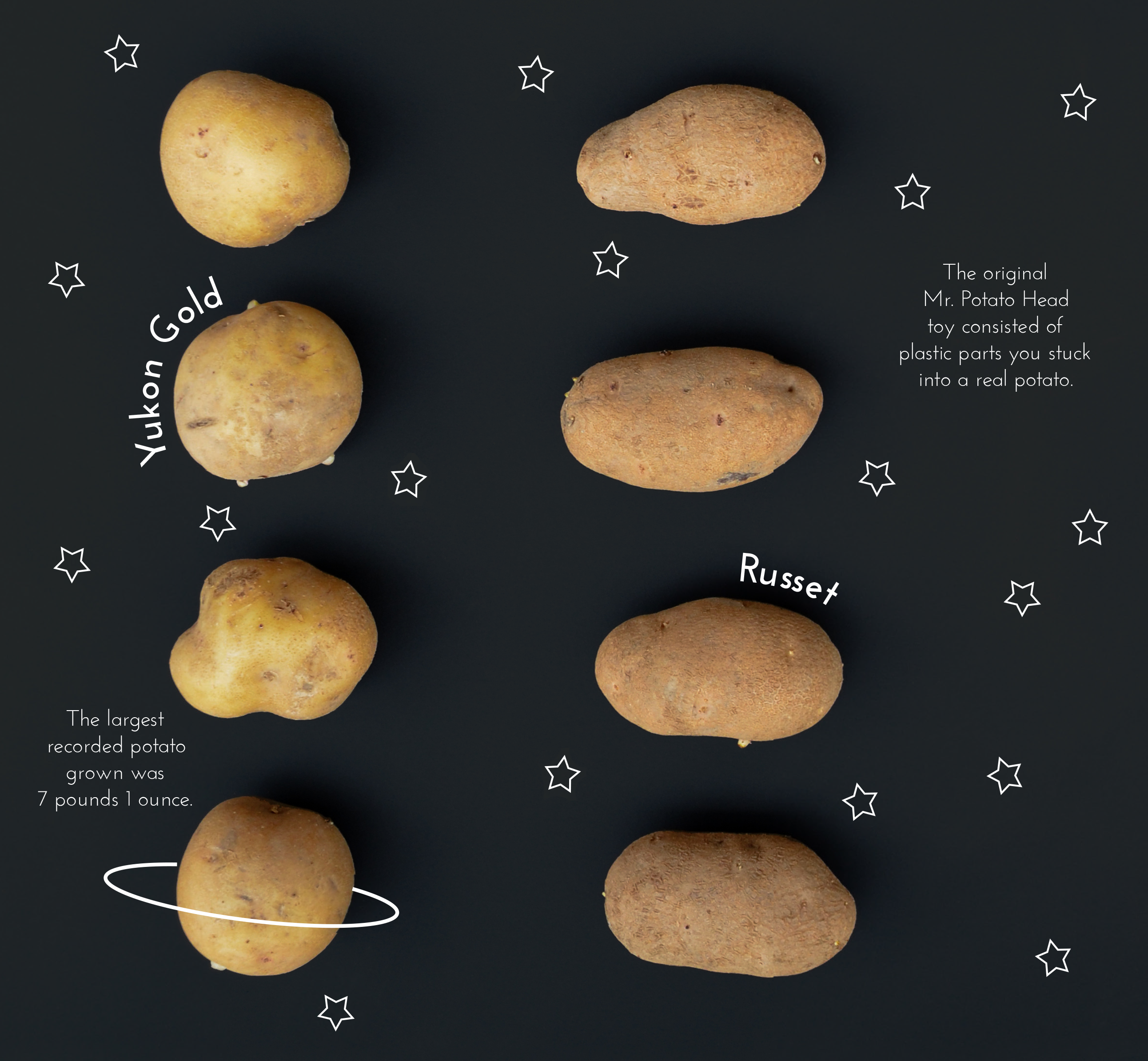 Potato Doughnuts
INGREDIENTS
1 cup mashed potatoes 3/4 cup milk
2 eggs
1/2 cup sugar
4 tbs butter melted
1 tsp vanilla
1 tsp ground nutmeg
1 1/2 cups all-purpose flour 1 tsp baking powder
1 tsp baking soda
1/2 tsp salt Vegetable oil or shortening
For coating doughnuts: 1/2 cup sugar
1 tsp cinnamon
Mix mashed potatoes, milk, sugar, butter, vanilla, nutmeg, and eggs together in a large bowl. Stir in
flour, baking powder, baking soda, and salt. Cover and place in the refrigerator for one hour.
Mix together sugar and cinnamon, set aside.
Add two and a half inches of vegetable oil or shortening to a pan and heat to 375 degrees. Drop one tablespoon scoops of dough into the hot oil. Avoid overcrowding. Turn the doughnuts and fry for two to three minutes on each side until puffy and golden brown. Place doughnuts on paper towels to drain, then toss in the cinnamon-sugar mixture.
Melting Potatoes
INGREDIENTS
4 russet or Yukon gold potatoes 2 tbs olive oil
Salt and pepper
4 tbs butter melted
1 cup chicken broth
2 tbs rosemary
2 cloves garlic minced
Preheat the oven to 500 degrees F.
Cut the round ends off the potatoes and peel them. Then cut them into one-inch slices. Add the slices to a bowl with the oil, butter, salt, pepper, and rosemary and stir until coated.
Place the potatoes with oil and butter in a 9×13-inch baking dish (not glass which may crack when the broth is added). Arrange the potatoes into one layer. Bake for about 15 minutes until the bottoms are golden brown. Flip each potato and bake another 15 minutes.
Remove the dish from the oven and pour in the stock and garlic. Bake another 15 minutes. Garnish with salt and pepper. Serve with extra sauce from the baking dish poured on top.