Enrollment Up for Sixth Straight Year
Wilson continues to buck the trend of declining enrollments (caused primarily by unfavorable demographics) in higher education. A total of 1,620 students are enrolled for the fall semester, an 8 percent increase over fall 2018 and another record for the College.
The greatest growth came in the teacher certification programs, where enrollment is up 39 percent over last year. Officials attribute the increase to several factors, including the expansion of all certification programs to include an online option, in addition to the traditional classroom format, and to a shortage of qualified teachers in Pennsylvania. Enrollment in the 10 graduate programs also increased by 20 percent, with 546 students enrolled this year compared to 455 last fall.
College officials credit Wilson's growth to its ability to respond to market demands for programs like nursing and the expansion of graduate programs in education.
"The College has been adept at providing the programs our students and prospective students tell us they want, while maintaining the personal attention, smaller class sizes and academic excellence for which Wilson is known," Vice President for Academic Affairs Elissa Heil said.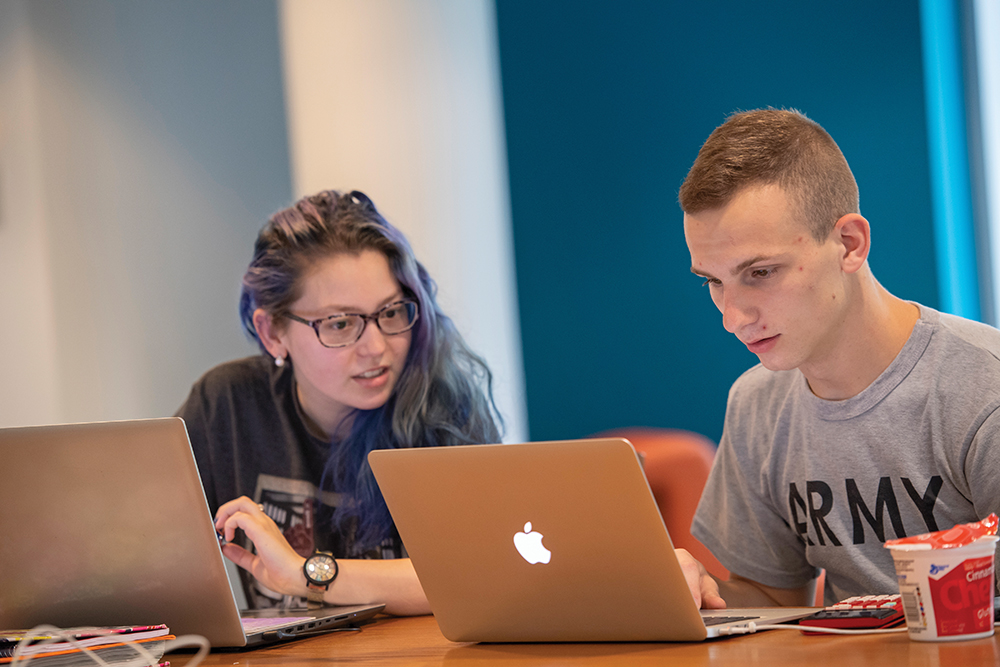 The 1,074 students enrolled in Wilson's undergraduate programs, including adult learners, is an increase of nearly 2.9 percent. Of those, 662 students are traditional undergraduates, nearly 60 percent of whom live on campus. The number of new freshmen grew more than 5 percent.
This year's enrollment increase marks the sixth consecutive year of growth since Wilson enacted the Wilson Today plan, a series of measures approved in 2013 to revitalize the College and set it on a path toward economic health and sustainability. The steps included a tuition reduction and student loan buyback program, new career-oriented academic programs, campus improvements and coeducation in all programs.
Since 2013, Wilson has seen a 115 percent increase in traditional undergraduate enrollment, with a 145 percent increase overall.
Wilson's increased enrollment goes against the national trend. Based on the most recent data available, the National Student Clearinghouse Research Center reported a decline of 1.7 percent in higher education enrollment nationally for fall 2018.
"All in all, we did exceptionally well this year," said Interim Vice President for Enrollment David Boisvert. "I think our efforts to improve recruitment and financial aid strategies played a role, along with Wilson's reputation for excellence and value."
Wilson has students from 26 states, the District of Columbia and Puerto Rico, and 14 countries. The College has expanded its athletics program to include 11 NCAA Division III men's and women's teams.
College Partners with Credit Union to Teach Financial Literacy
The One-Stop Student Services Center is partnering with the Pennsylvania State Employees Credit Union (PSECU) to teach and emphasize the importance of financial literacy on campus.
"We want to continuously improve the student experience. Helping students understand their financial environment by providing this type of education is part of that," said Heather Ellerbrock, director of the one-stop center. "Students will be better equipped to understand financial aid, personal budgets, credit, how to manage money and how the choices they make in college can impact them as adults."
Center staff members are working alongside PSECU's Allison Gayer, a credit-union-certified financial counselor, to provide materials and presentations developed by PSECU specifically for higher education students. "Gayer has trained our staff to assist students with a broad range of financial questions," Ellerbrock said. "We will also lean on her expertise in developing financial literacy programs for the campus."
The center held information sessions for families during summer orientation, and will hold additional sessions for students during the fall and spring semesters. The goal is for families and students to better understand the impact of financial decisions about college, according to Ellerbrock.
"I think everyone can relate in one way or another to some kind of monetary anxiety," she said. "If we can empower people to feel less of this burden by educating them, I think it'll only improve their college experience."
Two New Trustees Welcomed to the Board
Hillarie A. Flood is a strategic global executive with 25 years of product management experience in the software and technology industries across the United States, Europe and Asia. She currently serves as principal of the Strategic Innovation Group of Booz Allen Hamilton in McLean, Va. Earlier in her career, she spent time at Microsoft Corp., America Online, Versign and Intersections Inc.
Flood has been recognized for excellence in leadership throughout her career and has served on the board of College Bound, a Washington, D.C., organization focused on preparing public and public charter school students in the metropolitan Washington area to enter college, earn degrees and achieve their personal and professional goals.
Flood earned a B.S. in applied math and economics from Brown University and an M.B.A. from the University
of Michigan.
Judy Kreutz Young '63 retired after a 45-year career in education, including 23 years as the director of libraries for the Baldwin School in Bryn Mawr, Pa.
After her Wilson graduation with bachelor's degrees in psychology and elementary education, she earned a Master of Education from Shippensburg (Pa.) University and a librarian certification from Marycrest College in Davenport, Iowa. In retirement, she is an active volunteer in the Chambersburg area, as well as at Wilson.
Young began her first term on the Board in June 2019.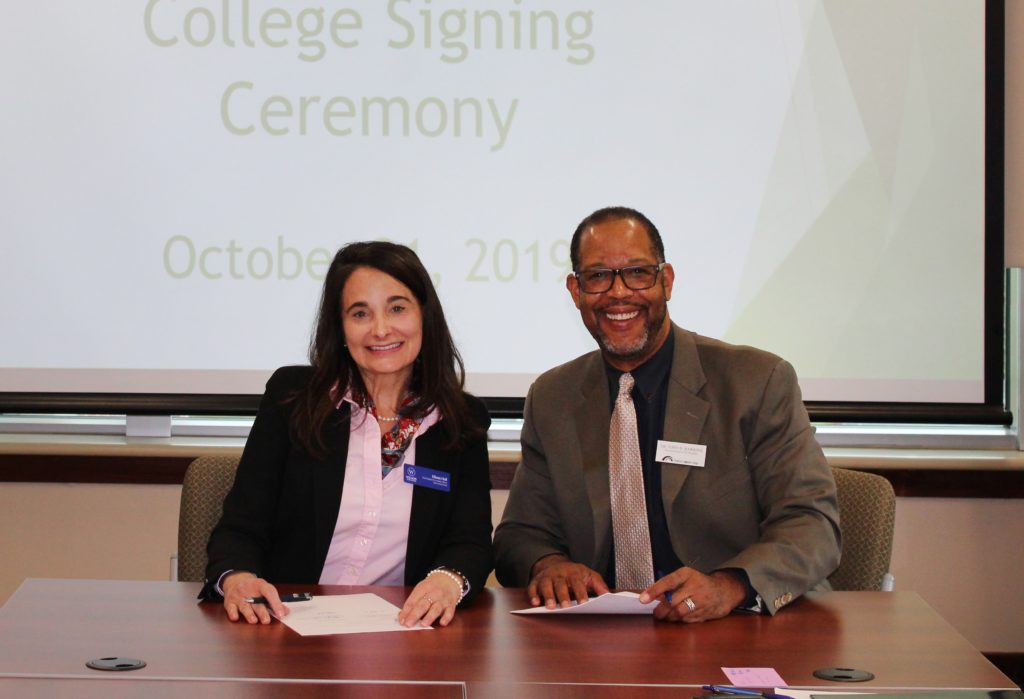 Wilson Forges Agreements with Two Maryland Community Colleges
Wilson finalized agreements this fall with two Maryland community colleges—Montgomery College and Frederick Community College—guaranteeing qualified students at those institutions admission to Wilson bachelor's degree programs and allowing them to transfer all credits earned with a grade of C or better.
The articulation agreements give MC and FCC associate degree graduates with a grade-point average of at least 2.0 several advantages that will make continuing their education at Wilson as seamless as possible. The advantages include receiving full junior status at Wilson if they transfer 60 credits, as well as having Wilson's admission fee waived. Qualified MC and FCC students will also receive coordinated academic advising with Wilson to ensure that they take courses that can be applied to their bachelor's degree.
High-achieving students will also receive monetary benefits: FCC and MC graduates who are members of Phi Theta Kappa—the largest and most prestigious honor society for two-year college students—will be awarded a Wilson Presidential Scholarship of $12,000 if they enroll as full-time residential students taking 15 credits or more per semester.
"We are excited to partner with these colleges," Wilson Vice President for Academic Affairs Elissa Heil said. "The agreements expand Wilson's reach into the suburban Washington, D.C., area, while giving FCC and Montgomery students a clear, straightforward path to a Wilson bachelor's degree. It's a win for everyone."
A public community college in Montgomery County, Md., MC has more than 30,000 students at three campuses in Rockville, Takoma Park/Silver Spring and Germantown. Established in 1957, FCC, which is located in Frederick, Md., offers more than 85 degree and certificate programs.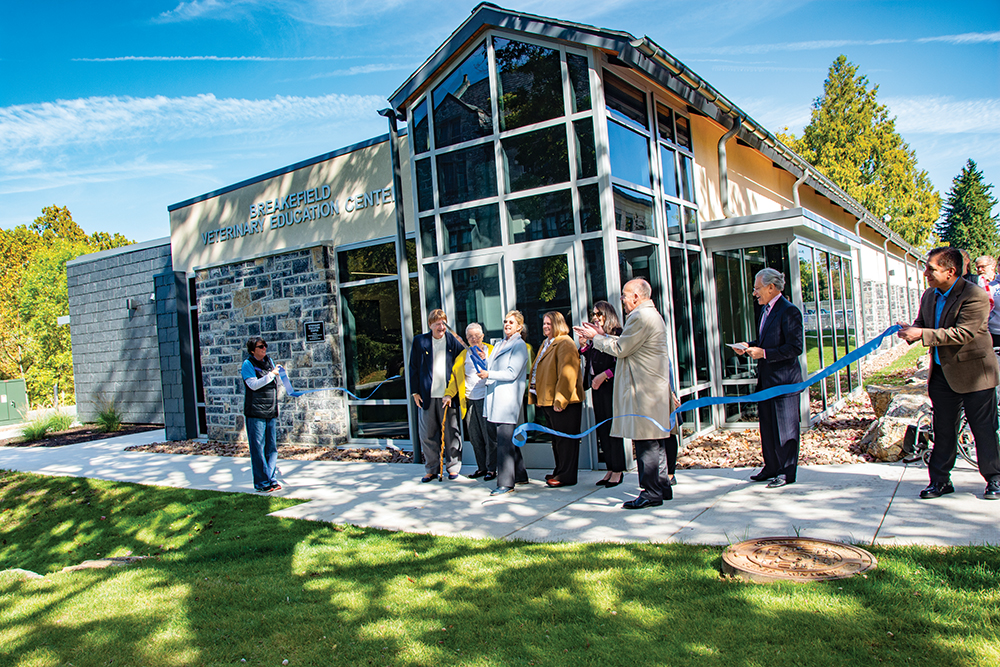 Wilson Cuts Ribbon on New Veterinary Building
A ribbon-cutting ceremony was held Saturday, Oct. 19, officially marking the opening of the new, $3 million veterinary education center. The new center has been named the Breakefield Veterinary Education Center in recognition of Susan Breakefield Fulton '61, who contributed $975,000 to the project—including a $500,000 lead gift in 2016—and her sisters and fellow Wilson alumnae, Xandra Breakefield '64 and Beverly Breakefield '78.
Fulton, a Wilson Trustee Emerita, businesswoman and philanthropist, took part in the ribbon-cutting, as did Margaret Hamilton Duprey, a Wilson Trustee who contributed $1 million to the new facility. The clinical suites, animal facilities and the onsite programs and courses will be collectively known as The Margaret Hamilton Duprey Center for Veterinary Excellence. A lifelong horsewoman and business owner, Duprey also contributed $500,000 to Wilson in 2015 to establish an innovative home healthcare nursing program for horses called Equi-Assist®. A focused concentration within the College's VMT program, Equi-Assist® trains students to provide home healthcare to horses, under the guidance of a veterinarian.
Ground was broken in spring 2018 on the new 9,000-square-foot center, which was completed this past summer and has been open since the start of the fall semester. It replaces the smaller, outdated Helen M. Beach '24 veterinary facility, which was recently torn down. The new building, located on the west side of the Brooks Science Complex, includes two surgery rooms, a dental room, recovery room and isolation room, as well as kennels and an indoor run for dogs, a cat room, office, lounge, clinical practice area and laundry facilities.
Wilson's veterinary center is a hub for students in the College's four-year veterinary medical technology program, which—after nursing—is the most popular major at Wilson: This year, 69 students have declared VMT as their major and 95 more underclassmen intend to major in it. Plus, another 45 pre-veterinary students are currently enrolled.
Other officials who participated in the ribbon-cutting ceremony include Wilson Interim President A. Richard Kneedler, Board of Trustees Chair Barbara Tenney, Trustee James Orsini, Vice President for Academic Affairs Elissa Heil and Professor and Director of VMT Freya Burnett.
You can watch a video and see photos of the ribbon cutting here.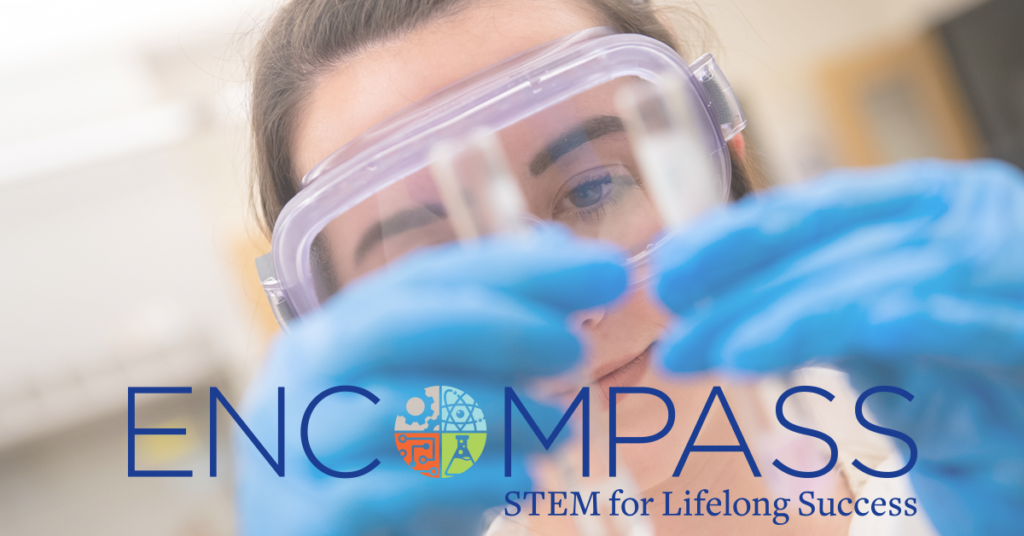 NSF Awards Grant for Unique STEM Initiative
The National Science Foundation has awarded the College a grant of nearly $1 million to recruit local high school students who plan to major in STEM (science, technology, engineering and mathematics) fields and support them with stress management techniques, wellness practices, academic assistance, mentoring and career development.
The prestigious NSF grant provides Wilson with $997,509 over five years, beginning in October, for the unique Encompass: STEM for Lifelong Success program. The program will provide scholarships to 21 academically talented students from eight local school districts to pursue degrees in one of four targeted STEM majors: biology, chemistry, biochemistry or environmental science.
Encompass will provide up to $9,500 a year in scholarship aid for each student. It aims to attract more rural Pennsylvanians to the STEM fields and help them stay in school, graduate and have successful careers. It is hoped that, as a side benefit, those graduates will return to rural parts of the state to work in STEM fields.
"We need more STEM-engaged students," said Mike Ross, president of the Franklin County Area Development Corp. He predicts Encompass could have "significant implications" for the local economy. "Growing talent locally, I think, bodes well for our future."
Another key objective of Encompass is to establish "an ecosystem of rural student support services" that will include academic support, research opportunities, alumni mentoring, experiential opportunities, faculty and peer-to-peer mentoring, job/career development, internships and wellness and stress-reduction activities.
"Our academics are very strong here, but how can we do better for these students? That really is what this program is about," said Wilson Professor of Biology Dana Harriger, who is the grant director. A unique component of the program is its focus on helping reduce students' stress and anxiety and maintain a healthy work-life balance, he said.
As the principal liaison with the partnering school districts, Harriger will visit schools to discuss the program and begin recruiting prospective students. The first Encompass students will enter Wilson in fall 2020.
Wilson will collect and analyze data about the effectiveness of Encompass as part of the NSF grant's research component. An external evaluator will assess the program and an advisory board made up of community and business leaders, as well as alumni, will also assist in evaluating its progress.
"One of our goals with Encompass is to create strong, local community partnerships that will transform the lives of student-scholars and have a positive impact on our community," said Wilson Vice President for Academic Affairs Elissa Heil. "This project will advance understanding of how to better develop STEM undergraduate programs and generate highly trained STEM graduates who have an appreciation for work-life balance and are adept at managing stress throughout their lifetimes."
Wilson officials are excited about Encompass, which has the potential to benefit not only students who are part of the program, but also all students at the College. "If Encompass works as we envision, we could be using the program broadly on campus," Harriger said. "Wilson could be a college that is known for these types of support systems."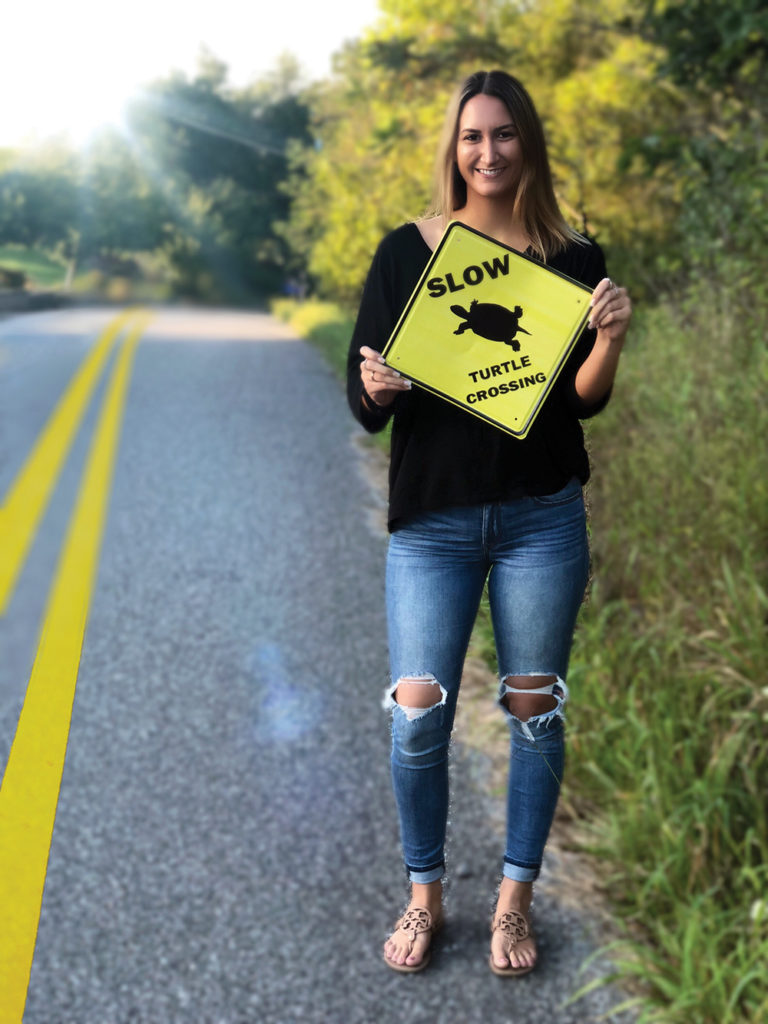 Conservation Close to Home: Slow Down for Turtles
After finding numerous turtles hit by cars on Central Road in her hometown of Bloomsburg, Pa., Miranda Long '18 decided to take action. "I thought I should make some effort to save their lives," said Long, a lifelong animal lover who minored in animal studies at Wilson.
Long contacted the Pennsylvania Fish and Boat Commission and then the local township about the turtles' plight, but neither was able to help. After thinking about possible solutions, Long remembered she had seen "turtle crossing" signs in New Jersey and Florida. She called PennDOT and got permission to put up signs to warn drivers they were approaching an area where turtles crossed the road.
After searching online, she found signs on Amazon, bought some and put them up along the crucial stretch of roadway. The signs seem to have made drivers more aware, according to Long, who said she has not seen more turtle casualties since she put up the signs.
As weather warms in the spring, turtles travel looking for food and mates. Sometimes a road is in their path and traffic is a deadly threat. Since turtle mating season ends in September, Long has agreed to remove the signs in fall, but she plans to put the signs up every year and is planning for bigger, better signs next year.
Long, who earned her bachelor's degree at Wilson in criminal justice, works at North Central Secure Treatment Unit as a youth development aid and hopes to someday have a career where she can affect legislation for animal rights and continue to save the lives of animals. "I help any animal I can and always will."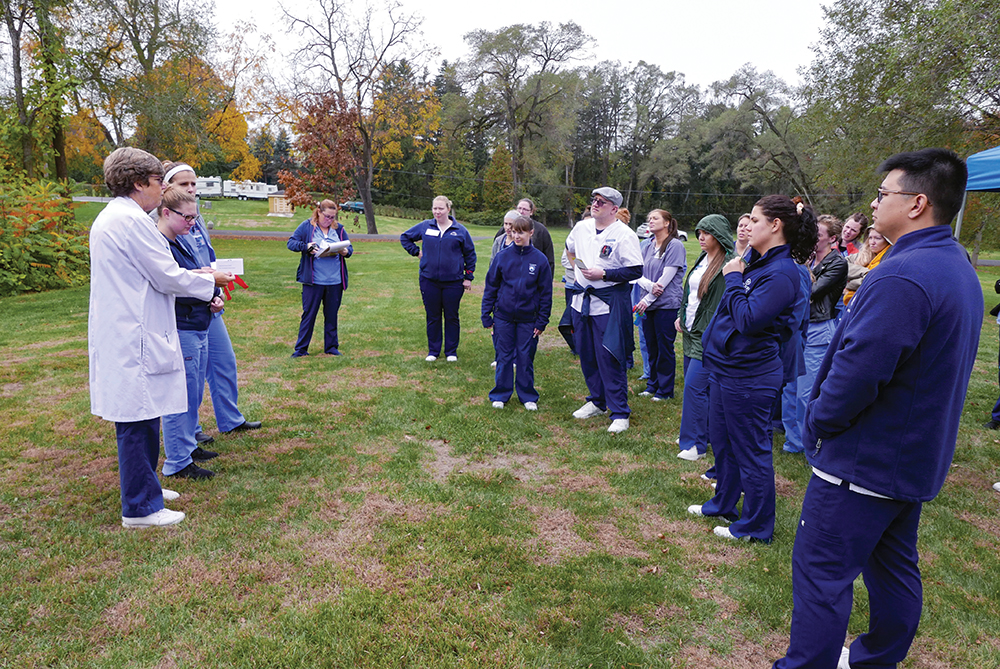 Wilson Hosts Mass Casualty Response Practice
More than 100 nursing students from four different area schools, including Wilson, converged here on Saturday, Oct. 26, for "Community Simulation Day"—a mass casualty scenario where students practiced assessing and treating "victims" of a fictional shooting.
The day began with expert speakers in the morning, followed by the simulation in the afternoon. Nursing students from the Wilson, Penn State Mont Alto and HACC's Gettysburg campus and the Franklin County Career and Technology Center's (FCCTC) Practical Nursing Program formed four groups with assigned roles. Some students in each group were assigned specific injuries and the rest acted as healthcare professionals treating the victims.
After the simulation, students evaluated their responses and discussed what they learned from the exercise. Their objectives included learning to evaluate injuries, prioritize care and triage the patients while maintaining a safe environment and ensuring clear, effective communication.
Wilson Chief Nursing Officer Julie Beck came up with the idea for the joint simulation, which had never been done before. "I feel strongly that if these students are going to be graduating from our local programs, it's really important for them to get to know each other before they're actually at the bedside," said Beck. "Everyone should learn what we do in a situation like this, no matter what their program."
The simulation was purposely low-key because it was the first time the programs had collaborated on a mock disaster. Nursing officials plan to hold future simulations at the participating schools on a rotating basis.
PAVing a Safe Future
Phoenix Against Violence (PAV) is a new, proactive, educational program to strengthen the College's ability to respond to crimes of sexual assault, domestic violence, dating violence and stalking on campus. Megan Kennedy, the project coordinator, hopes the program is "PAVing the way for honest conversation, bystander intervention, incident reporting and a safer future for all students."
Violence prevention training, programs and resources will be offered to both staff and students. PAV plans to begin this training for staff and faculty during the spring 2020 semester with online and in-person sessions. The programs will be offered to students beginning in the fall of 2020. By targeting both students and staff, the project's goal is to make the campus community aware of issues of assault and violence, as well as how to intervene. "Through this education, we're taking a preventative stance to keep the campus as safe as possible," Kennedy said. "There aren't problems like this at Wilson and through PAV, we hope to keep it that way."
Wilson College is a safe campus, with only four instances of illegal activity reported over the last five years, according to the official campus safety report. To help maintain its safety record, the College in 2018 applied for and received approval of a grant of nearly $300,000 from the U.S. Department of Justice Office on Violence Against Women to create PAV.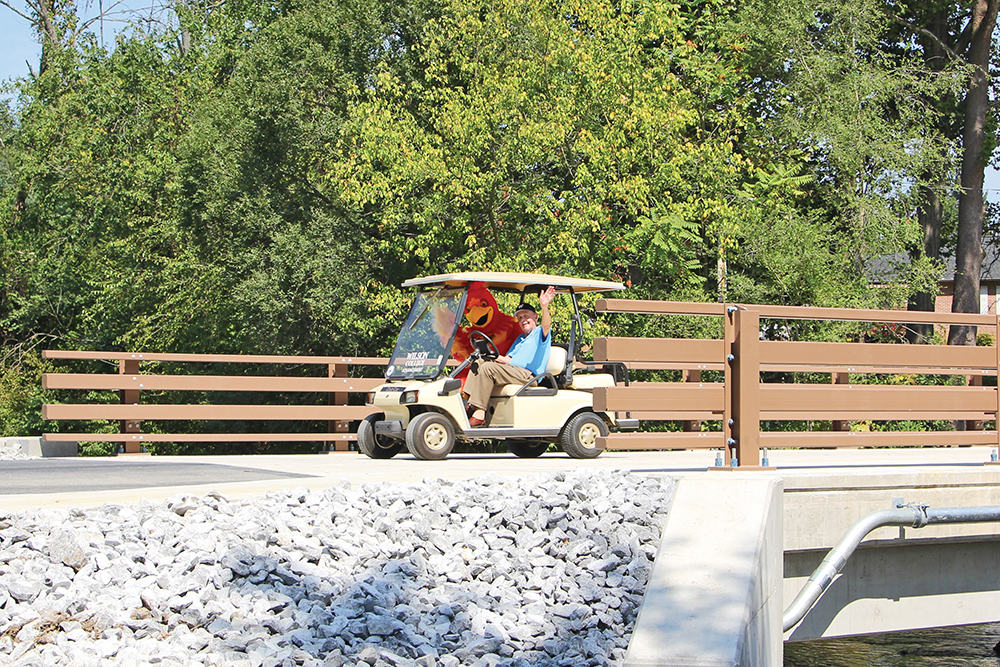 New, Widened Bridge Completed
A new bridge over the Conococheague Creek opened Friday, Sept. 13. The $1.8 million project replaced the old, single-lane bridge with one featuring two lanes for vehicles and a pedestrian walkway. Construction began in May with funding from the College's capital budget and a $1.5 million gift from Therese Murray Goodwin '49.
The new bridge improves access for emergency vehicles, sports team buses and horse vans to the western part of campus, which includes the equestrian center, Fulton Farm and the soccer and softball fields.