Shirley Aumack '71 hopes her book "Please Believe Me" will help other childhood abuse survivors
By Coleen Dee Berry
Shirley Jean Aumack '71 was just eight years old when she found the courage to confront the man who was sexually abusing her — her father. One day when they were alone in the house, she decided to ask him "to stop those bad things he was doing to [her]."
His response would scorch her for decades. "His face blazed red as he slowly stood up and slammed his hand on his desk…and said to me, 'No one cares what I do to you. I don't love you, no one loves you, and no one will EVER love you.'
Those words, and the horrid ramifications of his actions and words, have been with me ever since," she said.
Aumack recounts this confrontation in her book, "Please Believe Me: Finding My Voice and Surviving Childhood Sexual Abuse," published last year. The book traces her lifelong struggle to understand, cope, and heal after a childhood taken from her by an abusive father and distant mother. "I am a survivor, which means I have broken the chains that my parents had wrapped around me," she writes.
Aumack wrote the book with the hope her story will both encourage other abuse survivors and enlighten readers. "I thought if I told my story, it would help those who have had a similar experience know that they are not alone," she said. "And I also wanted to educate those who have not experienced abuse about how this affects your entire life — that you have to struggle with the damage your whole life. You don't just get some therapy, and then you're cured. It never goes away."
"Please Believe Me" also chronicles her successes as a wife, mother, and businesswoman. Married for 51 years and the mother of two sons, Aumack is now retired from her New Jersey business as a Certified Financial Planner and an Enrolled Agent with the Internal Revenue Service. She has been listed in both "Who's Who in American Women" and "Who's Who in Finance and Industry", and last year, she received the Albert Nelson Marquis Lifetime Achievement Award from the publisher, Marquis Who's Who.
But she also experienced crippling episodes of depression and thoughts of suicide, battled panic attacks, and underwent years of therapy. Her innate optimistic nature helped her survive. "I think I'm a very positive person. No matter how many times I've struggled, I've always come out on the other side, to a place where I am happy with life," she said.
Two keys to leaving the abuse behind, Aumack said, were her early romance with her future husband Ken and her college life at Wilson.
"I was able to survive because I found Ken when we were so young. I was 15, and he was 17 when we went on our first date," to see the movie Mary Poppins, Aumack said. Ken Aumack's warm and lighthearted nature was completely different from her family. "He's always been by my side, on my side, always supportive of me."
When she left home to attend Wilson, "I said goodbye to my parents, and I freed myself from their negativity," Aumack said. "I loved being at Wilson. I felt so safe there.
The professors and instructors were so helpful, guiding, and caring … But it wasn't easy; it was very hard academically." Aumack chose economics as her major. "There were only six of us in that major, but it was a top-notch program. And when we graduated, the six of us made up a total of one percent of all the women economics graduates in the entire country. That's how few women were in that field at the time."
She first taught high school economics and then became an account executive for New Jersey Bell Telephone in 1972 — the first woman to be hired for a management position from outside of the company. By 1990, she had formed her own financial planning business.
Despite a happy home life and her business success, the demons of her past pressed her into therapy. During one session, she finally revealed her abuse to her husband. "Ken never wavered in his support," she said.
Being able to speak about her experience was both traumatic and immense relief, Aumack said. In her book, she recounts how desperately she searched for someone she could tell about her father. Her mother, who was always cold and distant, was not an option. She considered relatives and teachers but struggled to find the right moment to tell them. When she finally confided in a minister at her church, he refused to believe her. The only other person who knew about the abuse was her brother, who tried to — but could not — protect her.
The memory of her search for help led Aumack to donate proceeds from her book to the Monmouth County Child Advocacy Center in New Jersey. The center provides a place for prosecutors, social workers, and counselors to interview child victims in a physically and psychologically safe environment in order to minimize trauma. "Here, the needs of the child come first," said Peter Boser, a retired child abuse prosecutor and now chair of the non-profit Friends of the Monmouth County Child Advocacy Center.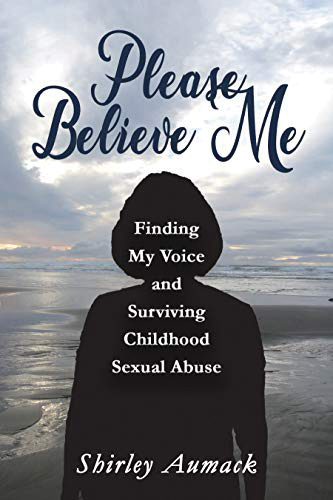 Boser praised Aumack's "unusual courage in coming forward to recount her experience" and said the incident with her minister underlines the need for child victims to be heard. "So often people don't know how to respond to a child telling them about abuse, and their first instinct is to say this can't be happening — which is devastating for the child," he said. "That's why it's so important just to listen to what the child is telling you. Don't dismiss it."
Completing her book has sharpened Aumack's desire to reach other abuse victims. Wilson sponsored a virtual book discussion with Aumack on March 8, which she hopes will lead to in-person discussions when the pandemic recedes. She is now working on a children's book, "Thank You for Keeping Me Safe," and planning a website to raise funds for child advocacy centers, such as the one in New Jersey. "This is my new focus — I want to do whatever I can to help keep children safe," she said.