By Darrach Dolan
Wesley R. Fugate, Wilson's 20th president, is wearing a blue, lightly checkered suit, a pristine white shirt with cufflinks and a bowtie with Wilson blue and gray stripes. Even his socks are a blue and gray that are reasonably close to the college colors.
A man of average build, Fugate speaks with a Southern inflection that is at once charming and assertive. His smile is slightly crooked and, like his accent, authentic and disarming. His eyes are a cerulean blue and intense, even piercing, yet the laugh lines framing them crinkle with genuine warmth and sincerity. He is both formal and casual, presidential and friendly, erudite and down to earth.
Again and again in interviews, his colleagues, mentors, family and friends all describe him as a man capable of embodying two or more apparently contradictory qualities at once and making them work. He can see the forest AND the trees is how his brother, Les Fugate, and his colleagues from Randolph College, Terry Bodine and Heidi Kunz, put it. Perhaps Laura Hamilton, a close friend who also worked with him when he was on the board of the education nonprofit Beacon of Hope, sums it up best: "Wes is a dichotomy—he's this extraordinary mix of a kind and gentle soul and a real go-getter, a new thinker and a great respecter of tradition, energetic and measured. Wes is a special guy."
It is January, the weather unseasonably warm, and Fugate is moving into his new office on the third floor of Edgar Hall. Fugate's rise to president of a college has been earned through hard work and ability—he was a deputy chief of staff to a governor by age 25, a vice president at a college by 33 and a college president six months short of this 40th birthday.
When asked about his Wilson-colors bowtie, he laughs pleasantly. He grew up in Kentucky, where bowties, thanks to the famous Kentucky Derby, are not as unusual as they might be in the rest of the country. Nonetheless, he chose to embrace the tie as a means of communication, of branding, of showing who you are and who you represent. On the simplest level, the bowtie sets him apart and as such is an easy conversation starter with almost any audience. On another level, the specific bowtie sends a specific message—in this case it's a straightforward message announcing his support for Wilson, but he has bowties for all occasions, several custom-made. He believes his role as president is to be the College's chief cheerleader and storyteller, and wearing the appropriate bowtie can be one small part of that role. His intention is, no matter where he goes, to always wear or have something that visibly represents the College on him, whether it be a bowtie or the lapel pin he had designed featuring Wilson's "W" or even the Phoenix sweatpants or shirt he wears to the gym. He is going to be proudly Wilson 24/7, 365 days a year and 366 days on leap years. He smiles at his joke but there is no doubt he would bleed Wilson colors if it were possible.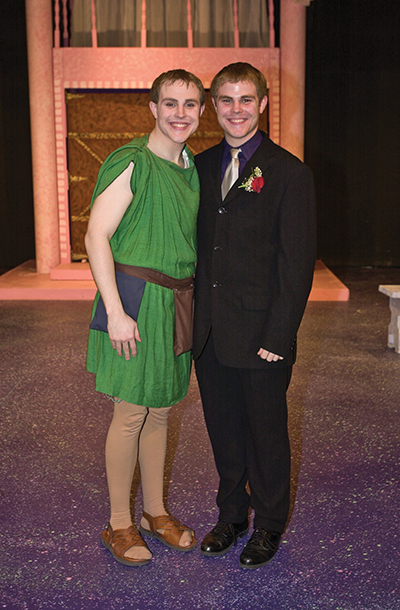 Wes and Les Fugate after a performance of A Funny Thing Happened on the Way to the Forum.
Fugate is quiet for a moment, thinking about how he would like to introduce himself to our magazine's readers. He says people should know that he is one half of a pair of identical twins and that may explain why he has always been a people person—he has always had and wants to have companionship on his journey. Wesley and Leslie Fugate, Wes and Les as they prefer to be called, were born in a rural corner of Kentucky where the state meets Tennessee and Virginia. Their father was a coal miner who worked for the same mining company his whole life until retirement. Their mother was a beautician until she chose to stay at home full time to look after the twins. According to Fugate, he and his brother were a handful—he recalls how at age 6 or 7 they got it into their heads to redecorate the house with mud pies. They plastered the exterior and the ceiling of the carport with mud. It took their mother hours to undo the damage. However, apart from that incident, neither brother remembers getting into much trouble at home or in school. Les Fugate says that even if they were high energy and rambunctious, they were mostly "straight-laced" and "goody-two-shoes" through their childhood.
When the boys were 9, their father was transferred to a different mine and the family moved to Prestonburg, Ky. It proved a difficult move for the twins, who were treated as outsiders from the moment they arrived. Les describes the small town as the sort of place where everybody knew everybody else going back generations, and even if you came from only 20 miles down the road you were considered foreign. Although they had each other, they were socially isolated until they auditioned for and were accepted into the Jenny Wiley Theatre— a professional theater troupe that put on outdoor plays during the summer months. Their first parts were in Gypsy in 1991 and, in their words, they "grew up in the theater." Over the following years, they participated in every aspect of the theater's life, from playing roles on stage to running the concession and gift shop and managing the front of the house.
After they left for college, they joined the board of the theater and after college they remained "at large" board members until the theater closed in 2018. Les says the theater provided them the outlet and freedom to grow into the outgoing and extroverted men they are today. President Fugate credits the experience with fostering his lifelong love of musicals, as well as his comfort with large audiences and ability to perform under pressure.
At the same time their lives on stage were taking off, the brothers played in the school band and particularly enjoyed singing in the choir. Fugate, who loves to sing harmonies, describes their choir teacher, Elizabeth Frazier, as his inspiration. When the twins were accepted into the Kentucky Governor's Scholars Program, which takes Kentucky's top high school students and hosts them on college campuses for weeks during the summer, they got to invite a teacher who had inspired them to visit. Naturally, Wes Fugate invited Frazier. One goal of the program is to expose high school students to the benefits of higher education. For the two boys from a very small, country town, this experience—combined with Frazier's and other teachers' belief in them—cemented their dreams of being the first generation in their family to go to college.
Important as Frazier was as a mentor, she also personifies what relationships mean to Wilson's new president and how he cherishes and nourishes friendships, regardless of time or distance. When Frazier became ill with cancer during the twins' senior year of high school, Wes helped run the choir while she was receiving treatment. When the brothers were in college, Frazier's sister informed them that she was receiving hospice care in Lexington, Ky. Knowing it would be their last visit with their old friend, they drove there on New Year's Eve 1999. They set up a TV in her room, wore party hats, threw confetti and blew blowers and together celebrated as Sydney, Australia, rang in the new millenium 16 hours ahead of the U.S. She passed peacefully days later, a picture of the Fugate brothers and another student on her nightstand.
The president is proud to have gotten that final chance to visit with a woman who meant so much to him. To this day, he carries a photo of her in his wallet, and when he and his husband, Cody Ward, moved into Sharpe House at Wilson, one of the first things he did was find a place to display a hand bell Frazier had bequeathed him.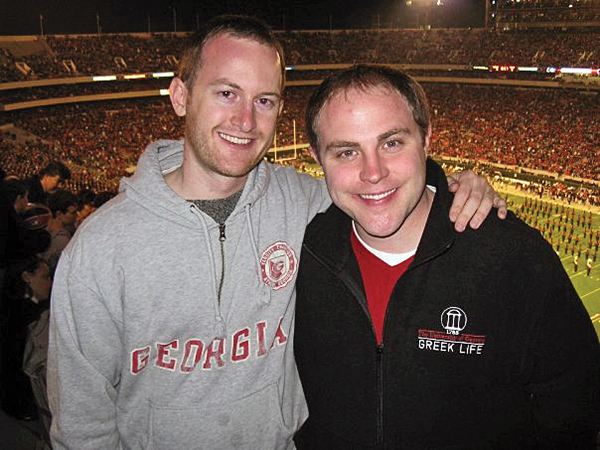 Cody Ward and Wes Fugate at a UGA football game.
Ward describes Fugate as being more sentimental than he lets on—he keeps the concert and movie stubs, theater programs and airline tickets from their dates and vacations in a small bag in their bedroom.
"Wes has extraordinarily deep relationships with people," Les says. When they were co-house managers of the arts center in college, "We joked that he hired people, and I fired people." Les explains that they have quite different leadership styles—he is more skeptical but he admires his brother's belief in people and how he works to get the best out of them. "Wes starts from a position of trust with everyone, and that's a high-caliber thing for a leader to do. If you make honest mistakes, that's fine with him. But if you break the trust, then he'll take decisive action."
President Fugate's former colleagues corroborate this—he leads by bringing people with him rather than simply directing or making demands of them. Barbara Sandoval, chair of the National Association of Presidential Assistants in Higher Education, credits Fugate's people skills with making a conference they organized the most successful in NAPAHE history. "Wes is very creative, he understands human nature, knows what makes people tick, and he loves connecting with people." She adds, "He has ridiculous energy, and it's infectious. He's the best person I've ever worked with."
After graduating high school, the twins went to Centre College in Kentucky, a "very pure liberal arts college" in Fugate's words, and "by far the best decision I ever made." With no family experience of college to guide him, he thought that going to college meant you became either a doctor or a lawyer. Centre College changed his understanding of what higher education could offer and "transformed" him as a person.
Fugate remembers one particular turning point when a world of possibilities he hadn't imagined opened up before him. He was seeking advice from his adviser and science professor, Keith Dunn, after he had admitted that science was not his passion and was unsure what he should pursue. Dunn told him not to worry. The beauty of a liberal arts education was that it would teach him to think creatively and live and work honorably, and he'd find his own path. For Fugate, this advice was magical and liberating, and confirmed for him the life-changing potential of the liberal arts. He chose to double major in dramatic arts and economics because he was passionate about both subjects. Les, never far away, majored in economics and minored in dramatic arts. Fugate says that his belief in the transformative power of a liberal arts education informs everything he does and will do as president of Wilson.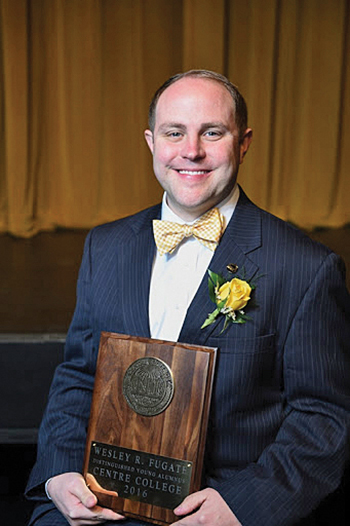 Wes Fugate receives the Distinguished Young Alumnus Award from Centre College.
From the moment they arrived at Centre, the brothers threw themselves into the life of the college, joined multiple student organizations, produced and directed theatrical shows, worked as campus tour guides and even operated the phones during phone-a-thons. Wes became president of the student government and his fraternity at the same time. He believes campus life outside of the classroom is a crucial part of the college experience and wants Wilson students to have more opportunities to participate in social and athletics activities, and grow as people.
Fugate had another profound and career-determining encounter at Centre College. One day, college president John Roush took him aside and asked him if he'd ever considered a career in higher education. Fugate assumed he was talking about being on the faculty and responded that while he loved academia, he didn't think he loved one subject enough to spend the rest of his life at it.
Roush shook his head and said that wasn't what he'd meant. He asked if he'd ever considered becoming a college president. Fugate was flabbergasted. He had never imagined such a possibility, yet when presented with the idea, he was excited. Roush told him it wouldn't be an easy path, but if he wanted to pursue it seriously, he might want to first work as a chief of staff because in that position, you learn all aspects of a college. "I left Centre thinking I want to be a chief of staff to a president of a college," Fugate remembers.
It is a testament to Fugate's drive and determination that he would succeed. "By the age of 20, he wanted to be a college president and every decision he's made both personally and professionally since then has been in the service of that dream," Bodine says. Bradley W. Bateman, the president of Randolph College where Fugate served as his chief of staff before becoming the dean of students, characterizes his ambition another way: "Wes is a particular kind of American character who came from a humble background and was transformed by his liberal arts education. He really wants to do this work for the right reasons; he wants to see other young people have lives transformed by liberal arts education."
Les Fugate, who also considered becoming a college president, knew his brother would succeed once he had set his mind on it. "The worst thing you can tell Wes is that he can't do something because he's very driven. People told him he would never be a college president. I laughed at them because I knew then that he would." He says his brother chose this career because, in addition to the love for the liberal arts they both share, Wes enjoys being around students and wants to make their college experience as wonderful as his own was. He warns the Wilson community to be prepared for the energy his brother will bring to his presidency. "He'll be at athletics events, lectures, symposiums and everything on campus and people will ask how is it possible that he's at all these things."
The brothers graduated college, then worked together for the Kentucky Governor's Scholars Program and, while working there, got master's degrees from Vanderbilt University. They had worked together their entire lives until Les took a position as a deputy assistant to the Kentucky secretary of state. They were separated workwise for less than a year when Wes Fugate took an entrylevel position for Kentucky governor Ernie Fletcher. The brothers once again worked in the same building.
Although Wes Fugate rose quickly through the ranks at the governor's office, he applied to the University of Georgia to pursue a doctorate in higher education administration and was accepted. When Fletcher heard he was leaving, he asked him to stay on at least through his next election campaign. Fugate agreed on condition he be appointed deputy chief of staff and given the higher education portfolio. In this new position, he traveled the country and world at the governor's side, met the CEO of Toyota and the Queen of England, and was in the Kentucky Derby winners' circle many times.
When Fletcher failed to get re-elected, Fugate took the opportunity to get a doctorate at UGA. "I can't say I loved politics, but I loved feeling I was making a difference," Fugate says. Unwilling to accumulate more student debt, Fugate took a full-time job overseeing the fraternities at the university to pay for his tuition. Almost overnight, he went from deputy chief of staff to a governor to an entry-level position. Fugate says this "shaped how I think about every position on campus." When he walks around Wilson, he tries "to remember every position and person is important to an institution."
Les Fugate still remembers driving his brother to the University of Georgia. "The drive home must have been the loneliest I've ever been in my life." For Wes Fugate, it was equally lonely, and after a few weeks of coming home to an empty apartment, he adopted a cat, Scarlet. This same cat, 12 years older, has made herself the "queen" of Sharpe House.
On his first day at UGA, Fugate was introduced by his boss to Ward, another member of the student affairs team. Both claim they liked the other immediately, but it would take them another six months before they got the courage and opportunity to speak to each other properly. Not long after they did, they began dating and two years ago, they were married. Ward, who loves to travel, is an educator who takes student groups on international trips. "I take students abroad, keep them safe and alive, and teach them about other cultures," he says. Being the husband of the college president is a new challenge for Ward. He sees his role as "supporting Wes and supporting students, and being a champion for all things Wilson." He says, "We both feel very welcome here."
After Fugate completed his doctorate, he was hired as the executive assistant to the president at Randolph College, Lynchburg, Va. Hamilton, who reached out to him on behalf of Beacon of Hope, remembers his arrival, "I've never seen anyone just roll into town and within a year or two, he was sitting on numerous boards, including his love—theater." Bateman, who became president of Randolph College two years after Fugate arrived, says, "It became clear to me how gifted Wes was at making things happen and at the same time, his immense dedication to liberal arts." During his first year as president, Bateman was on the road most of the time meeting alums and fundraising and "really needed someone back on campus to run the college. Wes was already able to do that." He made Fugate his chief of staff.
Bodine, the assistant dean at Randolph when she met him, talks about Fugate's energy and ability in glowing terms. Even with all the responsibilities of being the chief of staff, "Wes being Wes, he offered his services to almost every functional area on campus. He worked with advancement, communications, enrollment, athletics and student affairs. If there was anything he could do to improve the student experience, he'd do it. He may not be able to fix a leaky pipe or a broken elevator, but I wouldn't put it past him."
Fugate admits he's a workaholic. "I typically get up at 5 a.m. every day, work out and am in the office by 7 a.m. I don't physically like to stay in the office past 6 p.m., but there is so much more work to be done after that—attend events and lectures, host dinners, etc."
For a man who works so hard, he still manages to maintain a work-life balance that's enviable. He and Ward love to play strategic board games with friends and family, host dinners, go to musicals as often as they can and particularly love to travel internationally. One of the amazing things about Fugate is he achieves all this without the aid of coffee. "I'm a tea drinker," he says. Hamilton notes tea is not the only fuel he enjoys, "He's a cheese fanatic, but it has to be really good cheese. Then he's a happy man."
"Over the next six months," Fugate says, "I'm going to do a lot of listening. The worst thing a president can do is come in and impose his vision." Bateman says simply, "Wilson is very fortunate to have Wes as president at this time. He really knows how to run a college." Randolph College professor Kunz puts it even more simply, "I'm a big fan. Wes is a warm people person who also has astute managerial insight. He was born to be a college president."